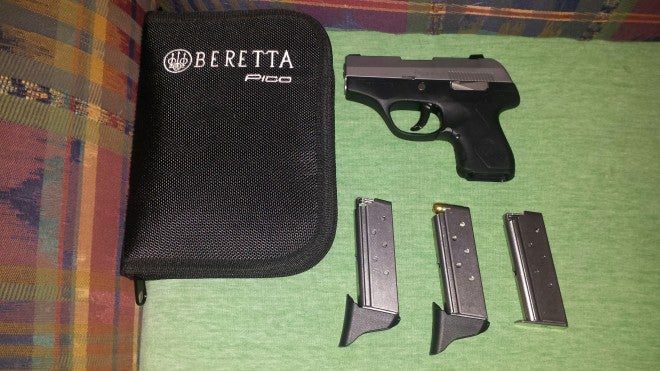 The much hyped Beretta Pico has finally arrived on dealers' shelves. Well, sort of. The local Academy store was to get some in, according to a sales flyer that came in the local newspaper. However, the counter sales team at both area stores knew nothing about it, and the company's web site did not list the Beretta Pico either.
My Beretta collector friend John called the store and was told they did not have any and did not know what the Pico even was. So, he went to the store the next day just to see and there it was in the glass display case. He was told they got in three and only had one left in stock.
He bought it immediately after a search for one of nearly two years. That was the time frame announced long ago that the new pistol would be available. It could be that deliveries are finally being made in earnest. I still have not seen one in a shop myself, but they do appear to be widely available online.
If ever there was a gun hyped and promoted early on by the mainstream gun media, the Beretta Pico is it. I have witnessed this happen many times over my thirty plus years as an outdoor writer. I remember reading one national review of a new Ruger handgun, which implied it was already for sale at local dealers, but it was several years later before it became available. The backlash was severe.
Another time I read a story on a new Browning hunting rifle in a chambering that I had wanted for years. It was the .284 Winchester. It was even listed in their new catalog, but the rifle never appeared, ever.
So now finally comes the Pico after much has been written about apparently writer only samples. Those initial reports are over two years old. Actually most of the reviews have only been press release type material and not actual field tests by knowledgeable gun writers.
I never have known who was really at fault over these preemptive promotions of guns and hunting equipment, but I get a lot of inquiries about such when buyers cannot find the products actually for sale. It is frustrating, but it's just part of the process.
The good part is none of the delayed marketing phony-baloney has anything to do with the quality of the product. In this case, I can now attest that a Beretta is a Beretta no matter the final delivery date. This new Pico is no exception.
So, what exactly is a Pico anyway? Once you finally get to see and handle the new Pico you are probably going to think "this is a mini-Nano." Well, at first appearance that would not be a bad first impression. The Pico certainly has the look of the Nano, but in a downsized version.
The Beretta Pico is essentially a small, compact, semi-auto pistol designed and intended for concealed carry and personal protection. It is chambered for the .380 ACP and is thus primarily intended for private citizen use. It's not really meant for law enforcement except maybe as a backup gun, and it's certainly not for military use.
The Pico is double action only, so there is no external hammer to manually cock. The pistol weighs in at 11.5 ounces with 5.1 inches in overall length. Its barrel is only 2.7 inches long. The sights are iron sights. The pistol's magazine holds six rounds plus one in the chamber.
The Pico's frame is made of a polymer to reduce weight. The frame grip is easy to secure and handle during firing sessions. The gun's slide is mostly made from stainless steel. The pistol's edges are smooth and rounded so as to reduce snagging on anything such as a holster, pants pockets, or coat jackets.
Other features on the Pico include some ambidextrous features, including the magazine release. As per usual Beretta pistol designs, this one is easy to take down as well. Just the turn of one screw allows the gun to be disassembled quickly. This makes internal cleaning very easy.
There are not a lot of aftermarket accessories for the Pico yet, but you can supposedly get alternately colored polymer frames from the Beretta factory web site. I did this with my Nano, going to an olive drab frame from the standard black. It's cool looking.
Just like the Nano, the smaller Pico appears boxy in appearance and thus not exactly appealing at first glance. It grows on you, especially after you pick it up, handle it, break into a defensive draw stance, or try to stuff it in your pants pocket. You have to pick the gun up several times, get a good grip, wave it around some like you're playing a ghetto thug, and then align the sights. The square design produces a smile very quickly.
The 380 ACP is a pleasant, low recoil round to shoot. It is easy to control for repeated shots in the Beretta Pico. The .380 ammo choices are many, coming with a wide variety of bullet weights and types. The "standard" bullet weight in the .380 is the 95 grain. You can find factory ammo offerings with 50, 90, 91, 94, and 100 grain bullets. There are probably others as well. Several personal defense loads are available, too.
As with any semi-auto pistol, the owner-shooter has to find a load or two that fully functions well, cycles the gun's action, and puts bullets in the proper place. As I told a gent I was counseling recently at the shooting range, a self-defense pistol like the Pico is not intended to be shot at 50 yards or even 20. These are 10 yard guns max, but more like 10 feet. They are designed for close quarters, up close and personal self defense.
For many, the initial impression of the .380 ACP is that it is too light for practical self defense, but it has long proven itself otherwise. Because of the concealment capability of the Pico, it makes an excellent personal protection firearm when using a good load designed for self defense.
As with all the Beretta guns I have ever used, including my very first semi-auto shotgun that my mom got me for college graduation, Berettas have just proven to be high quality, well made, highly functional, reliable guns. Otherwise why would the U.S. Military pick the Model 92 as their primary sidearm?
If you are considering shopping for a small, compact semi-auto for personal protection, then put the Pico on your list to inspect. Hopefully, you'll be able to find one finally at a dealer near you. If so, you'd better get it fast.