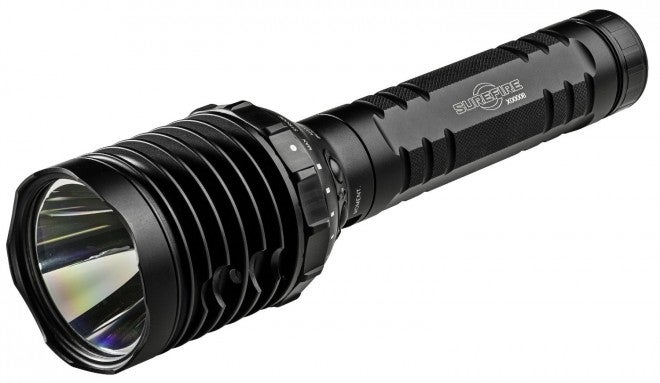 SureFire has always been a company that makes great stuff. They make solid, reliable, and well-conceived products. They aren't, and they have never been, on the absolute bleeding edge of lights, but when they do finally incorporate new technology, they usually do it better than anyone else.
The Sunwaymans, JetBeams, and Nitecores of the world have been making kilolumen lights for quite some time, and there have a been a few SureFires that snuck over the 1,000 lumen barrier recently, but there was nothing like the portable headlights that some of the overseas companies have been producing.
That is, until now. With the release of the UDR Dominator, SureFire has finally landed in the 2,000 lumen club, and the light is a monster. The UDR Dominator can run on rechargeables or an included magazine of 12 CR123as (as included). It comes with a selector ring that allows the user to choose one of eight modes. There are three switches: one for constant on, one for momentary on, and one for "MaxBurst" mode. MaxBurst mode overrides the selected mode and forces the light to hit its lumens limit. There are also strobe and signal modes accessible from the selector ring. The light is charged via a charging port and comes with both an AC charger and a cigarette lighter charger. The light also has a fuel gauge with three colors to indicate the amount of juice left in the batteries.
The light itself is a much nicer shape than the soda can lights out there, with a real and useful handle and a normal (though exaggerated) throw head. The soda can lights are bright, but they aren't fun to carry. And forget about dropping one of these in your pocket. Like the soda can lights, this thing is just too big at more than 12 inches. SureFire markets this light for military and law enforcement applications and also touts it as a search and rescue night, which is a great potential use as it is both exceedingly bright and capable of long throws.
SureFire is pretty smart in how they incorporate new technology. They wait for others to work out the kinks and then they release the perfected version. The only issue is that this light is exceedingly expensive. Where similar lights from Nitecore, such as the TM11, run $150, the UDR Dominator comes in at a staggering $1,370, a breathtaking amount for a light. SureFire fans, of which I am one, will point out the superior fit and finish of SureFire gear, but at almost ten times the price of similarly bright competitors, the UDR Dominator strikes me a stretch for almost anyone but well paid private security. A police department would have a hard time justifying a $1,300 price per unit (though hopefully there is a price break for these folks).
One thing that sticks out, especially compared to the competition, is the true low. This isn't a moonlight low that I like, but at 15 lumens it is MUCH more useful than the lows on most kilolumen lights at run in the 100 to 250 lumen range. SureFire knows how to perfect stuff, but the UDR's price is pretty shocking. Time will tell if it was a good decision on SureFire's part. It would be interesting to see SureFire do a pure EDC light, something like the T1A with an updated emitter and the ability to use AA or AAA batteries. Until then, we can marvel at blank check lights like the UDR Dominator. Also, if you're a production guy only, you now have the ability to assemble a $3,000 light & saber combination, with this light and the Lionsteel TiDust.
Richie Riches of the world, now you know what to do with your Christmas money.


SHOP NOW