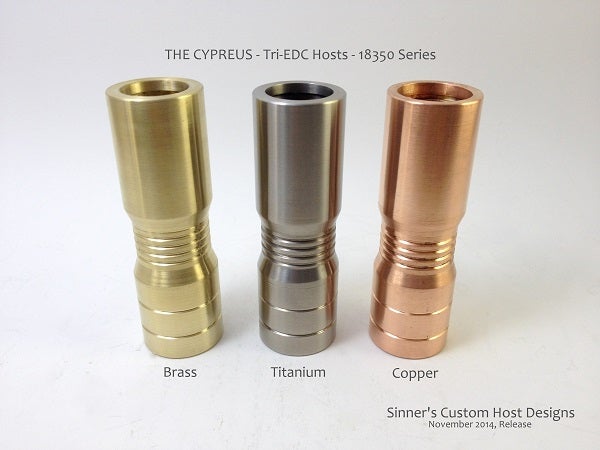 Oh my… 2014 was, to borrow a phrase from CS Lewis, a Lantern Waste. Lewis was describing the point at which the Pevensies entered the mythical world of Narnia for the first time, but the phrase aptly fits the custom light world in 2014. Aside from some stuff from Muyshondt's progressive expansion into different batteries and a few Tain releases, we had to wait until the very end of the year to get anything interesting, and these interesting tidbits were a clip for HDS lights and a vented head for the TorchLab Moddoolar. Solid items each, but not as exciting as a new torch.
And then there was the loss of Mac's Customs. He seems to have fallen off the radar with a few incomplete orders and Rob from Lummi re-emerging on Itsy as a new and "totally unrelated" company. Lantern Waste describes it pretty accurately. Not much new and lots of sad stuff.
But at the tail end of the year, a new light, or really a series of lights, was introduced over on CandlePower Forums produced by Sinner. Here is the thread.
There are two things unique about these lights: the number of options and the pricing. Here are all of the things that you, as the end user, gets to choose:
Format: 18650 or 18350
Body Tube: aluminum, titanium, brass, or copper
Emitter: CW, NW, or Nichia 219 in either a single emitter or a three piece array
Control Board: Max Output, Medium Output, and Low Output (all with moonlight, then LMH, and some with a 30 second turbo)
Clip: Titanium or Stainless Steel
You can piece together exactly what you want and get lights ranging in price from around $170 shipped to much, much more expensive. What lands at your door is a custom, high end, high performance light. It can be tucked into a pocket, yet is as bright as a car headlight on high (hitting an insane 1300 lumens).
That much flexibility and power is not usually available at any price point. When it is, it is usually the rarified stratosphere that gets these types of lights, but Sinner is selling them as he builds them. You can get a barn burner for less than $200.
If you are looking for a set up that is uber functional, the aluminum model is the cheap option, but you won't sacrifice performance, just the bling factor. If you want insanity, you can option for titanium and have it all blinged out. If instead you prefer the steampunk look, there is a brass or copper version awaiting your sweaty palms to start the patina process.
The custom light world has been very quiet for a long time. In the past two or three years we had new McGizmos and updates to the SPY format as headlines, and then everything slowed down. Only Tain has emerged as a new maker. But now, with his pick-a-piece set up, great prices, and stellar performance, Sinner and his custom lights are poised to hit it big in 2015.