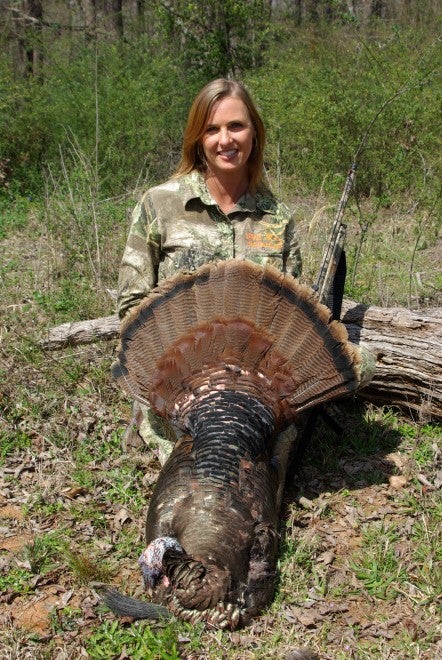 The calendar is fast approaching for wild turkey hunting seasons to open up all over the country. They usually crank up here in Mississippi in March and run through the first of May. You should be checking on your state's 2015 hunting dates to see when your seasons start.
Veteran turkey hunters, I am sure, are already thinking about getting into the woods just to hear a gobbler sail off the roost, hit the ground, and grunt out a good series of gobbles. The only other thing in nature I can think of that will raise up the little hairs on the nap of your neck like that is the bugle of a bull elk. It is something to experience.
Many turkey hunters like to get out early to do some pre-season scouting, but that has to be done right, with caution. Let me advise you against any kind of early calling, and that includes owling just to see if a gobbler is in the vicinity. Forget the crow calls for now, too.
Wild turkeys are easily educated, so don't give them any advantage by revealing your calls too early. Now, I am not saying that wild turkeys are smart, but they are wild. It has always been said about the wild turkey gobbler that "a turkey gobbler thinks every stump in the woods is a man," so they are constantly in fear that something is going to get them. I think they are the most paranoid wildlife species in the woods.
The turkey's sense of hearing is bar none the best in the woods. And that tops an eyesight that can see a hunter blink his eyes at 100 yards. What does that tell you about remaining still and wearing total camouflage including gloves and facemask? It sure isn't for a fashion statement.
So, if you have to scout before the legal season opens, then creep in to the woods as quietly as possible. Just sit down and listen until a couple hours after sun up. Listen for fly downs, hens calling, and of course gobbles. Though you may think you've hit upon a possible roost site gold mine, know that turkeys usually do not roost in the exact same trees more than 2-3 nights in a row, then they move on, though maybe not all that far. They are big-time roamers.
Later in the morning walk the woods roads, farm field edges, pastures, creek beds, and other places where turkey tracks might be left behind. Fresh ones will still be soft round the edges. Be sure to note which predominate direction the tracks are headed. This may be a clue leading to a feeding spot, open pasture, or other turkey gathering place.
Look also for dusting areas where there may be small turkey feathers lying about. The spot will look like a round bowl in the dirt. Watch out for turkey scat, too, remembering that the crooked "L" hook shaped poop is the gobbler.
Later in the season when breeding actually kicks in you may find strutting wing marks in the dirt in roads as well. This means a gobbler was in a strut display to a hen or just acting out like young boys will do. These are all signs of gobbler activity, but you also want to know where or what the hens are doing as well. Wherever the hens go, the gobblers will be following behind.
Back home, ready your gear. For sure, get your calls out and drive your family crazy for a week or two making hen calls all over the house. Really to keep the peace you might want to do your practice calling outside. Then you can drive your neighbors crazy–including their dogs.
Chalk up your box calls, inspect your diaphragm mouth calls to separate stuck together latex layers or toss them for new ones. Take some pot and pan scrubbing pads and rough up the surfaces of your friction pot calls. Also rough up the tips of your striker tips. A lot of hunters forget that these tips get smoothed over with use and become less effective on the slate or metal surfaces of these call types.
Get your primary "in the woods and field" turkey bag ready. Pack your best calls and other gear to carry, including lightweight binoculars, several extra shotshells, bug spray, knife, maybe a compass, canteen or bottled water, and some nabs on the day of the hunt. Take a crow call.
Have your other gear inspected and ready. I often use a pop up screen ground blind because I am way too fidgety to just lean up against a tree out in front of God and everybody. I use a Hunt Comfort cushion seat and/or a low sitting nylon fabric fold out turkey seat with a back. I can sit in this chair for hours in complete comfort.
Clothing wise you know you need head-to-toe camo. I also like to wear knee high Muck Boots in case I have to cross a creek, ditch or other shallow water course. You never know. If you know the day is going to be warm after the sun comes up, then opt for the lightweight turkey hunting outfits designed just for spring turkey hunting. You can always add a light jacket and/or a rain suit if needed.
Clean your turkey gun one more time and inspect. Do the same for your chosen turkey hunting shotshell loads. You need at least a half dozen shells, three in the gun, and three in the pocket. If you miss after six tries, you should quit anyway.
Many new turkey hunters ask me what shot load to use on gobblers. I use 12 gauge No.5s or No.6s in a Federal, Remington, or Hevi-Shot load. All of these have proven effective for me in 40 plus years of turkey hunting. Use a super full choke or a special turkey choke that many gun makers have available now. I have pushed shots to 40 yards, but that is my outside limit. I prefer to coax a gobbler to at least 30 yards, but have killed them at five.
The nice thing about turkey hunting is that you can forget about smell. If gobblers could smell us, the game would be up for sure. Wind can be a factor. Gobblers are wary of high winds because they cannot hear in the woods.
Under windy or storm conditions, secretly scout from the hidden wooded edges of open fields. I have caught gobblers totally out in the open when winds blow hard or a rain storm is about to come. That does not make them any easier to hunt, but don't expect them to be in the woods. It is the same with rain. They apparently cannot stand the noise of rain drops dripping in the woods.
These few tips ought to get you psyched up for spring turkey hunting. Get everything in order so you are ready to go. Any day in the turkey woods is better than a day at work.