Review: Ruger's SR 1911C Light-Weight "Commander"
Pat Cascio 04.07.15

One of the most asked questions I've gotten over the years, is the "What is the best pistol?" sort of question. I know many other gun writers and instructors have also been asked this question, and there is no good answer.
I don't believe there is a "best" handgun, period! It depends on where you're standing when asked this question. If I were in the wilderness of Alaska, facing a charging brown bear, then I'd probably want the biggest and most powerful revolver I could find. If I'm out trying to get some small game for the dinner pot, I'd elect to have some kind of small .22 LR pistol. When facing down a dozen Zombies, I'd want a high-capacity 9mm handgun of some type. So there are many different answers to this question.
If push came to shove, and my hand was forced, I'd probably want some kind of 1911 handgun, chambered in .45ACP, and one of my all-time favorites would be some kind of "Commander-sized" 1911 with a light-weight aluminum frame. Heaven forbid that I were forced to have but one handgun for the rest of my life, but if it came to that, right now, my answer would be a light-weight, 1911 Commander-esque pistol of one make or another.
Enter the new Ruger light-weight SR1911C, which is already a super hot seller for the company. If you know Ruger, you know that they just don't usually manufacture the same ol' same ol' when it comes to firearms. Ruger does things a little differently most of the time, and so it is with this new SR1911C.
A quick look at the SR1911C light-weight is in order. The gun comes with two 7 round stainless steel magazines. (The full-sized version comes with one 8 round mag and one 7 round mag, and I wish Ruger would have done the same on this light-weight version.) The frame is anodized, light-weight aluminum that is charcoal gray/black in color, and the front strap has serrations for a better grip on the gun. The slide is stainless steel, with a no-glare finish. Barrel length is 4.25-inches long, and the gun weighs in at 29.30-oz unloaded.
A Novak rear sight tops the slide, and it is adjustable for windage with two white dots; the front sight has one white dot for fast target acquisition. The slide is flared and lowered for sure ejection of empty brass. The barrel is stainless steel and has been throated and polished for sure feeding of any type of ammo.
We have a standard recoil spring and plug. The frame has a beaver tail grip safety–expertly fitted, with a "speed bump" on it, as well, for sure engagement. The back strap is nicely checkered. There is a long match-grade trigger and its pull was right at 4.5-lbs with a clean breakhttps://www.alloutdoor.com/2015/04/07/review-rugers-1911c-light-weight-commander/100_5704/ – excellent!
We also have a combat style hammer. The mag well is slightly beveled for a sure reload. There's a slightly over-sized extended mag release, and the thumb safety is of the combat, extended variety, with no slop in the fit. The overall appearance with the black frame and stainless steel slide is very eye-catching, to say the least.
One nice thing that isn't obvious is that Ruger followed the 70s series 1911s in that they didn't put a plunger safety inside the slide. (That plunger safety makes for a sometimes gritty trigger pull in many 1911s.)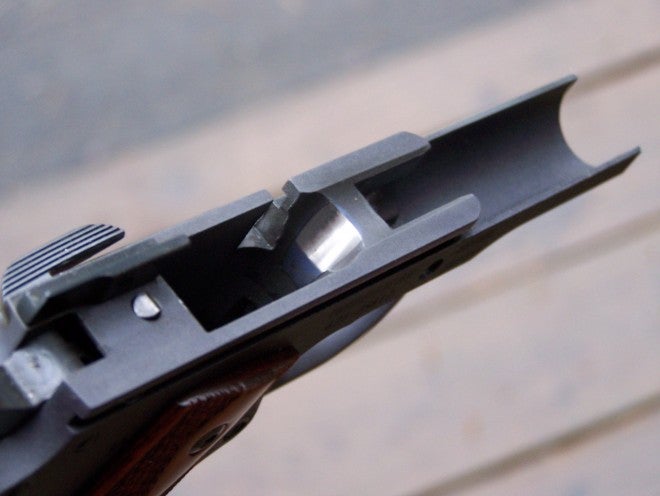 Another improvement that Ruger included is something that no one else has thought of. Many light-weight Aluminum framed 1911s get the feed ramp chewed up when using aggressive jacketed hollow point ammunition. Some makers have gone with a ramped barrel, replacing the feed ramp as part of the frame. Some makers still use the machined Aluminum feed ramp but have heat-treated it so it lasts longer. However, Ruger has gone one better. They have machined out the area where the feed ramp is and installed a Titanium insert there that now acts as your feed ramp. Titanium is light-weight and much stronger than steel or aluminum per ounce. I looked very closely at the Titanium feed ramp, and I honestly couldn't see where it was welded or brazed into the frame–it is that expertly installed. This is no small improvement in an Aluminum framed 1911, and one that I'm sure other 1911 makers will copy.
Another small, but big improvement is the plunger tube. I've worked on 1911s most of my adult life, and I've lost count of the number of 1911s I've worked on (some brand-new) that had the plunger tube work itself away from the frame because it wasn't properly staked in place. This will tie up your gun in short order. Ruger has milled the plunger tube as part of the frame, so it is not a separate part of the gun; this was obviously a costly operation in my opinion.
We also have a visual inspection port milled into the rear of the barrel that allows one to see if the chamber is loaded or empty. Some states require this feature. My aging eyes simply won't allow me to see if there is a piece of brass in the chamber or not without some very bright lights. Still, this is an added feature that Ruger included.
The rear of the slide has serrations milled into it for a sure grip when chambering a round. The firing pin is made out of Titanium for a fast lock-time, which most assuredly adds to the overall accuracy of the gun. Ruger also includes in the cardboard box the gun came packed in a barrel bushing wrench and a nicely padded carrying case for the SR1911C light-weight pistol. Slide to frame fit was expertly done, too–just a very tiny hint of play between the slide and frame. The barrel was also fitted nicely to the frame–again adding to the overall accuracy of the gun.
Most of the features that come standard on the Ruger would have easily cost a buyer about a thousand dollars to have it done on a Plain Jane 1911, and Ruger has included all these features as "standard" in this 1911. Way to go, Ruger!
My Ruger came with slim walnut grips, expertly checkered, and this was the only feature I didn't care for on my sample. I just found the grips to be a bit too thin for my own personal taste, so I replaced the grips with some Gator Back grips. Other than that, there were no other changes I made to this gun prior to testing it.
Fortunately, I had a great selection of .45ACP ammo on-hand for testing. From Black Hills Ammunition, I had their 185-gr JHP and the same flavor in 230-gr JHP, as well as their outstanding 230-gr FMJ load. From Buffalo Bore Ammunition, I had their 160-gr Barnes all-copper TAC-XP hollow point load, which this is a low-recoil load. I also had the same 160-gr and 185-gr loads in +P. I had their 200-gr JHP +P and 230-gr FMJ FN +P load, and their 255-gr hard cast +P load for testing.
I fired more than 500 rounds of ammo through this Ruger without any signs of a malfunction. The gun just perked along fine, including the low-recoil loads and the +P loads from Buffalo Bore. I wasn't sure that the 160-gr Barnes all-copper low recoil load was going to function all the time, but it did! And it is a low-recoil load, very fast on-target for repeat shots.
The Buffalo Bore 255-gr hard cast +P load certainly got my attention in this light-weight 1911; this would be a great carry load in you're out in black bear country. A skull shot will readily bring a black bear down, no problem. However, I wouldn't want to shoot this load all day long, as it did get my attention each time I pulled the trigger.
All accuracy testing was conducted at 25-yards, using a rolled-up sleeping bag over the hood of my pick-up. I don't use a Ranson Rest or any other type of rest as I don't believe they give real world results. You can't shoot in a self-defense situation using a rest, but you might be able to use the hood or trunk of a vehicle or a rolled-up jacket as some sort of rest to fire over.
I wasn't prepared for the accuracy results I got from this light-weight Ruger SR1911C. I was able to consistently get groups slightly under 2-inches if I did my part all the time. And, the clear winner was the Black Hills 230-gr JHP, but it was followed by their 230-FMJ load and the 200-gr JHP +P load from Buffalo Bore. This 200-gr JHP +P load from Buffalo Bore is rapidly becoming a real favorite of mine and I wouldn't hesitate to carry it for self-defense. None of the other ammo tested had groups more than 3 1/2-inches–again, so long as I did my part. I've had custom-made 1911s in the past that boasted of 1 1/2-inch groups from their guns, but no matter what ammo I used or how hard I tried, I couldn't get groups that small. Now, to get groups slightly under 2-inches from a factory 1911–outstanding!
Ruger is doing up their 1911s right if you ask me. And, to get the performance I got from factory ammo–not custom, hand-loaded ammo–and the accuracy is really something to crow about. Full retail on this Ruger is $899.00 (a bargain in my book), and you can find it online for as low as $650 if you shop around. If you took a stock mil-spec 1911 and added all the features this light-weight Ruger SR1911C light-weight has, it would cost you a lot more than $899.00, plus the cost of the gun itself.
It just goes to prove that a factory can turn out a custom-esque 1911 if they do things right. The fitting on my sample was outstanding in all respects. And, using quality ammo from two great ammo makers–Black Hills and Buffalo Bore–only added to the accuracy out of my sample. I've been shooting Black Hills ammo for close to 25-yrs now and have never been disappointed. Buffalo Bore has been running through my guns for 4 or 5 years now, and they are turning out premium ammo that no one else is manufacturing.
Right now, the SR1911C light-weight is still a little hard to come by as sales are outstripping manufacturing. Then again, I'm not surprised in the least–Ruger is doing up their 1911s right these days! If I were a SWAT cop these days and my agency allowed me to carry a 1911, this Ruger would ride in my Blackhawk Products tactical thigh holster with a couple of extra magazines.