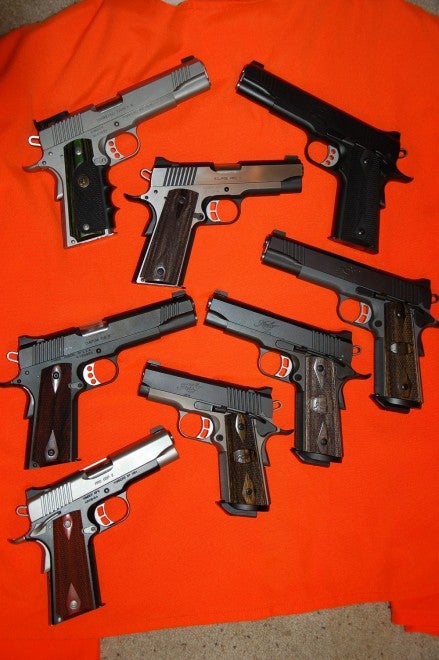 Most gun enthusiasts it seems generally like all kinds of guns. Even so, we all have our favorites either defined by types of actions, calibers or gauges, or brand names. There are shotgun people, those for whom "rifles rule," and the handgunners. Then you can further break down those general categories into more narrow pursuits.
I know smoothbore guys that think only side-by-sides exist. Others swear by over-and-under guns. Rifle shooters can be complete snobs for an action type, brand, or favorite hunting cartridge. Handgun people can go revolvers or pistols, and then there are the crossover types that use them all. Each to their own certainly prevails.
Shotgun wise I like a good classic double, but I love my Remington 11-87. Rifle wise I am all across the board loving Remington, Ruger, and Browning bolt actions. The 300 Winchester Short Magnum is my personal favorite white-tailed deer gun. I like the full daddy 300 magnum for elk. I love AR rifles, too, for deer, hogs, varmints, and paper.
I use, shoot, and hunt with all types of hand cannons. I like revolvers and pistols in a full range of calibers from rimfire to big centerfires. Years ago I started nursing an interest in 1911 type pistols, and now I guess have turned into a complete fanatic. In this field I have found a favorite, and it's the Kimber line of 1911 pistols.
The Kimber 1911
Kimber's history is an interesting study and, for many, a bit confusing, too. At one time if I have the story right, guns were made under the Kimber name by two different entities, but now production has all been consolidated under one umbrella.
Kimber started out making high grade hunting rifles over 30 years ago. As they diversified their product line they began manufacturing classic 1911 pistols. Today Kimber has become the world's largest producer of 1911 pistols, and they lead the market share in this particular type of firearm. They currently produce 90 different models of 1911 pistols in 14 different factory named categories.
That is quite an accomplishment given the explosion of interest in this pistol genre' over the past decade. I am not sure what caused the sudden surge in demand for 1911s, but it has been strong for some time now. This buying energy encouraged numerous gun manufactures both large factory concerns and small custom shops to produce a wide selection of 1911s in an endless array of standard and custom features.
All you have to do is go to a large regional gun show to see all the 1911 wares offered for sale. There are many, many high quality 1911 pistols available on the market today from Colt, Smith and Wesson, SIG, Para Ordnance, Springfield Armory, Taurus, Wilson Combat, Iver Johnson, Ruger, Les Baer, Rock Island, Trident, Caspian, Dan Wesson, among many others I am not aware of, and then of course, the Kimbers.
So, out of all those, why Kimber? I have owned, handled, shot, broken down, and cleaned dozens of 1911s over the past 40 years, and I have seen many really good 1911s as well as a fair share of lousy ones. However, time and time again I continue to be particularly impressed with the fit, finish, detail to manufacturing, and over all quality of the pistols and the kit package that Kimbers are delivered in.
However, I am not so naïve as to believe there are not issues in delivering some 90 models of a particular design of a handgun. For example, just a few months ago I inquired of a retail gun dealer contact of mine about ordering a specific model of a Kimber, the Stainless Target II from the Custom II category of Kimber pistols. I wanted one in 10mm for another project.
After some talk with distributors, wholesalers, and even the factory, the dealer sent me an email to say that particular model (which was a fairly common model) would not be available for 10 weeks. That was two and a half months by the factory estimation to deliver the gun. Perhaps it was the 10mm chambering that caused the lengthy delay. Lucky me I drove 35 miles to another large retail gun store where they had two in stock.
This particular dealer in fact keeps one whole display case full of Kimbers, much to my delight. Even so, there are dozens of models of Kimbers listed in their catalog that I have never seen at this store or at guns shows in two states.
You have to obtain a Kimber factory catalog to really appreciate all the different types of diverse 1911 models they offer, even though they are all basically original 1911s at heart. For Kimber, the models also differ by size. They manufacture the Ultra, Ultra +, Compact, Pro, and Custom pistol sizes.
Each size version has its own list of factory features and specifications, as well including grip length, slide/barrel length, caliber selections, fixed, adjustable, or night sights, grip materials, exterior finishes including mirror blue, black matte, stainless, Eclipse mirror finish, Desert Tan, plus two-tone finish models, weights (by manufacture material), left side or ambidextrous safeties, Crimson Trace lasergrips, and other proprietary design elements. Yeah, it is too much to choose from for sure, but it's enjoyable for 1911 enthusiasts.
Quality Control
Still one wonders how a gun factory produce so many models with so many features and options and keep their quality control in check. While I have inspected nearly hundreds of Kimber pistols, I can say from outward appearance their new-in-the-box package delivers a beautifully made gun. However, I also know some of them don't always function to peak performance. Well, $100,000 Chevrolet Corvette's don't either.
Currently my 10mm Stainless Target II is experiencing frequent stovepipe failures to feed from the magazine. I obtained two more stainless magazines, and the issue persists. I am into trying a third brand/type of factory ammo, and the gun is improving in function.
Several times now I have shot complete magazines of ammo without a stoppage. When it does hang up picking a new round out of the magazine, I merely have to nudge the rear of the slide to get it to close to lock down in full battery. Is this a bad pistol? Hardly.
With less than 100 rounds through the gun to date, I still think the Kimber needs more "breaking in." All the ammo I have found to date has a slight edge on the bullet that seems to hang up. I have yet to find any "ball" round nose 10mm ammo just to run through the gun. Next, I will try a complete cleaning and lubricating according to the factory owner's manual. This is a stainless steel gun, so lubrication can be a factor in reliable functioning. I am confident I will iron out the issues with this pistol.
The best news so far is that this is one accurate pistol. My goal is to take a close range deer with it out of a ground blind, and it certainly shoots plenty well enough to handle that task. The gun is a real pleasure to shoot. This is my first 10mm, but despite the fact that the round is known for its snappy recoil, it handles just fine.
Incidentally, I have had similar issues with other brands of 1911s, so this certainly is not unique to Kimbers. Anybody that shoots the 1911 will understand that many of them require some tweaking and fine tuning. At the very least one has to find the one or two ammo types that function best in each pistol.
For sure I am not a factory rep for Kimber, but I am sold on them. They have never sent me a factory loaner to use so I owe them nothing. If anything, they owe me. Hey, Kimber send the hat and t-shirt!
If you like 1911s, then do yourself a favor and go to your favorite gun outlet and ask to see one. I think you'll be as favorably impressed as I have been.