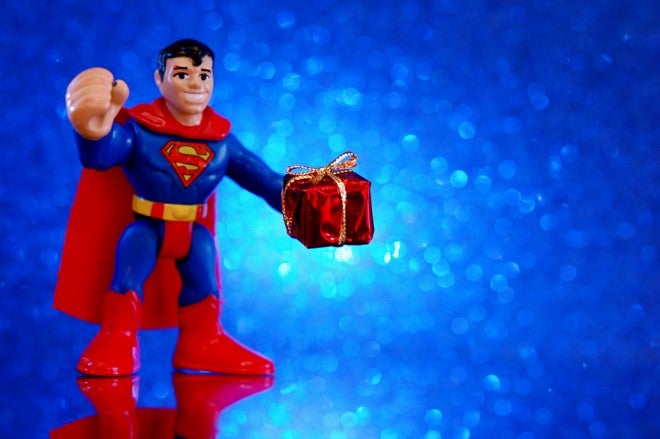 The male-only gift giving season is almost upon us, and that means some obligatory "Dad and Grad" recommendations from around the web.
Well, technically Mother's Day is between now and then, but I have no idea what to get my Mother and Wife, so I am not about to dole out recommendations. Here at AllOutdoor we aren't going to hard sell you on BS (a.k.a. Gerber products) to drive affiliate purchases. Everything recommended here is good stuff–all stuff I have owned, used, and tested.
With the array of gear I cover here, all-EDC all the time, I have enough recommendations for you to have a baseball team of sons (NINE Clayton Kershaws please). Here are a few choice items.
GEC Huckleberry
Why Give This: GEC knives have immaculate fit and finish and a wonderful ole timey look. You can practically hear the high lonesome sound of bluegrass playing the background when you pop open the tube the knife comes in.
The Huckleberry is a great size, too, with a blade under 3 inches for broad legality (check your local knife laws to make sure) and a combination bottle opener/flathead screw driver. The 1095 blade steel will take a nice patina, too.
Who Is It For: This would make a great gift for a drinking age grad or a Dad that appreciates the look and feel of a traditional knife.
What it Says About You: You're a classy gent, someone who appreciates history and a good brew. It is also 100% Made in the USA, so you're a patriot too.
Chris Reeve Mnandi
Why Give This: Everyone knows about the Sebenza, but in my mind the Mnandi is the true highlight of the Chris Reeve line. With a design and finish that rivals custom knives, the Mnandi, even at $375, is quite the bargain. Its size and look allow it to go with all sorts of personalities and dress styles. Just make sure you like the person because, even at the value price $375, that is a chunk of change.
Who Is It For: Newly minted MDs, JDs, or Wharton grads, or other folks moving into high profile jobs where a bit of class and bling fit in nicely.
What it Says About You: First, obviously, you are one generous bastard. Second, you have impeccable tastes. When the person opens the package and sees the beautiful inlay, even if they know nothing about knives, they'll know you care. And if they know something about knives, Chris Reeve gear is like the official secret handshake of knife knuts everywhere.
CRKT Drifter
Why Give This: Search high and low and you will not find a better value than the CRKT Drifter. The Drifter comes in two variants: a stainless steel framelock and a G10 liner lock. The G10 version is cheaper, lighter, and better. The blade is the right size, the materials are solid, and the blade shape is great. This is the Undisputed King of Budget Blades and has been for years now.
Who Is It For: The budding knife nut, a distant relative, or the son of a friend. At around $23 it's not pricey, so you give this if you want to give someone something interesting, a standout gift among a tidal wave of ties and other boring crap.
What it Says About You: You know how to spend money wisely and you don't want to give a thoughtless Chili's Gift Card. If given to your Dad, it says–we endured millions of years of evolution to develop tools, so please stop using your keys to open packages. It's embarrassing.
Bark River Adventurer
Why Give This: The Bark River Adventurer boasts 20CV steel, an innovative sheath, and the joy of a Mike Stewart and Murray Carter collaboration. There is absolutely nothing to dislike about the Adventurer. It's pricey, over $200, but given the materials and the finish, you'll be shocked at how nice it is. The Adventurer's handle and blade shape are about as refined as you will find anywhere in the world, production or custom. This is literally the state of the art in medium sized fixed blades.
Who Is It For: The grad that is taking a year off to hike the Appalachian Trial.
What it Says About You: You are a person that is serious about the outdoors, the person getting the gift, and your responsibilities to the recipient. This is the knife you give your very favorite nephew. After all, graduation is about going out into the world and having adventures. If you're giving this to your Dad, why not put a ticket in there for a trip to a National Park? That's about as adventure-y as it gets.
Why Give This: Most folks have no idea what a modern flashlight can do and few are as simple and user friendly as the D25 AAA. The clip is a bit big, but other than that, this light is tiny, bright, and produces an excellent beam. When you show them that it is as bright as a D-cell Maglight, you'll get a raised eyebrow for sure.
Who Is It For: Okay, so I lied. Here is a recommendation for Mom. I got my Mom a dead simple 1xAAA flashlight for Mother's Day two years ago, and she uses it all of the time. She walks in the morning and loves having the light with her. Really, just about anyone could appreciate this light.
What it Says About You: You want the recipient to be safe and prepared in case of emergencies. And you're a bit of a geek, after all, who knows more about flashlights than geeks.
Kaweco AL Sport Stonewashed
Why Give This: I love the Kaweco Sport. It's a great starter fountain pen, even in the plastic barrel, but the aluminum barrel, nicely stonewashed, is a truly awesome looking piece. You'll be very impressed with the writing performance, especially if you haven't handled a fountain pen in a while.
Who Is It For: Someone that has a lot of work ahead of them, but wants to look like they have done a lot already.
What it Says About You: You are authentic, in touch with the throwback vibe of the written word, and you are classy, because only pocket squares say "classy" more definitively than a fountain pen. It also says that you're not part of the Cross pen crowd, which seems to come around this time of year. Ugh, Cross pens.