One to Watch: Blade HQ Spyderco Paramilitary 2 Exclusive
Tony Sculimbrene 05.18.15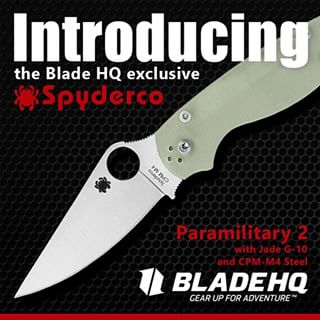 A sprint run or exclusive version of Paramilitary 2 is basically a license to print money. I covered the extensive history of sprints and exclusives here. But that list just got a bit longer because Blade HQ recently announced that they were releasing an exclusive version of the knife, this time in M4 (with awesome translucent jade G10 handles). Man, I need some more money, because this is a great and favorite knife in a great and favorite steel.
During March Madness, Blade HQ had a "knife tournament" on social media. It was interesting as they pitted various awesome blades against each other. After a few rounds of voting, it was pretty clear that the Paramilitary 2 was going to make it to the finals. It faced off against a Benchmade, and though the results aren't scientific, the Paramilitary 2 won in what appeared to be a landslide.
I can't help but think that the "knife tournament" was really market research (those guys and gals at Blade HQ are so clever). And, unlike the baloney marketing about 3 out of 4 dentists recommending something, the knife tournament's results were spot on. I agreed with almost every round (except the one where the Skyline lost–poor underrated Skyline), and I definitely agreed with the winner.
The Paramilitary 2 is a great knife. As I wrote in my review of the Elmax version, it's a big knife that carries like a little knife. I'd go a step further now–it's a hard use knife that cuts like a paring knife. The reality is that it's hard to find a better all-around winner than the Paramilitary 2. The size, the weight, the grind, and the lock are all truly superior. So, the knife they chose for the exclusive is just dead on 100% correct.
And the steel, well, they got that right too.
CPM M4 is one of the older powder metallurgy steels from Crucible. It's been around a long time compared to some of the newer "hottest steels on the market," and in those years it has gained a fearsome reputation thanks in large part to Blade Sport and one of its competitors: Gayle Bradley.
Blade Sport, for those unaware, is a contest organized every year where competitors have to complete multiple rounds of cut tests, and the winner is awarded cash prizes. There are some staples of the cut test pantheon: the water bottle cuts, the free hanging rope chop, and others. Then there are the tests that seem nutty–chopping a golf ball in half, for example. In many ways, Blade Sport is like auto racing for the automotive industry. It's a test ground for all sorts of new features. Over the years rule changes have standardized a lot of the parts on knives the competitors are allowed to use, but one crucial aspect has remained wide open: steel choice.
As Blade Sport continued, like in MMA where a form of jujitsu eventually came to dominate, M4 has risen to the top. For more than three years now, most if not all of the competitors have used blades with M4. Its ultra high hardness (64-66 HRc) and its toughness allow competitors to put an incredibly thin edge on a blade and not worry about it chipping out. Among those competitors is two time Blade Sport winner and elite knife designer and maker Gayle Bradley. Bradley's collaborations with Spyderco have all run M4, and one of those collaborations, the Air, is one of the coolest EDCs around. I have used M4 and it, along with ZDP-189, SG2, and M390, is on my short list for favorite steels.
So when I found out yesterday that Blade HQ's exclusive Paramilitary 2 was running M4, my wallet started burning. If you are interested in knives in the least, yours probably will, too.


SHOP NOW