Mississippi Wildlife Federation Secures Walmart Grant
Dr. John Woods 05.22.15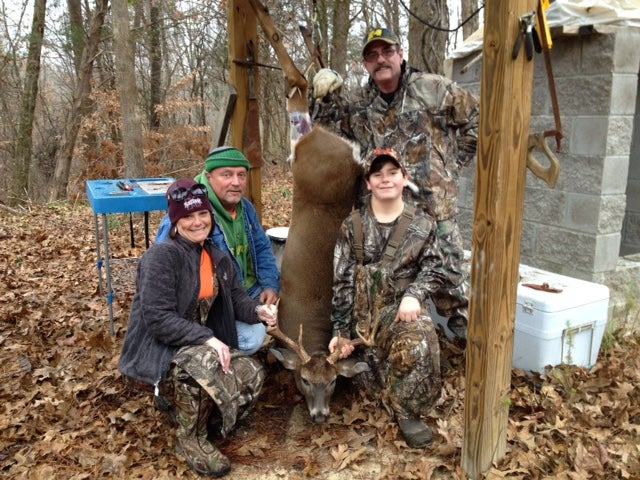 The Mississippi Wildlife Federation a statewide chapter of the National Wildlife Federation with the mission statement "to conserve Mississippi's natural resources and protect our wildlife legacy" has announced receiving a grant of $35,000 from Walmart to be used to support the Federation's Hunter's Harvest Program.
The Federation's Hunter's Harvest program was established a number of years ago as a way to provide donations of deer venison to food charities throughout Mississippi. The grant will help provide critical funding for the processing of over 15,000 pounds of the ground venison wild game meat, which will then be distributed to various food outlet charities developed by the Mississippi Food Network.
"The Walmart Foundation is committed to supporting programs like those administered by the Mississippi Wildlife Federation that have a positive impact on the communities where we all live and work," says Amanda Henneberg, Walmart spokesperson. "A particular focus of our giving program is addressing the growing problem of hunger in the communities we serve, and we are proud to do our part in becoming part of the solution."
The MWF's Hunter's Harvest program has created a network of deer meat processors across the state that have signed up to participate in the program. Deer hunters only have to deliver their excess deer harvests to these processors for turning the meat into food sources for the food charities. These groups in turn cook numerous meals for the hungry people in the state.
Deer meat is both nutritious and plentiful in Mississippi. With a liberal deer hunting season in Mississippi as well as a very liberal bag limit, most hunters or hunting clubs can legally take more deer than the members can use themselves. As part of their own deer management programs, these hunters can now take additional deer and deliver them to the Hunter's Harvest processors as donated meat.
The deer cleaning and processing fees are paid by the program and hunters can choose to donate all or a portion of their harvests during the deer season. Last year alone Mississippi deer hunters donated more than 8,000 pounds of venison, which was ground into burger for use by soup kitchens, shelters, and other food charities in the state. These donations resulted in over 32,000 meals for people in need.
"We are so proud that the Walmart Foundation is working with us to make such a positive impact in the lives of those less fortunate here in Mississippi," said Brad Young, executive director of the Mississippi Wildlife Federation. "The financial commitment by the Walmart Foundation and the support shown by the sportsmen and women of Mississippi will have a significant impact on addressing the growing problem of hunger in this state."
Other states are also working to implement such programs to turn excess deer and big game harvests into high quality food sources for hungry people across the nation. If your state does not offer such a program, then encourage your state wildlife agency or organizations such as wildlife federations or foundations to get involved.