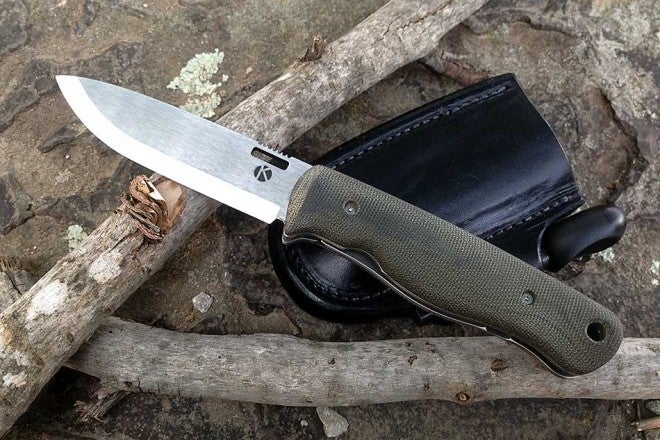 Watch one of the excellent videos from Karamat Wilderness Ways starring the eminent and practical Mors Kochanski, and you'll definitely see more than few blades, all designed for bushcraft. The idea of these prissy, ultra clean, ultra modern blades seem out of place as the brilliant Kochanski uses a cold chisel to cut out a knife blank for an old industrial bandsaw blade. For Kochanski, the knife is a tool and should be made a simply and cheaply as possible. There is not a single "hard use" folder in sight.
But if you get a chance, it is worth taking a look at Daniel Koster's site and finding his Bushcraft Folder. Yes, I get the bushcraft spirit that is opposed to folders, knives with high end materials, and heck knives made by other people, but the Koster Bushcrafter Folder is quite appealing. Its simple shape, robust and rounded handles, and excellent blade steel makes this knife look like a winner.
Daniel Koster is a well known name in the custom knife world, part of the Arkansas lineage of great fixed blade makers that includes Bob Dozier, Tom Krein, and the great Bob Loveless. His knives are immaculately designed, with excellent features and materials. The blade shapes are a perfect mix of historical patterns and new takes, sometimes all in the same blade. His Bushcraft knife is widely praised among those bushcrafters willing to spend money on knives. The hallmark is a simple and effective combination of materials–micarta handles and 3V blade steel. If that's your foundation, you're on good footing.
The Bushcraft Folder looks quite different from the majority of hard use knives. This is a user blade in the first instance. Unlike a lot of folders out there, Koster's folder starts with the handle and then goes from there. The handle is curved and contoured in all of the right ways and right places. It eschews the hotspot-generating pocket clip. And most importantly, the handle is a real, full sized handle. The blade's no slouch either. It is a traditional Scandi grind, with the typical acute cutting bevel that design requires. The spine is squared off so as to facilitate a fire striking ferro rod.
There is no thumb stud and no flipper, both of which could impact the knife's performance in wood cutting and shaping tasks. Instead, Koster's folder has a nice, understated thumb oval. The lock is as thick as a framelock for sturdiness, but it's covered by the handle scale to prevent hot spots and problems when using unusual grips.
The only issue with the Koster folder is the release date. You can sign up for a pre-order on his site, but there is no indication when the blades will be released. Koster's background and reputation, the look of the knife, and the materials used all inspire confidence. Now we gear geeks are in the familiar position of playing a waiting game. It looks like this one will be worth the wait. Dan, any ideas when this is coming out?