Knifemaker Profile: Steve Jernigan 
Bob McNally 06.02.15

Steve Jernigan made his first crude knife with a blade honed from a mill file and wood handle in 1952. That first Jernigan knife isn't much to look at today, since it survived a fire and has a bit of charred handle and darkened steel. But that initial knife spawned a love affair with Jernigan knives for collectors the world over. Thus the file-and-charred-wood model may be worth its weight in gold as the first Jernigan knife ever built.
Today a painstakingly-handmade Jernigan knife is something very special, if you can get one. They regularly sell for $5,000 apiece, and they are by any definition remarkable works of skilled-craftsman art.
Each Jernigan knife is unique and not made to order. Every knife is carefully thought out well before crafting it and is built according to what Steve considers desirable to collectors.
"I only make folding knives today because that's what people want," says the ever-smiling, gray-haired, 79-year old active and avid hunter and fisherman. "I'm not a custom knife maker because I don't make knives ordered by clients. Basically I design a knife, construct it myself in my home shop based on what I think looks good. It takes 4 to 12 weeks to build a quality knife that I know is unique and beautiful, and something I can take pride in its design and craftsmanship."
That craftsmanship is remarkable even in an age when high-end knife making is actively practiced worldwide. Today's budding knife makers have a wealth of information at their disposal, such as how-to books, schools, and internet websites–things Jernigan and many other longtime knife-making luminaries had no opportunity to use.
"We had to learn as we went along making knives," says the very active bowhunter, who rarely misses a day of whitetail hunting during Florida's archery season. "We helped each other learn about steel and machining parts and working together going to knife shows to display and sell our knives. It's been a great life, and knife making has allowed me to meet people from around the world. I don't know what other business I could have been in that would have been more enjoyable."
Steve once sold eight knives at one time to an Indonesian diplomat for nearly $20,000. Another European collector has bought 42 Jernigan knives. Another collector and fan of Jernigan knives invited Steve and his wife Rose to visit him in Sweden for 18 days–all expenses paid.
Because of Steve's renowned artistry in knife making, he has had guests who wanted to watch the entire process of knife construction.
"One man stayed with us for a week and shot photos of everything I did building a knife," says Steve smiling. "He bought that one for $1,350."
Steve works in a large barn-like shop a stone's throw from his matching wood-sided home outside Milton, east of Pensacola. He built the shop, then the house, with his own hands. Years of work in the building trade business provided Steve with the skills and knowledge of making his own shop and home. His hands-on masonry and machinery talents have helped enormously in his knife-making business. Everything for a Jernigan knife is built meticulously on site in his own shop, reminiscent of a careful craftsman from another century.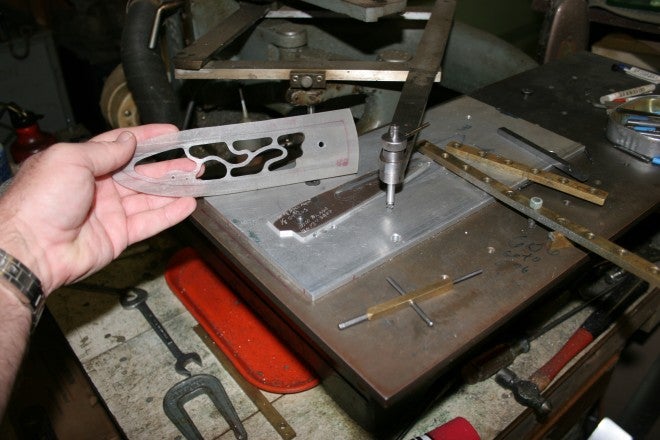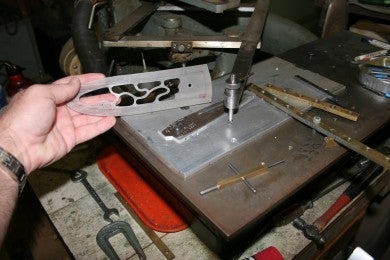 Hairline tight tolerances between moving metal parts are a hallmark of Jernigan knives. Handles made of unusual and beautiful woods and other materials make each knife unique, yet functional. And some Jernigan knives are head-scratching marvels, like one folding knife that has 43 moving parts. The knife is remarkable in many ways. But most evident is a tiny tool hidden in the handle that's used to flip a recessed pin, changing the manual folding-blade knife to automatic operation. He has made four knives of this style, each taking one month to build, and selling for $5,000.
He also produces "theme piece" knives, which are presentation type models, usually set in some type of unique, handmade display case that compliments the knife design, color, and material. One such knife has a turquoise, highly-polished, scalloped-shaped marble case. The case measures roughly 15 inches by 6 inches by 3 inches high. It opens in a unique cross-cut fashion to reveal a perfectly cut-out place in the interior of the marble, holding a folding Jernigan knife with inlay handle shapes similar to the case and in the same turquoise hue.
Since 1982 when Steve began crafting knives seriously for collectors, he has sold about several thousand knives. He has serial numbers on them, which he has logged according to who bought them, when, and for how much.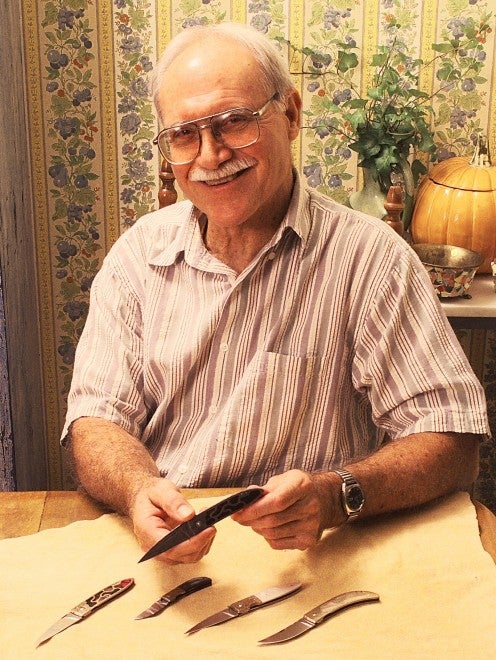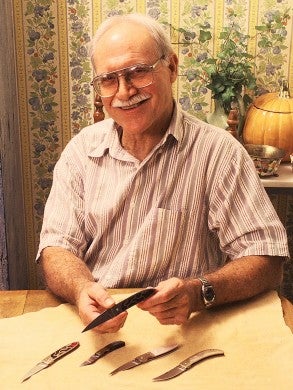 The demand for Jernigan knives far outreaches the supply. And although both his sons (one daughter, too) have the skills and talent to make knives, they have their own businesses and families that keep them busy.
"I love working with my hands, in my own shop, on my own property, and knowing I am completely self-contained," Steve explains. "I'm able to create things that some people find interesting and valuable, and I'm able to meet wonderful people, and can bowhunt and fish about whenever I want. For me, making knives is like being in heaven."