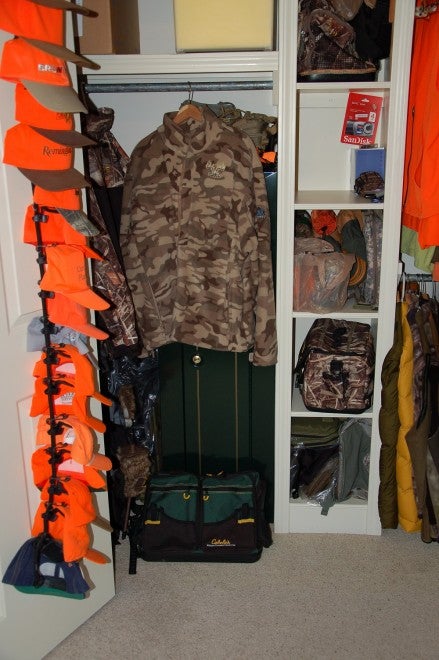 sAs they say there is no time like the present. Deer hunting season is long over and thoughts are already turning to getting back to the woods this fall. Turkey hunting is gone, as is small game and bird hunting. You could still pop a varmint or two if you were to be so inclined, but most hunters are turning to fishing by this time of year. But let's look ahead anyway.
My hunting buddies say I make way too many lists and plan way too far in advance. But then when the fall seasons roll around, guess who is prepared and ready to go. Others in camp are asking me to clean their deer rifles left dirty from last season, are looking to "borrow" batteries for their radios and flashlights, or are trying to get their ATVs started. By the way, how is it exactly that you can "borrow" batteries? I mean they never bring them back!
Right now, the early summer days are getting longer by the hour and hotter by the minute. This is the time of year I turn to evaluating all my gear from last year's hunting seasons. It does not have to be a rush program, but a steady task list getting everything back in shape now even though hunting seasons are months away. I just like to be way ahead of the curve.
Initially, I turn my attention to items that need regular annual maintenance. I put a charge now on the ATV battery just to keep it up. My Honda 450ES is a 2000 model but is still going like a Timex watch, knock on wood. I am on my fourth battery though, so I hope this one makes it another year. Sitting in the garage most of the summer in the heat is really tough on an ATV battery.
I will keep the gas tank full of non-ethanol fuel and add some Sea Foam treatment as well. I also try to crank the engine up at least once a month and drive it around the yard, much to the chagrin of my spouse. What, so it flattens the grass a little? About a month before I head to deer camp in September for work day I will get the oil changed, install a new spark plug, and have everything adjusted and inspected, including the throttle and the brakes.
I get out my 2-3 pairs of hunting boots for a cleanup. The rubber ones I hose off out in the yard and hit them with a stiff brush to get all the mud off. I sun dry them and store them in the garage. Same for the leather ones, except after they dry well, I polish them well and then use an old toothbrush to add seam sealant to waterproof all the sewn seams on each boot. Then I seal them in plastic grocery bags for the summer.
If I tore or messed up anything hunting clothing, then I refer them to my seamstress wife for some repairs. My main Browning fleece hunting coat I usually just toss it in the dryer for about ten minutes to restore them. I clean and oil/wax leather hunting and work gloves, belts, and holsters as needed.
Basic Maintenance
Hunting guns have already been cleaned, oiled, and stored in the safe. I always use a good sporting optics cleaner and a soft rag designed for such to clean all riflescopes, binoculars, and spotting scopes. I also add a drop of oil to the focus adjustments, too.
After I clean and get all my gear back to level one maintenance, then I turn my attention to anything that might have broken that is in need of repair or replacement. Last year I took note that likely a squirrel chewed through the fold down seat strap on one of my ladder hunting stands. I cut a new strap, secured a new metal washer to put under the bolt on the stand then put this "repair kit" in a zip lock bag for my next trip to camp.
Other hunting gear items that may need attention include deer knives for gutting and skinning. These should be cleaned, sharpened, and oiled. Wipe down the leather sheaths add a leather treatment. Are your flashlights and spotlights all working with fresh batteries? There may be other camp tools that need some work, including firewood axes, chainsaws, hand tools, and other stuff.
Watch out for Sales
During this time of year, I also keep my eyes and ears open for summer sales and any specials being offered by local stores and big box sporting goods outlets or other resources. Since I do all the cooking at our deer camp cabin, I knew a couple of my recycled cooking pans taken from home were just about done for. I picked up a new one for the house and added the old one to a growing stack of stuff in the garage to take to camp. I packed up some more plastic cups, too.
Speaking of sales and such, always watch for holiday weekend sales such as around the July the 4th for opportunities to restock ammunition, trail cameras, maybe some new hunting clothes, socks, boots, hunting stands, or anything else your camp might need. These businesses are always trying to generate sales, so why not save a few bucks on stuff you may be needing eventually anyway.
Fix Your Stands
Some hunters put off maintenance and repairs to various kinds of hunting stands, but some things can be done now. I replace all my ratchet straps every 2-3 years, so I am always watching for them to go on sale. Last year the wind blew down a limb onto my favorite ladder stand and bent the fold down shooting rail. I had to fabricate a brace to bolt into place across the bent bar to stabilize it. These jobs can be done in the off season.
One of our more popular shooting houses has plywood walls to enclose the metal frame. For years I thought the top edge of the wall was too low for easy shooting from the bench seat. So, I found a good piece of 1×4 wood and simply tacked it up on top of the wall to raise it up. Now a hunting rifle can be rested there at just about the right height in the stand. Simple.
I am sure there are many other things that need or can be done now long before the hunting seasons in the fall. Thus the reason for my on-going list making. It's a simple strategy, but I keep a deer camp idea pad at work, one beside my recliner chair at home, and one in the truck to jot things down as they pop into my brain. This way I can always stay on top of most things.
The long, hot summer can be a tough time for hunters feeling the urge to get back to the woods. It seems to make time go much faster for me if I execute my to-do lists now during the lull, so come fall, I am pretty much set and ready to go. Then I can sit back on the front porch at deer camp and laugh at the other guys in camp still trying to catch up.