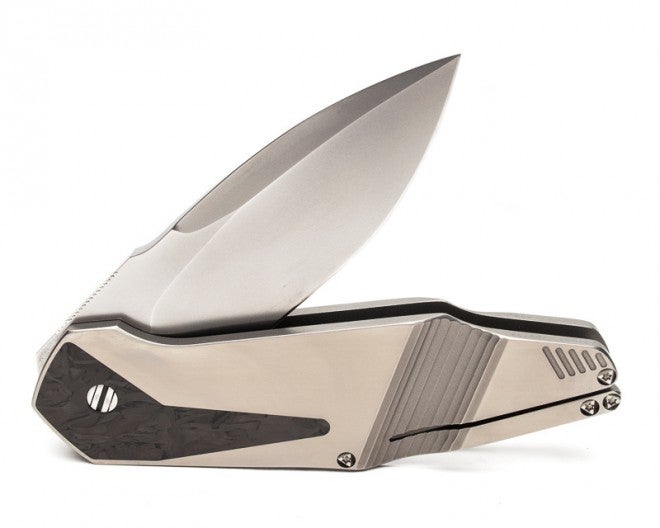 Blade Show, the knife industry's biggest gathering, was a little over a week ago, and the awards were given out on Saturday night. I thought it might be fun to bring you those winners with some analysis. There are two groups of winners, production knives and customs. I'll take a look at both and hopefully give you some insights.
Production

SHOP NOW
Let's start out with the production winners:
The overall winner is a pretty big deal, often spiking interest and highlighting some of the best, most innovative stuff on the market. This year is no different. Over the past five years Lionsteel has gone from unknown to one of the two best OEMs in the world (the other being Spyderco's Taichung, Taiwan facility), to perennial Blade Show award winner. This year they took the overall prize having won the same prize last year as an OEM for CRKT.
The winning Lionsteel TRE is a blade that allows you to customize the deployment method, giving the user the option to choose whether the knife deploys with a thumb plate, a flipper, or as a two-handed opener. Given Lionsteel's fit and finish, you can count on this knife being well-made, and the switchable deployment method looks solid. The knife will be expensive (street is in the Sebenza territory), but the steel and handle materials are all top shelf. There is a non-swappable G10 version as a cheaper alternative to the Ti model.
TRE is a great choice and it is a sign that the knife industry is finally taking smaller blades (the cutting edge is around 2.9 inches) seriously. It's been years since a knife under 3 inches as won the top award. The last knife with a blade under 3 inches was the Ed Van Hoy/CRKT Snap Lock in 2004. Smaller knives are more popular as EDC knives, and this trend has finally filtered back to the knife industry itself.
The American-Made Knife of the Year went to ZT, which is not much of a surprise as they have been winning awards for many years in a row. The knife that won, the ZT0999, is a behemoth, both in terms of size and in terms of its machining challenges. The blade is a composite blade with a carbon fiber inlay, but it is not just an inlay, the machining makes it appear as if it were a floating inlay. The handle is similarly gee-whiz amazing. The backspacer and lock side are all machined from a solid piece of titanium. The pocket clip is a deep carry, sculpted number. Overall, the ZT0999 is a daunting piece to produce. It's not much of a looker in my opinion, taking every single facet of knife design too far. It's a combination of the Transformer look with the restraint of Baroque architecture (which is to say no restraint).
Spyderco's first integral, a production version of Peter Rassenti's Nirvana, won the Import Knife of the Year, and it is a testament to Taichung Taiwan's manufacturing capabilities. They can run with anyone in the industry and have been pushing the envelope for years.
The CaraCara was the budget winner, but in this instance I think CRKT's Burnley Squid was really overlooked.
Chris Reeve won the manufacturing award again, having loaned out his spot to Lionsteel last year, and he was also elected into the Hall of Fame, all deserving trips to the podium for Mr. Reeve.
The People's Choice award went to a Schrade fixed blade, a 5-inch 1095 blade that costs under $30. It seems odd to me, but that is a good value, until to click on a retailer that sells the knife and you see the disclaimer that the cutting edge is uneven from the factory. Either everyone was really budget conscious or Schrade won by fluke. This is not a knife I would vote for as a winner of any prize.
Finally, the Koenig Zenaida won the Most Innovative American Design. It's a gorgeous mid-sized blade from a small manufacturer designed by a real "one of us" guy. It also has the notable distinction of being a knife that can be disassembled without tools and uses no screws in its final construction. Crazy impressive, right? I have been following its development both on Instagram (the designer, TJ Schwarz, can be found there at knife.designer) and on YouTube. It's amazing to see a knife go from sketch to very deserved award winner.
Custom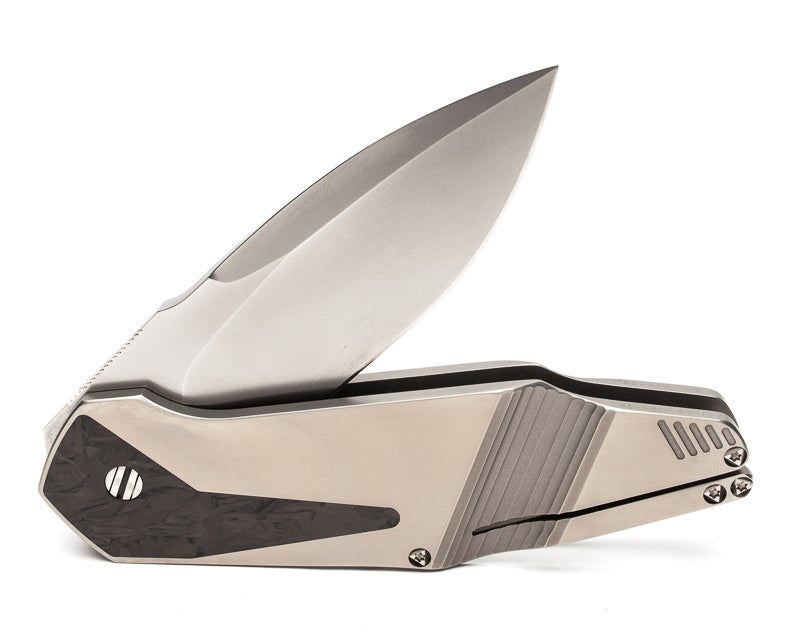 The custom winners have the usual assortment of "Who cares?" and "So what?" entries, but there are a few very notable winners. Here is the complete list:
Yvon Vachon Best Miniature Award: Shigeru Tozaki
Best New Maker: Raphael Durand
Best Bowie: David Lisch
Most Innovative Design: Gustavo Cecchini
Best Knife Collaboration: Ladysmith Dagger by Audra Draper, Haley DesRosiers, Dellana, Julie Warenski-Erickson, Grace Horne
Best Sword: William Lloyd
Best Damascus: David Lisch
Best Art Knife: William Tuch
Best Fixed Blade: Steven Rapp
Best Utility Hunter: Mike Quesenberry
Best Folder: Bill Ruple
Best Tactical Folder: Brian Nadeau
Best Fighter: Neil Schutte
Best Handle Design: Sam Lurquin
Best of the Rest: Grace Horne
Hugh Bartrug Best of Show: Bill Ruple
These categories are generally irrelevant for anyone that is not a hardcore knife collector (commenters who rail against my expensive selections please feel free to rage against the stupidity of miniature custom knives, some of which cost more than four figures), but sprinkled in here are a few gems that matter to regular knife folks.
First, GTC, Gustavo Cecchini, won for most innovative after years of being the most innovative knife maker on the planet. From hidden pocket clips, to high end bearing pivot systems, to spring loaded flipper tabs, to dual direction flippers, to glass (yes, glass) inlays on blades, Gus has been doing things that no one else even attempts. This is as a deserving a win as anyone at Blade show.
The collaboration of the year is also a great set of winners, female knife makers that got together to make a great knife to support a great cause (human trafficking). Finally, it's nice to see Brian Nadeau, a past winner, again in the winners circle as he makes some pretty amazing handmade knives at some really decent prices
SHOP NOW