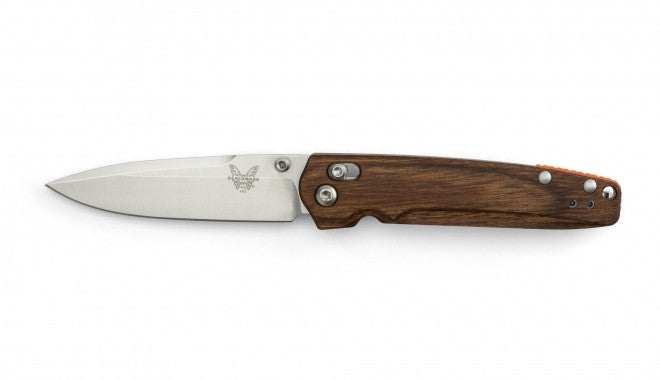 I reviewed the Valet here, and man was that a nice little knife. It had some fit and finish issues and some fiddly parts, but it is a very good EDC. In Benchmade's line up, one that ranges from conservative to put-you-to-sleep-boring, the Valet wasn't an innovative bright spot, but it was smaller than 99% of Benchmade's blades and it was executed well.
So when I saw that Shinola, a Detroit-based watch company, had paired up with Benchmade to release a special edition of the Valet, I was interested. The problem is Shinola's reputation is not the greatest. Their so-called "Argonite movement" is nothing more than a Ronda movement assembled in Detroit and it is, unfortunately for most serious watch savants, a quartz movement. Additionally, while their cases are nice looking and apparently well-made, the overall package is exceedingly expensive–many times the price of a Seiko or Citizen of equal quality. In other words, there is a lot of flash and not a lot of substance when it comes to Shinola's core product–their watches.
But the Shinola Valet is different. If a movement is the heart of a watch, then blade steel is the heart of a knife. And in this case, Shinola chose right–the Valet's M390 steel is one of the best steels on the market. This is the watch equivalent of a very nice ETA movement, maybe even an Omega Coaxial. And the rest of the knife is darn good. An Axis lock is always nice, even if, like here it is a bit small. The thumb stud is great for coin-flipping the knife open, and the over the top, deep carry pocket clip is simply great.
The two major changes from the stock Valet, the handle scales and the back spacer are also nice. I like G10, its super functional and lightweight, but it's not the most inspired material. For the Shinola Valet, they opted for a dymondwood scale. Dymondwood is an engineered wood product whereby thin sheets of real wood are dyed, injected with a phenolic resin, and then pressed and heated together. The result is an ultra dense product that can be made to look and feel like wood. It also works and cuts like wood. Finally, it is much more resistant to water and does not expand and contract like real wood. In many ways it is an ideal handle material, combining good features of G10 and good features of real wood. That said, I'd prefer high density woods like Macassar Ebony or Ironwood, though their availability and cost make it impossible to use them on a production scale. For production scale knife making, dymondwood is a good choice and here, on the Shinola Valet, it looks quite nice. The orange G10 backspacer sets off the entire knife, handle scales and all.
Finally, and best of all, the Shinola Valet avoids the insane Shinola mark up problem that has plagued their watches. Unlike the 300% premium for a quartz watch, the Shinola Valet is only $30 more than the stock model, which is a darn good buy considering the premium prices associated with M390. If you want something a bit different, take a look at the Shinola Benchmade Valet.


SHOP NOW