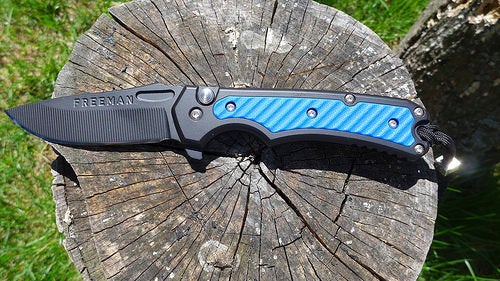 Jeff Freeman was one of the head designers for Gerber, the knife and tool giant. His aesthetic, a clean and bold take on traditional shapes, permeates the line even years after he left. Since leaving, he started his own knife company, Freeman Outdoor, and there his penchant for conventional shapes with striking updates is finally matched by great materials and superior machining.
I reviewed his first offering the 4 inch version of the 451 here. This is a review of his first folder, the 451 Flipper.
Description
The 451 Flipper is an American made folding with a large blade, measuring around 3.7 inches, and an aluminum handle.
There is a a recess for the pocket clip attachment point and another recess for a G10 inlay. The blade is a conventional drop point shape. It is made of D2 steel and the blade is 3/16 inch thick. The grind is anything but conventional; its striations call back the original Kershaw Zing. The knife deploys via a flipper tab or a small notch in the blade. The pivot is a bearing pivot for smooth action and stability, and the knife uses a button lock. To my knowledge it is the only bearing pivot flipper that uses a button lock. My review sample came with a blue G10 insert, but there are wide variety of options. My review sample also came with an excellent lanyard that included a dice bead. The retail price is $199.95.
Testing
The 451 Flipper served as my knife of choice for about a month, going with me on hikes, around the house, making fires, taking care of recycling, and processing boxes.
I used the knife to cut down about a half dozen wrist thick trees, a task it handled with little problem. It zipped through a set of massive cardboard boxes with such speed that my wife, a consummate knife dissenter, was impressed enough to comment.
Design
The 451 Flipper is a very solid knife, both in look and feel. Some folks on Instagram balked at the blue insert, but that is something I chose and not a requirement for the knife (I happen to like blue, as it shows up well when I drop the knife in the woods).
There are plenty of milled lines, stripes, and striations on the knife and in the insert, but underneath all of that busy machining is a very solid, very basic knife.
The blade is a great drop point, the handle has a nice index notch and a good butt to it, and the clip is perfectly tensioned.
I actually like look–at worst it is no more offensive than the Humvee-ish XM-18, but even if you don't like the surface appearance of the knife, underneath all of that stylization is a very good, time tested shape.
The choice of a bearing pivot and a button lock provides an opening experience like no other knife I have handled. Once you get the flipping motion down, this is a distinct light switch flipper, to borrow Jim Skelton's terminology. The 451 Flipper is without peer in the production world. Nothing I have handled, custom or production, flips like this, though I imagine there are customs that I haven't handled that are better. The action is so smooth and so fast that you need to be careful closing the knife the first few times. I wasn't and it bit me. This is a big blade falling fast with almost zero resistance thanks to a great pivot and well designed lock.
Implementation
As with many bearing pivot knives I have reviewed, the bearing pivots add a tremendous amount of stability to the knife, and they make the entire blade well centered and rigid. The handles are expertly machined and the knife is ground well. The edge was a mirror edge as I received it and it shaved hair with minimal effort.
The pivot, by design, is smooth and the flipping action is rocket-like. Even the recesses are expertly crafted. Finally the blade coating, usually a stumbling block, is very well done here and after a month or so of good use, it looks quite good.
The one drawback I have is with the button lock. It used to be that they were really unstable. Here the problem is the exact opposite. It is 100% rock solid, but even after a month or so there is, on occasion, a bit of lock stick.
It's nothing major, but that is after an extensive break in period. Initially it was virtually impossible to unlock the blade with one hand. Ultra picky knife guys need to be patient. It will break in eventually, but even then it can get a little balky.
Conclusion
The sticky button lock is not much of an issue after the knife breaks in, and while flipper action is different than most, it takes very little time to get used to. Once both of those things are set, the 451 Flipper fires like a starter's pistol and when the blade snaps into place is almost as loud. This is a big, bold offering from Jeff. The style is reminiscent of a few Gerber designs, but that is an unavoidable fact, given that Jeff designed the lion's share of their in-house blades for years. I think the problem with Gerber has less to do with their designs and more to do with their fit, finish, and materials, both problems that are solved here.
The 451 Flipper is a great large production knife. It has machining, performance, and features can match just about any mainline production knife out there under $300. It even competes well with much pricier knives. The D2 is fine, especially with the mirror edge, and the overall look and feel of the knife is very robust. It's not too heavy thanks to the aluminum handle. The real plus here is the price and the flipping action. Even Brous knives, known for their great flipping action, have a thing or two to learn from the 451 Flipper. Compared to ZT knives, Benchmades, the production Dauntlesses, and many of the high end Chinese knives, the Freeman 451 Flipper is quite a value. It also happens to be a bit different from what we are getting a steady dose of right now–titanium framelock flippers.