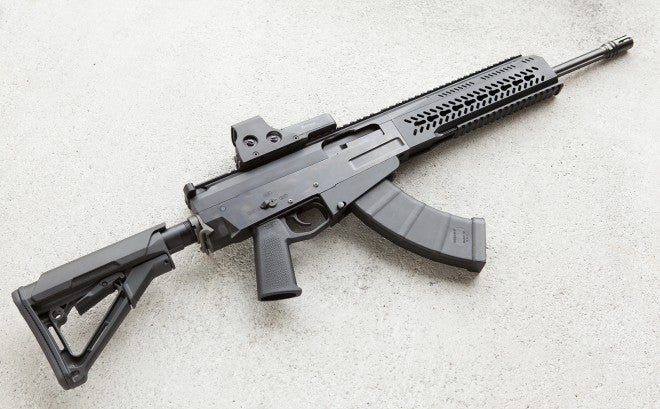 Over the years, the utility of 7.62×39 cartridge has been reconfirmed as decisively as the limitations of the AKM open sights and work-around solutions for mounting optics. While aftermarket options help substantially, most AKs still come with relatively light barrels and thin stamped receivers that flex on firing. Further, AK manual of arms differs considerably Firingline Arms Group LLC has designed CTMR rifle to address those shortcomings: it's built on a machined receiver and uses ambidextrous AR-style rotary safety/selector lever, along with AR charging handle and Magpul telescoping stock. Full length railed forend is set up for magnified or red dot optics.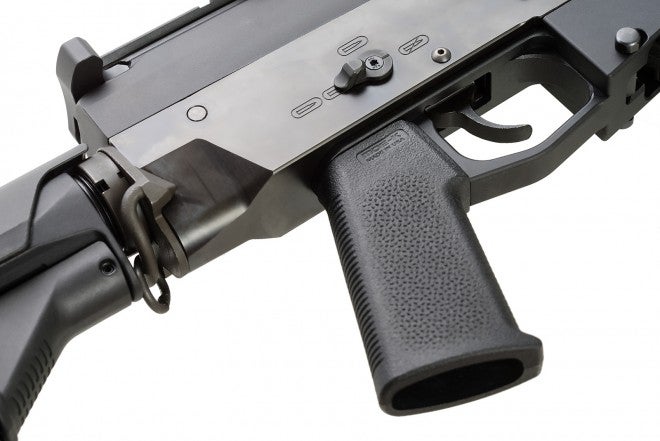 The sample I test-fired is an early prototype. It differs from the upcoming production version in small details which I will note. The gas system is standard AK, while the barrel mounting is more similar to ARAK21, with relatively quick dismounting possible for changing out a shot out tube or altering the length for a specific mission.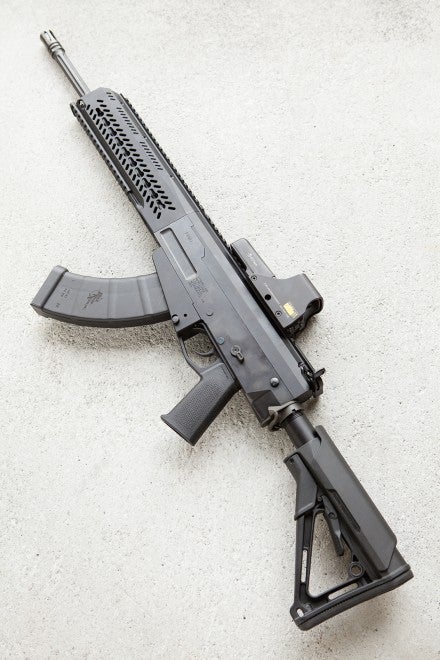 CTMR is similar to AKM in overall weight but feels a bit heavier, mainly due to the forward balance. That same balance makes the rifle stay on target well between shots. Felt recoil is less than with an AK and feels more gentle. The trigger is on part with the best aftermarket solutions for the AK, definitely better than on stock AR15. Overall, it's the American answer to AK12 variant.

The rifle worked well with Magpul and Thermold 30 rounders. The wide flat forend made supported firing easier, and we got excellent results even with unmagnified sight and cheap Russian Brown Bear JHP–1.5″ at 50 yards, 3MOA. This is how 3MOA looks in real life–quite respectable for this type or defensive arm.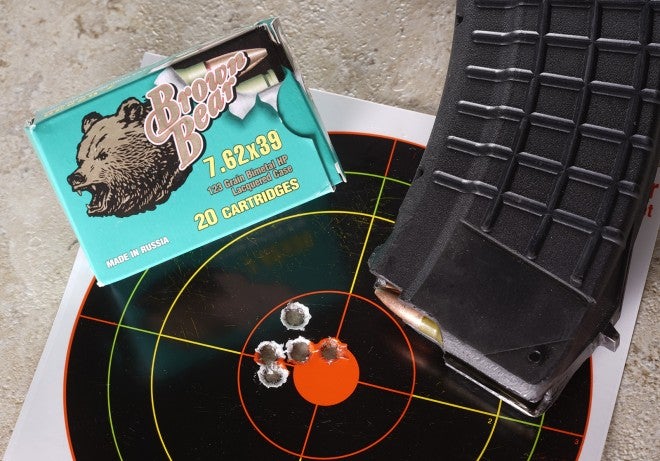 For comparison, bolt action CZ527 shot 4MOA groups with the same ammunition and 2MOA with American-made hunting soft points. I wasn't able to test accuracy of CTMR with American ammunition (Winchester and Federal) as the rifle started stringing vertically by the time we shot up Barnaul. I asked about it and found that the prototype barrel had not been stress relived after fluting. All production barrels go through cryo treatment to remove machining stresses and do not string groups when hot.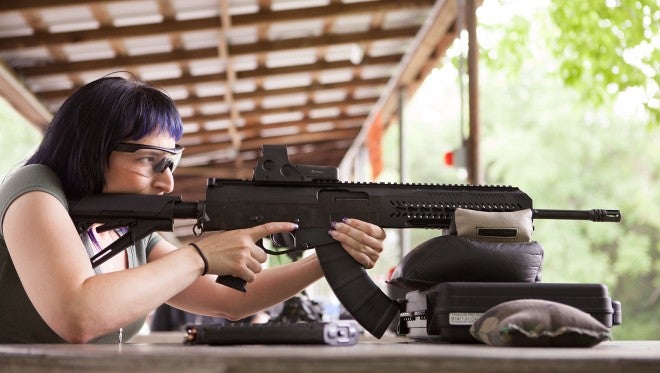 Even the first-time shooter found the rifle comfortable and accurate. We had no malfunctions with any of the loads, roughly 120 rounds fired in all. After that, the 96*F heat and high humidity drove me off the range.

The forend heats up fairly quickly due to the AK-style venting of excess gas inside. For heavy use, keymod rail covers would be helpful. Take-down is by popping the rear pin and unscrewing the thumbscrew (also slotted for a screwdriver or coin) on top of the forend. The rest of the process follows AK take-down fairly closely.

My sole complaint with the design is the substitution of an awkward safety lever for another, equally awkward solution. My thumb isn't long enough to reach the selector on the left, and my hand to be shifted around the grip to allow the index finger to disengage it on the right side. The rounded magazine release is changing to a larger, less rounded shape in the production version. All double-stack box magazines fit but not drums. The quality of machining is high and all steel parts have been nitrided to resist corrosion and wear. Initially CTMR comes in 7.62×39, later will be available in .223 and .300 using AR magazines. I will report on the production rifles as they become available in late July.