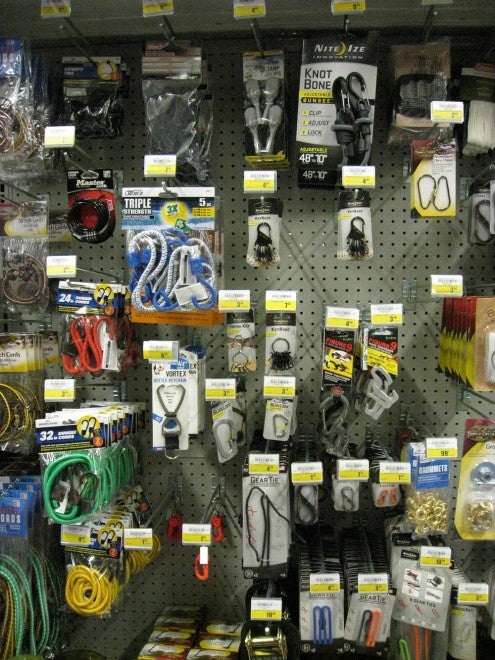 There are some things preppers can never have enough of it seems. These are a myriad of snap or karabiner-type gear hooks, things that snap on belt loops or back packs, and lash down straps of all kinds. These items are extremely useful for all kinds or prepping activities, packing up and out, and just for gearing things up at the house just in case.
Most preppers are closet gadget nuts, and I guess I am one of them. I like all kinds of neat little tools, gadgets, accessories, and pieces of gear that help me organize and keep everything together right where I need it.
Next time you stroll a big time camping department in a big box store or a specialty shop, take the extra time to examine all of these categories of items that can be highly useful for prepping. I am willing to bet you cannot walk out of the store without buying a few items.
I use a ton of simple stretch elastic straps for everything. For example, I keep at least six of these types of straps with adjustable lengths housed on the front and rear racks of my ATV. When I go afield, it is always with a pack, a shovel, ax, tool bag, camera bag, extra supplies, a holstered handgun, bottles of water, heavy coat, and/or other stuff.
All of this gear is securely lashed down on my 4-wheeler racks to keep it in place. Even with the add on rifle rack up front, I still put two straps across the zippered case to keep it from falling off the rack over rough terrain.
My main Maxpedition back pack looks like a Christmas tree with all the "S" type or karabiner type slide locks to hang extra stuff from. It might be a flashlight, gloves, water bottle, ammo pouch, or something else for quick and easy access. I use these in all sizes and colors.
I also like the heavy coated wire twists called Gear Ties. I use those to tie down long handled tools on the ATV and tools inside the truck bed on trips to camp. These come in various lengths, colors, and sizes.
Again if you'll visit a well-stocked camping or hardware store, you'll discover a lot of uses for the multitude of hooks, snaps, and straps available.


SHOP NOW