Self-Defense and Survival Gun Picks: Shotguns and Rifles
Bob McNally 07.01.15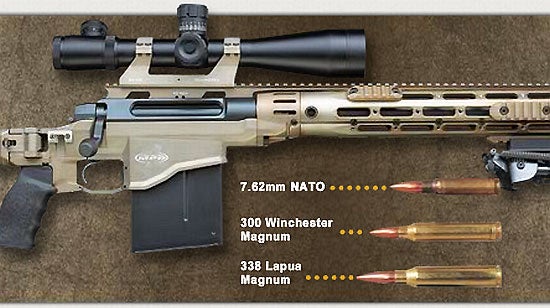 In part 1 of this firearms options series, I went through my personal favorite list of handguns for self defense and survival. The fact that I didn't include a Glock, or <insert favorite gun here> in the list got some people's nose out of joint, but that's okay. Those are my own picks, and I stand by them. I'm always open to suggestions, and it's great to hear from readers with their own ideas.
In that same vein, here are my choices for home defense and survival shotguns and rifles. Some of these will be on anyone's list of top home defense guns, while others are guns that you may not have considered or even heard about–as with the handgun picks, I tried to include a mix of stand-by's and surprises. And of course, many of you will have different ideas (*cough* AR and AK *cough*), so drop into the comments section and let us know what they are.
Shotguns
1) Remington Model 870 Marine Magnum, 12 Gauge
This is a hard-core security pump-action shotgun, featuring Remington's smooth and reliable 870 receiver and action. The 7.5-pound shotgun has a 7-round magazine (plus one in the chamber), and is virtually weather-proof. It handles 2 3/4-inch or 3-inch shells.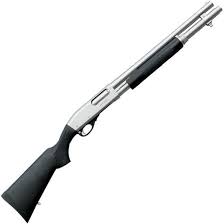 It has a rugged synthetic stock and extensive nickel plating on all metal parts to resist corrosion. It has a bead front sight and a 18-inch long cylinder-bore barrel, perfect for close-range scattergun work or for use with rifled slugs.
The Marine Magnum comes with a recoil pad, sling swivel studs and has checkering on the synthetic stock and forend for sure gripping in even the worst weather.
2) Benelli USA M1 Tactical, 12-Gauge
Shotgunners whose lives must depend on a firearm functioning correctly usually choose pump shotguns. But Benelli has changed people's minds, including law enforcement organizations and the military. The company has developed a reputation for dependable semi-automatic shotguns.
One of Benelli's latest claims to fame is its M1 Tactical 12-gauge shotgun, which has a menacing "assault" look to it.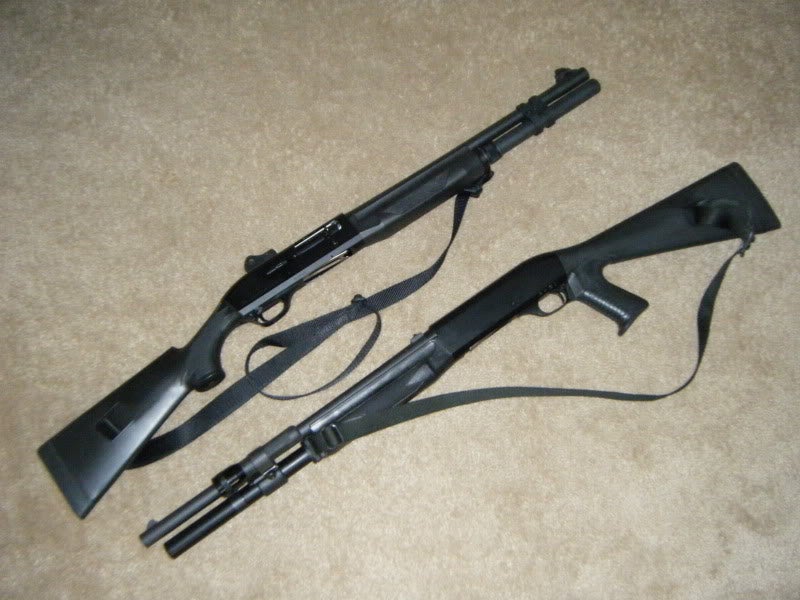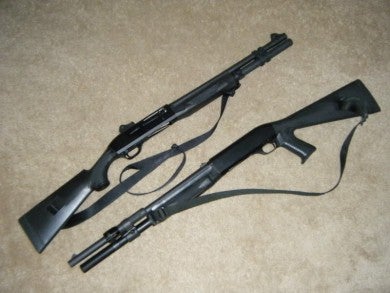 The M1 is a flat blue/black color, available with a pistol grip or a conventional one. With just an 18 1/2-inch barrel, it shows it's all close-quarters business. The gun is available with either a military ghost ring or rifle sight and has sling swivels. It comes with improved cylinder, modified and full chokes, and weighs 7 pounds—light for an auto-loader.
It shoots 2 3/4-inch or 3-inch shells and has a five shot magazine, plus holds one round in the chamber. The gun also comes with a 2 shot magazine extender, making the M1 capable of holding a total of 8 rounds, plenty for self defense duty.
3) Winchester Model 1300 Camp Defender, 12 Gauge
The new Winchester Camp Defender is an all-around camp/self-defense firearm that's modestly priced and is as functionally reliable as any shotgun can be. The pump-action gun uses 2 3/4- and 3-inch 12-gauge shotshells and, with a 22-inch barrel and 8-shot capacity, has awesome firepower.


Unlike other Model 1300s in the Winchester Defender lineup, the Camp Defender has interchangeable "WinChokes," which is an important plus in a self-defense firearm. For use with pellet shells, like OO buckshot, full choke or modified chokes may be desirable. When rifled slugs are needed, open cylinder chokes are best and can be easily screwed into the gun.
The Camp Defender has a hardwood stock and fully adjustable open iron sights. It measures 42.75-inches overall and weighs just under 7 pounds.
4) Stoeger Coach Gun, 12-Gauge
There is no more menacing self-defense tool than a short, double-barrel shotgun. It's a no-compromise, fast-swinging, wide-scattering lead pacifier. Made famous in the old West, the "coach gun" is well represented today with Stoeger's version.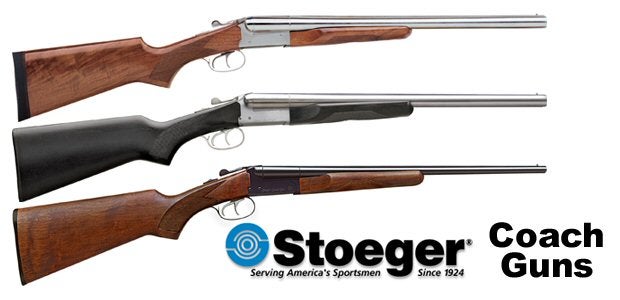 It's a jam-free, reliable firearm with a break-action and two triggers (one for each barrel). With only 20-inch barrels, it's fast handling in tight quarters yet safe with an automatic safety that's actuated whenever the gun is "opened." The Stoeger Coach Gun has a wood stock and forend, with barrels bored cylinder/modified.
It can be had in blued or nickel finishes, with the nickel best for wet environments that may promote corrosion.
5) Mossberg Model 590 Mariner, 12-Gauge
Perhaps the best-known of Mossburg's defense shotguns, the 590 Mariner pump-action offers reliability, fast handling, corrosion resistance, and staggering firepower. While the gun has a number of desirable features, one of the best is its 9 shot capacity. Plus the new "Speed Feed" stock has storage for two extra shells on either side of the stock for a total of 13 shots available in the gun.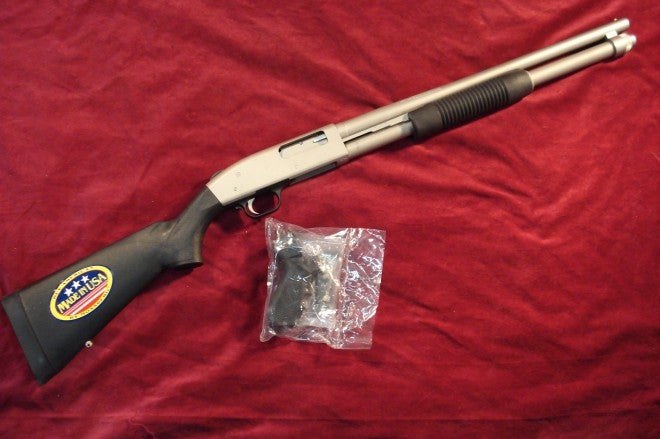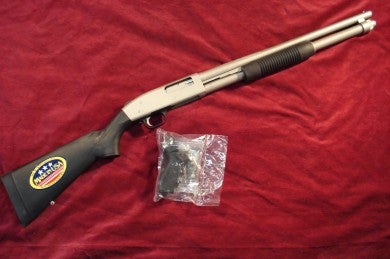 The 7-pound shotgun has a 20-inch cylinder-bore barrel, measures 40 inches overall, offers ghost-ring sights, accommodates 3-inch 12-gauge shells, and has built-in sling swivels. A synthetic stock and corrosion-resistant finish make the gun impervious to the most hostile weather.
[Editor's Note: This gun is very hard to find, or at least, it was when I bought mine. IronSights does show a few in-stock. If you see one at your local gun store, just buy it already. Heck, if I saw one at my local store, I might just buy a second one.]
Rifles
1) Browning Semi-Auto Rimfire, .22 Caliber
Some people may question the selection of a .22 caliber gun for self-protection. But the small, easy-to-purchase, inexpensive rim-fire cartridge has almost no recoil, and guns chambered for it are light, fast-handling and reliable—all things important in self-defense weapons.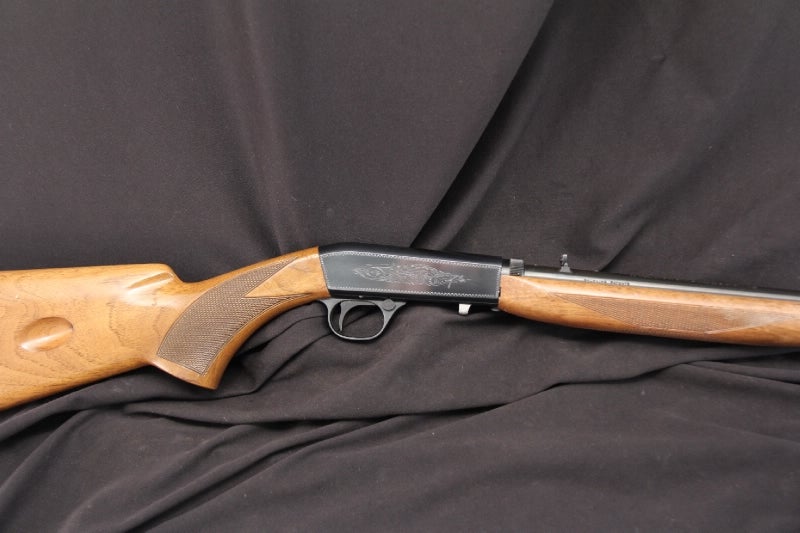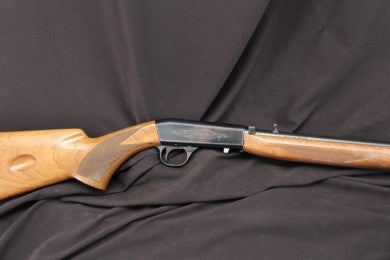 The Browning Semi-Auto Rimfire has a well-earned reputation for excellent out-of-the box accuracy with adjustable iron sights. It also can readily accommodate a telescopic sight
The rifle holds 11 .22 caliber long rifle cartridges in a tubular magazine fed from the stock. It also can handle .22 short and .22 long ammunition. It weighs just 5 pounds, and its overall length of only 37-inches makes it easy to stow, plus quick and fast to use in tight-quarters. These assets also make this Browning a perfect home-defense firearm, even for small-stature people.
2) Winchester Model 94 Legacy, .357 Caliber
The reputation of the Winchester Model 94 is so great they've made Hollywood movies about it. But this newest version of the famed rifle that helped tame the West may be the ideal self-protection firearm that terrorist activity could most fear.


Two things about the Model 94 make it perfect for protection. One, the lever-action is sure and reliable. No jamming, in other words. Two, the Model 94 is available in heavy handgun calibers, which offer plenty of "bad guy" stopping power, plus the rifle's tubular magazine can hold more than twice as many .357 rounds as larger hunting cartridges. The Legacy can handle a dozen .357 cartridges, which are available almost anywhere in America. The gun also can be bought in models shooting .44 Magnum and .45 Colt (holding a dozen of those bigger, badder rounds, too). That's a lot of firepower in a long gun with only a .20-inch barrel (38-inches overall), and weighing just 6 1/2 pounds.
3) Ruger Mini-14/5, .223 Caliber
The Ruger Mini-14 has had an almost cult-like following of shooting fans for many years. The gas-operated, semi-automatic rifle is a favorite of ranchers and farmers because it's tough and extremely accurate, particularly at long ranges. The gun is ideal for rugged outdoor use because it can be field-stripped, cleaned, and put back into service in mere seconds. The Mini-14 is available in an all-weather model with stainless steel metal and a synthetic stock. Called the "Ranch Rifle," this Mini-14 also accommodates a telescopic sight.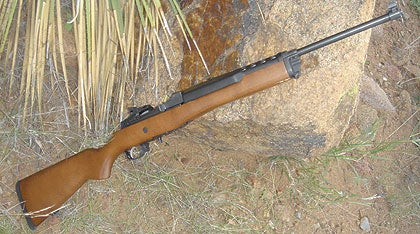 One of the important assets of the Mini-14 is that it accommodates .223 caliber rifle ammunition, the same used by the U.S. military in its standard-issue M-16. Not only is the caliber a low-recoil, high-velocity round with extreme accuracy at long range, but .223 military cartridges are very available and very inexpensive.
The rifle comes with a 5-round detachable box magazine, though larger-capacity magazines are available. Weighing only 6 1/2 pounds and measuring a mere 37.25 inches overall, the Mini-14 is easy to carry and stows compactly.
4) Remington Model 700 Titanium, 30.06 Caliber
This is one of the lightest, toughest and most accurate rifles designed in recent years. Remington took their very popular, very accurate Model 700 bolt-action rifle and made it tough enough for use in the highest mountains in the worst conditions. The result is the 700 Titanium.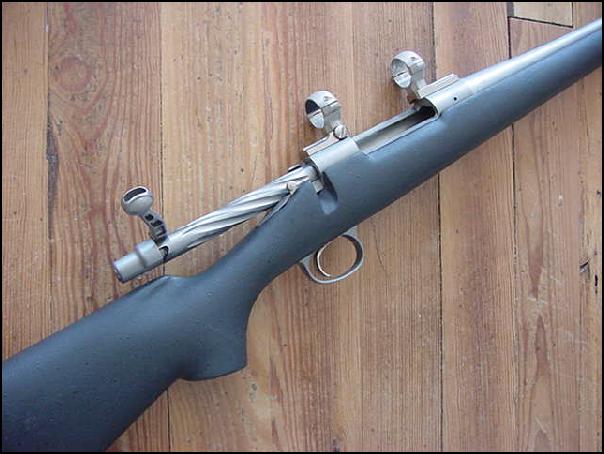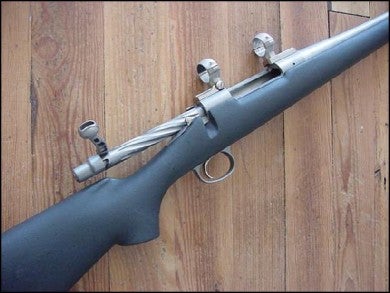 It has a super lightweight titanium receiver (lighter and stronger than steel), a short 22-inch barrel and a skeleton handle on a synthetic stock. The result is a deadly-accurate rifle (for use only with telescopic sights) that weighs a mere 5 1/2-pounds.
While available in a number of popular calibers, in 30.06 it's most versatile. This old WWII round can be found anywhere in America, and inexpensive military ammunition is still available. Further, bullets for the cartridge run the gamut from .220 grain leads that plow through granite to high-speed "accelerator" rounds capable of half-mile accuracy.
5) Remington PSR Kit 86642


In what may be the ultimate survivalist rifle combination yet packaged by a general firearms company, this incredible long gun kit includes everything needed for deadly fire power out to nearly one mile.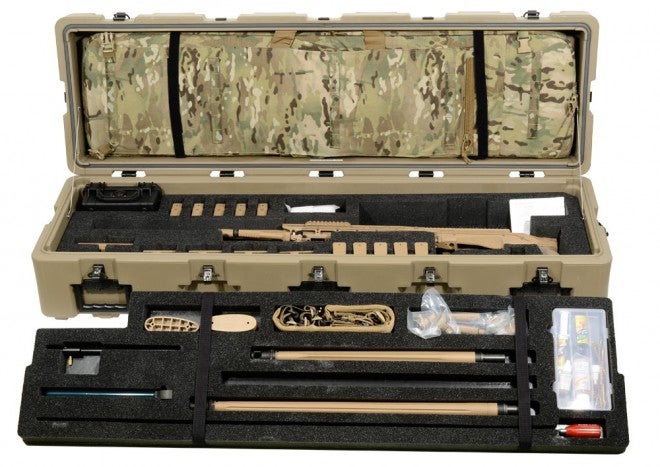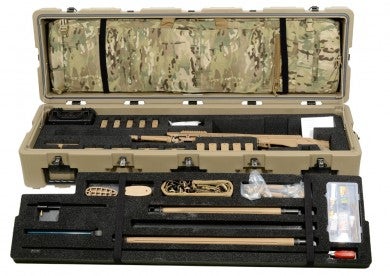 The Remington Defense Modular Sniper Rifle can change within minutes from a .338 Lapua Magnum to a .300 Win. Magnum to a 7.62 NATO caliber firearm. Ready to adapt to any need, this tactical rifle features a changeable bolt face, barrel, magazine, and lightweight and corrosion resistant materials.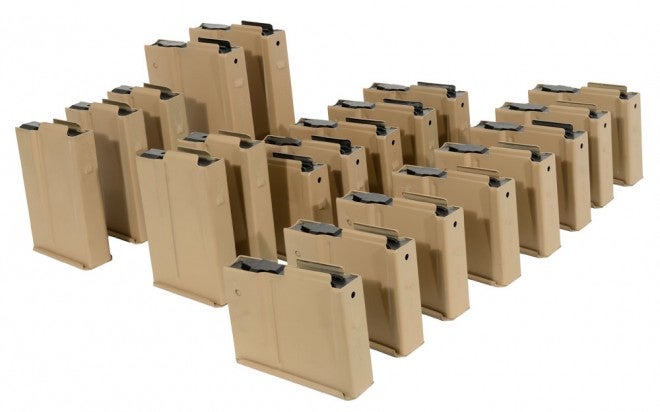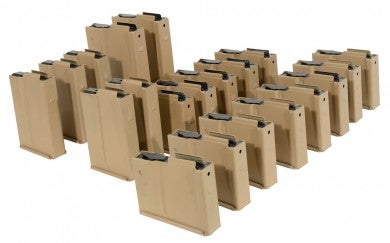 The kit isn't cheap at $21,000, but it includes three barrels, 20 cartridge magazines (in 3 calibers), tool box kit with all needed accessories, bipod, sight rails, recoil pads and spacers, sling, a soft and hard case, and much more.