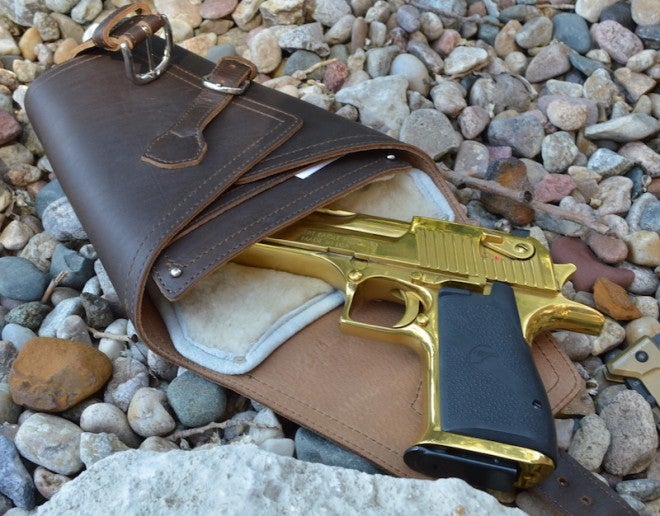 I love really nice things, and generally those things are not cheap. So the point of this article is not to brag, but to look at one of those really nice, beautifully executed firearms accessories: the Saddleback Leather Pistol Wrap. My belief is that if I buy the best I can afford, it will last at least one lifetime and deliver more enjoyment to me over the long term and potentially as an heirloom item.


For example, I like nylon bags for their weight and price, but nylon just does not have the feel, look, and longevity of leather. In the last decade, I have owned and worn out many nylon bags, but my Saddleback Leather Messenger still looks fabulous after a ton of abuse. Quite simply, I feel awesome when I have nice things and select leather goods are high on my list. Equally, I feel my top end custom firearms deserve better than a $9 gun bag I bought on clearance. After spending well over a grand for a custom pistol, why not invest in a $239 Saddleback Pistol Wrap for it?
On my last weekend trip as I was packing the car with my Cole Haan leather duffle and my Saddleback Leather Messenger bag for a weekend trip, I began to realize a couple things. First I felt like an elitist pig loading up nearly a $1000 of leather bags. Second, I will likely be fighting the zombie apocalypse in a silk shirt, golf shorts, and Converse Jack Purcell sneakers, because as we know those expected things do not happen when convenient or as I happen to be wearing around riot gear.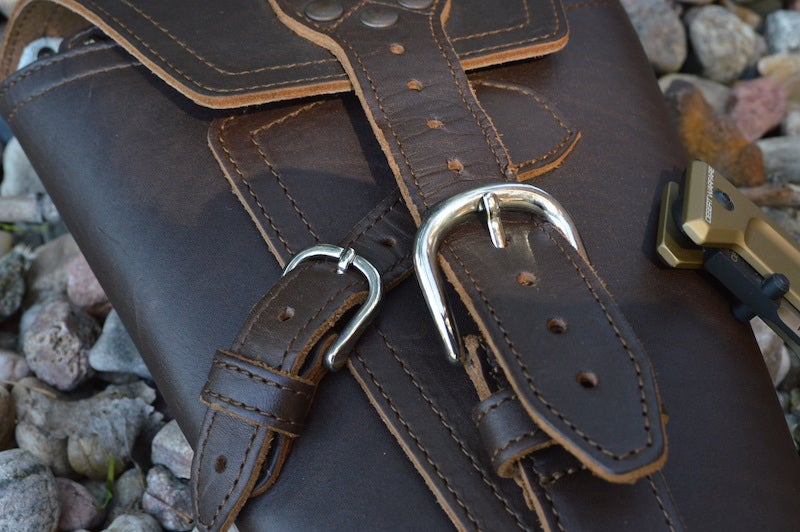 There is certainly a growing market for "premium" firearms related designer goods that are friendly to or designed for tactical use. Some of those accessories look the part and others are tastefully and stylishly covert. The genuine fleece lined Saddleback Leather Pistol Pouch is the later, and it protects your best firearms during any treacherous journey imaginable to and from the range, but looks like some unusual but indistinguishable leather bag. At first glance it actually looks like a top end camera case. Inside is pure luxury for transporting your pistol. In this case, I slide in my rather subtle Gold Titanium plated .357 Desert Eagle.
If you are not familiar with Saddleback Leather, then I can hopefully initiate you to the cult of owners who "get the brand." I say cult because it is like that Jeep and Harley owner thing where other Saddleback owners give you the head nod and point to your bag. I can't count how many times I have had people note my Saddleback Messenger in some airport around the US and strike up a conversation with me based only on the fact we are both carrying Saddleback products.
If you are looking for a Park Ave styled, sealed and buffed leather edges, fancy zippers, and little brass logos hanging from your bags, then you probably are not going to "get Saddleback."
If you instead want the bag that not only conveys the durability but could take the actual abuse of global travel, even through the uninhabited areas, then Saddleback Leather is for you. They are not particularly light bags, but the leather is substantial bridle leather, which is heavy compared to any other leather bag.
Saddleback is also unique that there are no snaps or zippers to break or fail, and all seams are double stitched with industrial thread to assure durability in the most extreme environments. Saddleback certainly has a rugged style to it, but these are bags you invest in once for a lifetime of hard use.
Saddleback Leather bags have that look of "So how was your trip to China and Mumbai?" Early on in the company history, founder Dave Munson used to have videos of him traveling the world with his bags and letting crocodiles tear into the bags to prove their durability. Dave and his team are still world travelers and the durability remains. As a long time Saddleback Messenger Bag owner, I will note that the attention to detail I see in the Saddleback Leather Pistol Pouch has improved greatly over the years, with tighter and more consistent seams and higher precision edges. The durability is still there, but the fit and finish is now top notch as well.


SHOP NOW
An Industry Trend Toward "Premium"
This premium designer tier is nothing new in the sporting industry. After all, we have Gaston Glock Style, Orvis, and Galco, who have been catering to those with deep pockets that want something more exclusive than what is hanging on pegboard walls of gun shops. Gaston Glock Style offers everything from $170 reindeer gloves to spectacular handmade forged knives from World Champion Pistol shooter Dave Sevigny's .40 Glock barrels. Orvis offers the sportsman with unlimited funds $800 fly rods and $600 hunting jackets, and of course Galco offers a full line of exotic leather holsters that are likely to run as much as the custom gun inside.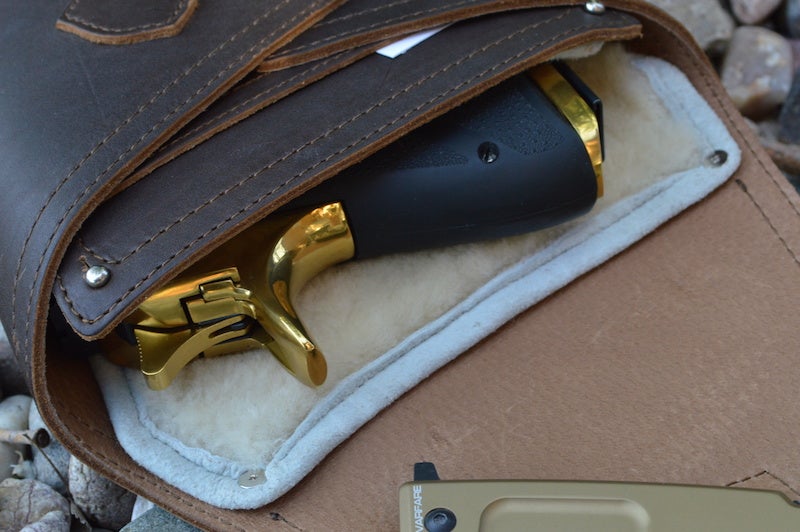 Saddleback Leather is also notably shooter friendly, with their offerings of this pistol wrap and rifle case with similar construction. You will also see a substantial number of customer posted pictures circulated by Saddleback featuring many of their everyday bags being used as CCW firearm carry.
The Saddleback Pistol Wrap is not designed for concealed carry, but intended for transportation and protection of larger and likely more expensive and/or custom firearms. After all, doesn't your custom 1911 deserve better than a $9 nylon and foam pistol bag? The Pistol Warp delivers the wow even before you reveal the firearm, but more importantly it delivers a high degree of impact protection to the firearm within.
Fit, Feel, Features, and Function
The Saddleback Pistol Wrap cocoons your pistol is genuine sheepskin, which naturally wicks moisture away from your firearm. The sheepskin liner is removeable, but your firearm will still be protected with a full pigskin leather inner liner. Saddleback designed the Pistol Wrap as an open, breathable design to prevent moisture build up like a sealed case.
As with every Saddleback Leather product, there are no snaps or zippers to break. Everything is secured with adjustable buckle straps to accommodate a variety of firearm sizes. I have slipped everything from my Desert Eagle, to my large frame revolvers, to my competition red dot equipped Glock. All fit inside the rather larger "medium" sized Pistol Wrap. The rear mounting straps can be secured to a wide variety of objects in the truck, on your pack, or even at home.
As you open the pistol wrap, there is a magazine pocket that can accommodate a couple magazines depending on the size of your mags. On the range, the wrap can be fully opened and used as a gun rug at the range to ensure your beautiful firearm's finish is not scratched by some rogue rusty nail sticking out of the bench. If you do happen to get the sheepskin liner dirty, it can be easily hand-washed with just baby shampoo and air dried.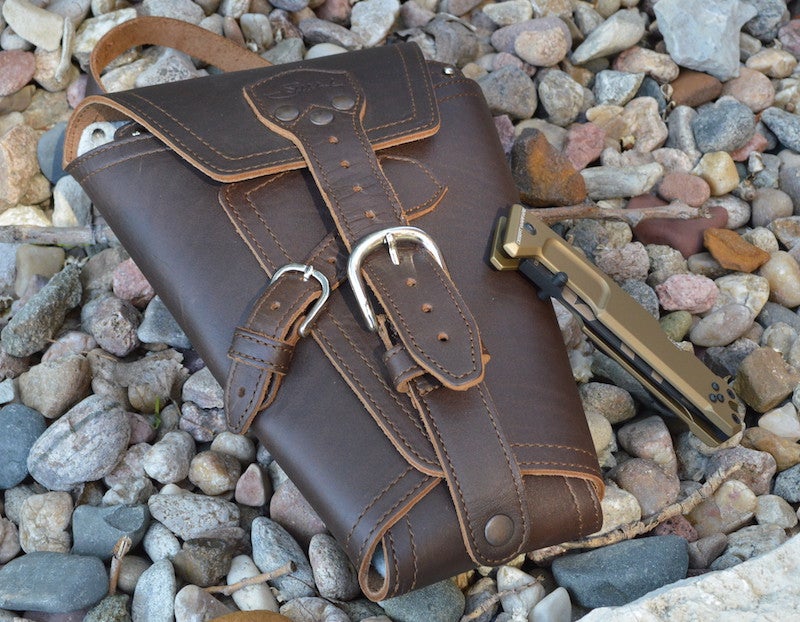 Functionally I could not be happier with this pouch that I now use universally to transport all my pistols and revolvers. It looks great while delivering high grade bump and scratch protection to my best firearms during transport and on the range.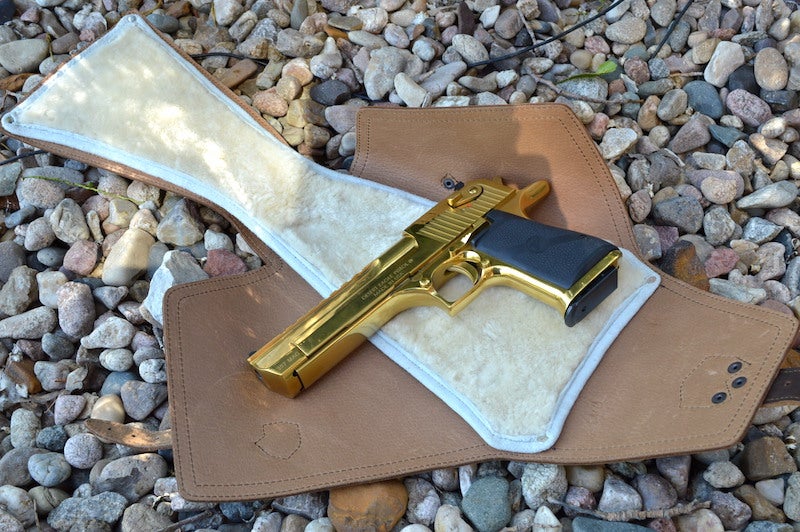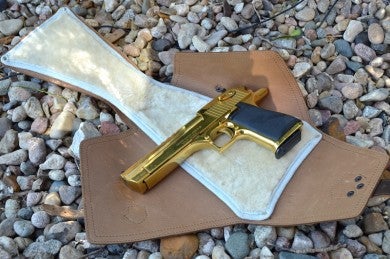 Final Thoughts
I don't know a lot of folks who spend much more on firearms protection than whatever foam and nylon case came with the gun. Now that many of us are flying with firearms, a top end flight case will easily set a shooter back well over $200. The rest of the time, our beautiful firearms do not get the attention they deserve. The Saddleback Pistol Wrap definitely delivers attention.
I actually had more compliments on the Pistol Wrap than the attention whoring Desert Eagle at my last range trip. The Pistol Wrap is a beautiful firearms accessory that may make you feel just a bit elitist, but take pleasure in knowing that the quality of this case will likely last the legacy of the firearms within.
SPECS
Small – $209
Exterior: 5-7" W (bottom to top) x 9" H x 1 ½" D
Interior: 4-6 ¼" W (bottom to top) x 7 ¼" H x 1 ¼" D
1.15 pounds
Medium – $239
Exterior: 5-9" W (bottom to top) x 11 ½" H x 1 ½" D
Interior: 4-8" W (bottom to top) x 9 ¾" H x 1 ¼" D
1.40 pounds
SHOP NOW