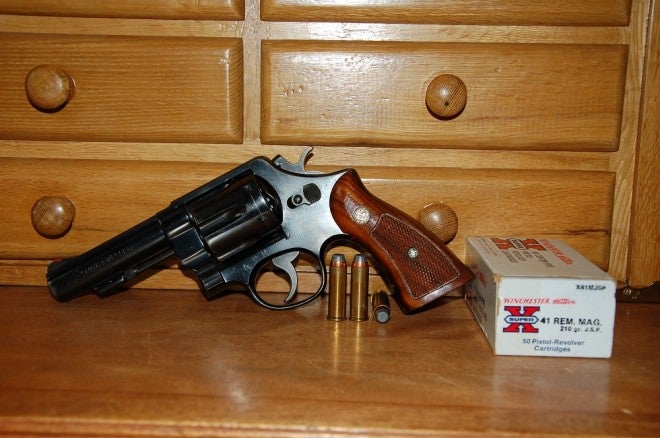 The .41 Magnum is a bit of an anomaly. It was introduced in 1964, squeezed in between the .357 Magnum and the .44 Magnum. Some might have wondered then and even now what it was really created to do. It was never never wildly popular, and that's a shame because the .41 is a grand balance between the other two powerhouses and is a sheer joy to shoot.
Remington Arms Company pressed for the full development of the .41 Magnum for large framed revolvers akin to the ubiquitous Smith and Wesson Model 29 made famous by Clint Eastwood as Dirty Harry. This exceptionally well made large handgun became the gold standard for magnum revolvers "back in the day," and that status remains today.
The Smith and Wesson "N" frame double action revolver was chosen for the .41 Magnum originally in 1964 in the Model 57 DA Revolver, target version, blued with 4-6-8 3/8-inch barrels, adjustable sights, and large target style wood grips delivered in a blue velvet lined wooden case. It was a slick setup for sure.
Later that year Smith and Wesson brought out the Model 58 Military and Police DA Revolver without adjustable sights, having simple fixed sights in 4-inch barrels only in a blued finish with checkered walnut grips for law enforcement use. The original model remained in production only until 1982. After that these became instant collector's items and still are.
The Model 58 is a gun I sought after for well over 25 years and finally connected on one in 2005. Prior to that, I had never seen one after attending well over 200 gun shows. As it turned out one day I was on my hands and knees looking into the back of a glass gun case at a local gun shop, when I spotted what I thought might be a Model 58.
When I asked the shop owner about it, his immediate reply was that "I sure had an eye for guns." The used 58 was a bit worn. Whoever had owned the one I found installed a red insert into the front sight. I would rather have the original sight but have been unable to find the part.
The handgun was rather crudely stamped "S.A.P.D." I learned later after some research that this was the San Antonio Police Department, one of the few entire police departments in the country that went to the Model 58, .41 Magnum. It was likely one of the last, too.
Alas, it proved too difficult for the average street cop to shoot well. Those big 210 grain bullets also had a tendency to sail thorough obstacles and keep on going. The Model 58 did not last long as a law enforcement choice. Most LE agencies fell back to the .357 Magnum or else moved on to the new semi-auto pistols chambered for the 9mm, and a new era in law enforcement firearms was born.
I have shot my Model 58 several times, and it reminds me of a mini-flame thrower. This baby definitely has a kick on both ends. Even with just a 4-inch barrel it is remarkably accurate for short range work that might have typically been used for police work, or over kill for self-defense. It is authoritative.
The .41 Magnum uses a standard 210 grain bullet either lead round nosed or more likely a jacketed soft point or jacketed hollow point. It generates roughly 1300 feet per second muzzle velocity and 1062 FPS at 50 yards.The muzzle energy is rated at 788 foot pounds with 630 ft. lbs. at 50 yards and 526 ft. lbs. at 100 yards.
This made the .41 a perfect fit for mid-range game hunting for deer sized game as well as an ideal round for pig hunting. Using heavy cast or jacketed soft points, the .41 can reduce a sizeable wild hog into a Sunday bar-b-que quickly with a well-placed shot. The .41 is also suitable for popping coyotes, fox, bobcats, and other such varmints for handgun hunter looking for a real challenge.
Today, there are not many handguns produced in .41 Magnum. Ruger still makes a single action Blackhawk for it in a couple of different barrel lengths, the 6 ½ inch being the better choice. Smith and Wesson's can still be found, but the original early Model 57s are very hard to locate. I saw one with a 4-inch barrel virtually new in the box a couple of years ago, but the $1500 price tag chased me away. For now I guess I'll have to be content with my old Model 58 flame thrower.