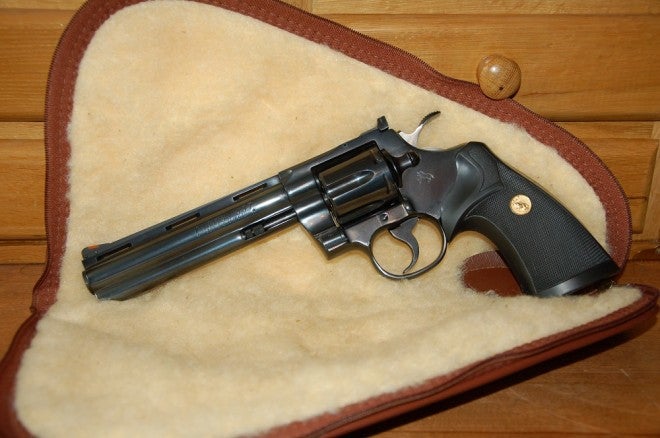 Well, I do for one. I bought my first .357 Magnum, a Colt Python, in 1981 and since have owned quite a few, shot many, and hunted with several. I still use one, a Smith Model 13 with a 3-inch barrel for concealed carry and in my vehicles when I travel. This aged wheel gun revolver chambering still commands respect and delivers the goods. Don't count it out just yet.
The .357 Magnum was introduced in 1934 as the .38 Special lengthened by 1/8 inch and using new powders and bullets to deliver its magnum energy. Developed by the trio, Elmer Keith, Phillip Sharpe of the NRA Technical Staff, and Colonel D. B. Wesson of Smith and Wesson, the .357 Magnum evolved into basically the first true magnum power centerfire, smokeless powder, revolver cartridge. Keith contributed the new "Keith-style" bullet.
Initially driving a standard 158 grain bullet, the .357 Mag generated a muzzle velocity at around 1250 feet per second. The muzzle energy rating fell at 548 foot pounds at the muzzle. The .357 Magnum found immediate successful use in hunting for light game, including deer at reasonable ranges, varmints, and other nuisance animals. With the appropriate jacketed bullets, the .357 proved itself well in the field.
Likewise, a good step up from the commonly used .38 Special, the .357 Magnum quickly found favor among law enforcement agencies, including local police departments, state highway patrols, and many federal law enforcement agencies including the FBI.
There are many high quality revolvers both single and double actions produced to handle the .357 Magnum. Gun manufacturers like Colt, Smith and Wesson, and Ruger were among the most prolific makers to provide handguns in the new magnum. Most all of these revolver models are still popular today and remain in active production.
Some of the most popular .357 Magnum revolvers made included the Colt New Service, Colt Python, Colt Trooper, Colt Lawman, and the Smith and Wesson models 19, 27, 28, 586, 686, among others Smith's. Ruger was made famous by their single action revolvers including the Blackhawk series in blue and stainless, and their DA guns, the GP-100 and SP101 handguns.
Of course many other manufacturers produced revolvers chambered for the .357 Magnum.
As far as revolvers go, the .357 Magnum is still a top choice because .38 Specials can also be fired in them. For hunting, target shooting, and self-protection, this original magnum remains effective.