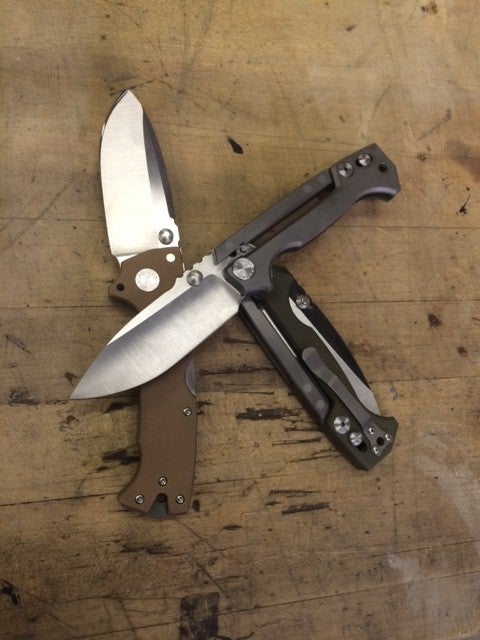 Andrew Demko is a knifemaker who works in the modern style with a heavy bent towards the tactical end of the spectrum. His AD10 is one of the most sought after knives on the market right now, regularly going for twice to three times Demko's asking price. I have handled a few and the allure is obvious–they are massive beasts with amazing refinements.
Demko's emphasis on clean, traditional lines (the AD10 is basically a drop point) and massive overbuilt locks not only serves as his calling card, but also forms of the basis of his collaborations with Cold Steel.
But Demko is not just a beefy folder guy. His designs have displayed more than a bit of an inventor's eye. The Tri-Ad lock, his upgrade to the traditional lock back, isn't just a me-too variation. It offers real performance benefits coupled with familiarity and ease of use. He also figured out a way to do a Tri-Ad knife with an assist (the soon to be released Cold Steel Swift).
But Demko's inventor prowess is seen best on his new handmade offering, the sequel to the AD10 called the AD15. The knife carries over a lot of the look and feel of the AD10, a big beefy everything with a large drop point blade, but the lock is entirely different. Demko is basically making a framelock version of his Tri-Ad lock, using a tensioned exposed bar of titanium to hold the blade in place. Overall it adds quite a bit of visual interest to the knife.
The design itself is very similar in function (or at least it looks similar, no AD15s are out in the wild–all we have are some of Demko's videos) to the Pat Crawford Strap Lock, a lock that AG Russell borrowed with permission when making his K12 and Ultralight Folder. The AD15 also bears a passing resemblance to the G&G Hawk SLS lock found on the Buck Marksman. Having owned both the K12 and the Marksman, I can tell you that this style of lock is not just plenty strong, it is very fun to use. All of the locks in this design family are high on the fidget factor scale.
No prices or availability have been announced, but if the wait list for his AD10 is any indication, the AD15 will be sold out instantly, hard to find on the secondary market, and very expensive if you can find one.
Personally, I like what the AD15 indicates for Demko's future in the handmade knife business. Quite a few folks are satisfied cranking out their same "once in a lifetime" and "lightning in a bottle" design with flourishes and adornments like jeweled thumbstuds or mokuti handles. The AD15 shows that Demko is clearly pushing against this trend and not just making something that looks new, but pushing the envelope to make something that functions totally differently. The AD15's beefy size may make it hard to carry everyday, but its exposed look and interesting lock will certainly make it a conversation starter if you do.