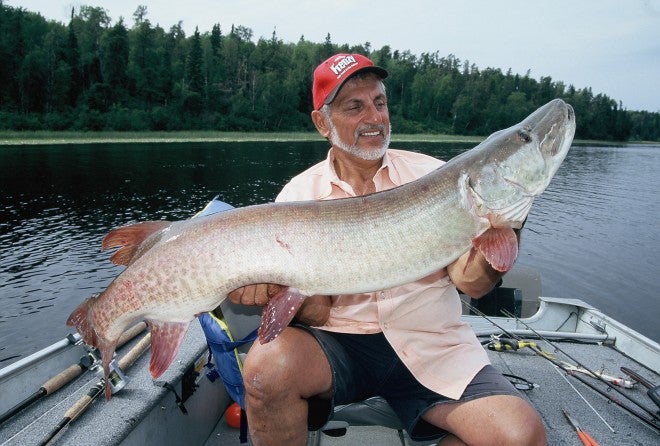 Muskie anglers should have a wide assortment of lures that enable them to properly work various types of water. In the early season small bass-size diving plugs like the "Hellbender" and original "Bomber" are excellent. But from mid-summer to late-autumn, large spinner-baits, giant bucktail spinners, big diving plugs, and huge surface lures called "jerk baits" usually are most productive.
Lindy Tackle makes some excellent muskie-size spinner-baits. Bucher Tackle also produces a top-quality buzz-bait that's a killer on weed-living and shallow-structure holding muskies. Many excellent diving plugs are producers of heavy muskies, with the Bomber "Long A" a personal favorite. Big jigs with large soft plastic "Twister" tails are deadly, too.
No matter what type or style lure is employed for muskies, they must be built tough to take the punishment a muskie can dish out. Hooks also should be super strong and filed to needle points with sharp cutting edges (the triangulation method of hook sharpening with a mill file is best).
Carrying giant muskie lures in a standard tackle box can be a problem because their hooks tangle easily. Many muskie men therefore prefer a large box that has lures hanging vertically in individual slots or compartments, like the "Big Bait Rack System" tackle box from Flambeau, which may be the best muskie lure and tackle box of all time.
Because big lures with heavy hooks are needed for stout muskies, it takes a strong-action rod to drive home hook barbs. Most muskie rods are six to 7 1/2-feet long, heavy action. I like graphite rods, with hardloy or Fuji guides and cork grips. Such rods are lightweight even in heavy actions, and their guides will not wear easily, which ensures against line fraying. Cork grips also are light and provide an angler with good "feel" as he works lures and baits.
Heavy line in the 15 to 30 pound range is standard among many muskie hunters. New braided lines are excellent, such as Power Pro, as they resist fraying and are very abrasion resistant. More importantly they stretch a little, so quick, sure hook sets are the norm rather than the exception when a muskie clobbers a lure or bait. Such lines also are thin in diameter per test, which is good for clear-water fishing.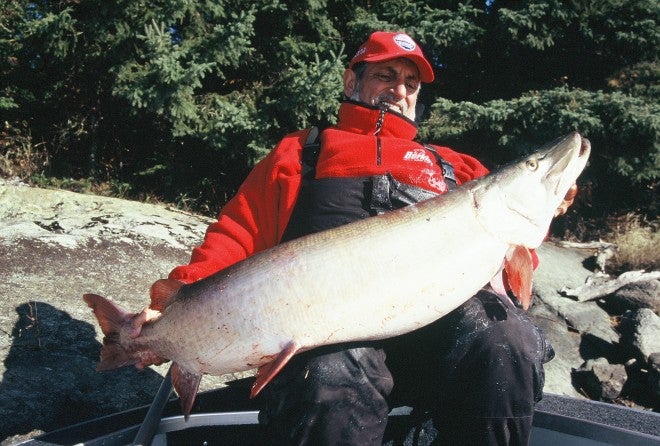 Many muskie fishermen use short, heavy wire leaders, since muskies have line fraying teeth. A six or eight inch leader is all that's needed. Some anglers make their own leaders from single-strand wire, but multi-strand, braided wire resists kinking and breaking during a fish fight.
Some anglers who fish muskies in clear water believe using even a short wire leader spooks fish, especially when snaps and swivels are attached to wire. If you fish clear water and see muskies refusing lures and baits, try a monofilament leader testing 60 to 100 pounds. Heavy monofilament connects easily to the fishing line with an Albright Special or Uni-Knot and ties securely to the lure with a Homer Rhode Loop. Rarely do muskies–even big ones–cut heavy monofilament. Their teeth are pointed, but round like a pin, so they don't readily cut thick-diameter mono leaders.