Wow. This is a new one on me, and I've been a student of the gun for most of my life.
It's a shotgun slug. No big deal, right? Except this slug is made of iron, and the iron is encapsulated in plastic.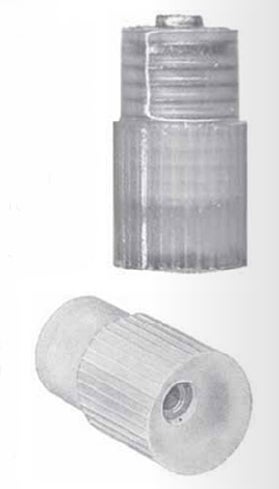 This unique projectile was developed in the nation now known as the Czech Republic, and the S-Plastik (or S-Plastic) slug was first marketed there by Sellier & Bellot in 1971. When first introduced, this ammo bore the name "Model 71."
These slugs became popular because they were quite accurate and offered good penetration. The iron core was well-bonded to the plastic, which featured lengthwise grooves around the full-diameter portion of its circumference, which extended rearward from the iron core and stabilized the projectile well.
The iron core was plated with white metal early on, and yellow metal later. For that reason, some who handle the slugs erroneously assume the core is made of brass or bronze.
Such a whopping big bullet doesn't really need to expand, as the S-Plastic slug proved. It became popular for hunting, especially for wild boar. In fact, nowadays it's reported that hog hunting is the only legal use for these slugs in Czechoslovakia and the Czech Republic.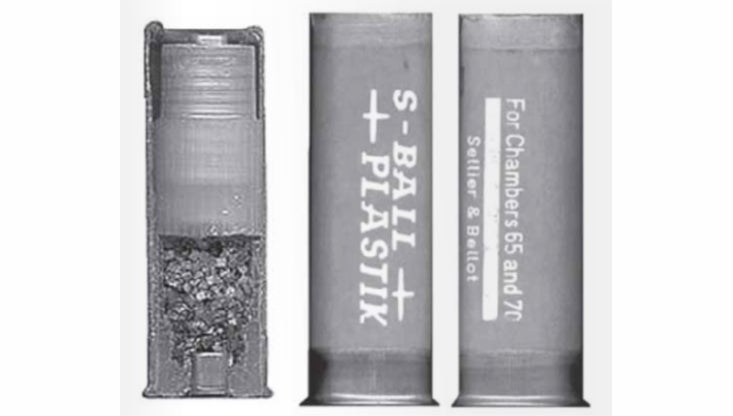 The S-Plastic slug was factory-loaded by Sellier & Bellot in 16 gauge and 12 gauge, but never 20. The 16-gauge version isn't simply scaled-down from the 12; changes had to be made to meet their ballistic goals.
It's said that this slug "is capable of complete penetration of police bulletproof vests." Also: "In the phase of development of this type of cartridge in the 1970s and 1980s, the relative safeness against possible misuse wasn't at all taken into account."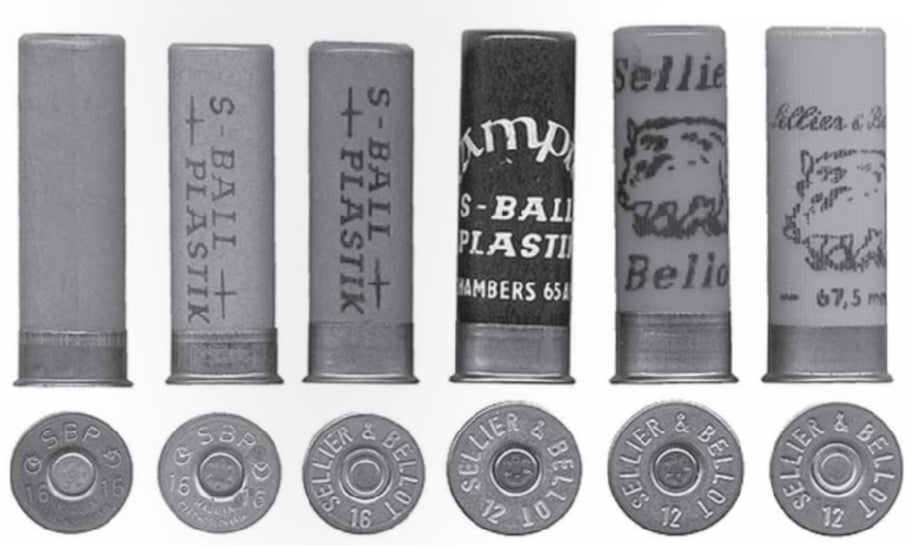 Specs for the 12 gauge version call for a total projectile weight of 380 grains, 321 of which is the iron core. The standard for 16 gauge is 278/221 grains.
12 gauge muzzle velocity was 1,542 fps. Accuracy at 55 yards gave an average group size of 1.96″ with one group as small as 1.25 inch. (Source didn't include the number of shots fired, nor the type of shotgun used in the test.)
Any way you slice it, that's fine accuracy from a slug in a smoothbore barrel.
Although Sellier & Bellot stopped making them some time ago, commercial manufacture of a copycat slug was going on as recently as 2007 in Ukraine, when it was reported that they were made in 20, 16, and 12 gauges and were "always in demand by both dealers and their customers."
S-Plastik slugs seem to have enjoyed some popularity in Australia. I first heard of them when someone in an Australian hunting group asked about them, and several folks spoke up as being familiar with them and their excellent penetration.
Source: International Ammunition Association Journal Issue 455, May/Jun '07