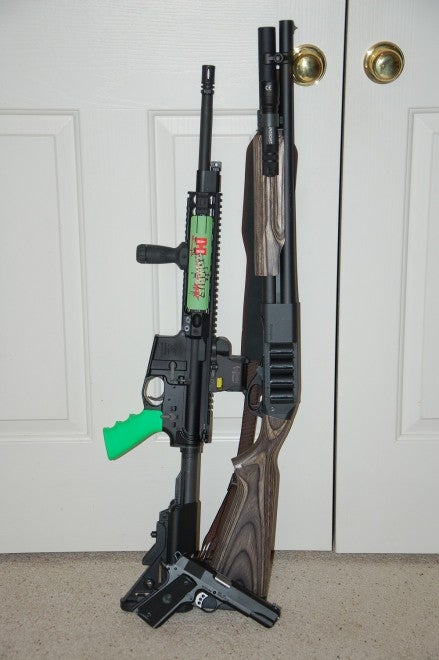 After a harrowing night of driving back roads, dodging roving road blocks, and trying to negotiate through a couple of small towns crowded with wandering looters, you finally wake up in your bug out hideout. The reality shocks you awake. Hundreds of questions pop into your mind. The wife and kids add to the list. Are you safe and for how long?
After years of prepping, you were finally able to buy a parcel of land in a sparsely populated rural area well away from the city where you worked and raised a family. Now in the midst of social upheaval and confrontations between local police, then National Guard with bused-in paid agitators, authorities have lost control. General mayhem is widespread.
You scan the radio for news updates, but learn little. The family is settling in, but are nervous. It is time to venture out to patrol the parameters of your property to get any sense of prying eyes or trespassers. What guns do you take?
You clocked plenty of hours of research, preparation, purchasing, and training for this day. You have assembled what you feel confident is the best 3-gun set of defensive firearms to protect yourself, family, supplies, and property integrity.


The 3-gun set was simple. One each handgun, rifle, and shotgun. With limited resources, your decision was based partly on economy, but also on priorities to have each type of firearm available and with sufficient ammunition to support your choices. So, what did you pick?
If this is me in this scenario, then for my basic SHTF pistol I'm packing a Beretta 92 in 9mm. It is a well-made, strong, accurate, and relatively easy to shoot handgun. I bought three extra high capacity magazines, but wish I had bought more. With a good nylon holster and belt, this is my prime sidearm for now.
My rifle is an AR-15 clone decked out in a defensive style with a red-dot scope, and multiple accessories to make it comfortable to use and carry. I acquired ten Magpul magazines all fully loaded.
My shotgun is a 12-gauge Remington 870 pump with multiple choke tubes and a compromise 26-inch barrel. I bought a case of buckshot and one of No.6 shot for hunting.
Is this the perfect 3-gun set for survival security? It is as good as any given the limitations. The smart part is having one of each type firearm for multiple applications. What would you choose?