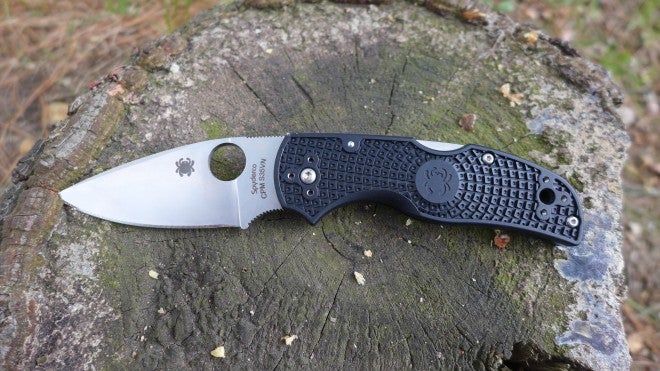 At the $200 price level we are at the line between gear for folks that like nice stuff and stuff for aficionados only. We are also at a price point in the market where there are a bevy of classic designs–Benchmade Mini Griptilians and Zebralight SC52s. This is all very good stuff and probably the last rational purchase price point. Beyond this the stuff is usually gussied up with frills or very small batch. But here, we have some awesome, awesome stuff.
The jump between this price point and the $100 one is not as great as between $100 and $50, but it's close. You can expect cutting edge emitters and high end steels here. In many cases you will find gear that folks truly love, and for good reason. This price point is the home of the standard bearer product for many companies–above the entry level, but not insane.
Knives and Tools
With a $100 to spend on a knife you can get some awesome blades. Every maker's standard bear blade is available at this price range–Spyderco, Cold Steel, Benchmade–you can get any one you want. In particular I like the Cold Steel Mini Recon in CTS-XHP as well as the Benchmade Mini Griptillian with the thumb hole and sheep's foot blade. There are some very nice traditional knives available in this price range as well. GEC #73 is a nice pattern as is the single bladed barlow from Queen. I am a big fan of the criminally underrated AG Russell Skorpion. It is a great flipper, a nice weight, and a perfect size for an EDC blade.
There are two stand outs in this price range, both from Spyderco.
First is the Native 5 in FRN, pictured above.
Personally, the G10 doesn't really mean all that much to me, and I'd rather have a lighter knife, if given the choice. The combination of a great weight, amazing design, and truly superior steel for the price range makes the Native 5 in FRN a top choice for a blade under $100. That said, it's not my personal favorite. My personal favorite is the Spyderco Dragonfly II in ZDP-189. The steel here is truly amazing, among the best steels on the market. Spyderco's commitment to bringing remarkable steels to their entire line means that you can find ZDP-189 and Super Blue on just about any evergreen model. My favorite model is the Dragonfly II, and so it's hard to ignore the combination of an amazing form factor and an insane steel, all for under $100. There is a strong case to be made for the Super Blue version, which is probably a bit easier to sharpen, but I'd take the edge in stain resistance any day.
Flashlights
The difference in quality between $65 flashlights and $100 ones isn't that significant. The market really breaks around $60 or $70. Here you get one stellar production light after another–the Peak Eiger, the Zebralight SC52 (or the SC5), the oLight S1 and S10 Baton, and some of the better 47s lights. In short, you can't hardly go wrong here. Well, that's not true. I have found Nitecore to have substantially below par fit and finish on their lights. I have owned four over six years, and all were junk.
The designs are always big on ideas but short on execution. Surefire has two lights in this price range as well, the Titan and the Titan Plus. Both are very good. In this parade of riches, a few stand out. I really love the Peak Eiger design.
It is incredibly powerful and flexible, hitting something like 250 lumens on a Li-ion cell, but it works with almost any chemistry. The QTC is a bit finnicky when you start learning how to use it, but it's a good system. After awhile you get a feel for it and it works well. The biggest drawback to the Eiger is ordering it. Peak's website is an abomination. The retailers that carry have to contend with a myriad of options, making ordering difficult. But if you can figure out what you want, the Eiger will make you happy.
The Olight S1 Baton is another jewel of a light in this price range.
By evolving the S10, Olight has made it possible to carry a thumb-sized light that runs normal CR123a batteries and hits 500 lumens. The clicky UI is one of the best I have encountered. Overall, it does everything I would want from an EDC light, and it rides nicely in your jeans coin pocket. One caveat–ditch the clip, it sucks. The newly released Surefire Titan Plus is quite good as well, but it was just released so I need some more time with it before I give it the #1 slot. It is also exactly at $100. If you have the choice, don't even bother with the Titan. For $40 you get a much better high, an extra mode, a clip, and an awesome flashlight toupee (I have no idea what the black cap is for, though the potential for accessories is interesting).


SHOP NOW
Conclusions
What's changed from last year? Not much at all in terms of knives and a heaping helping of new stuff in terms of flashlights. Basically everyone but Cold Steel stood pat. Cold Steel's upgrade in steel from AUS-8 to CTS-XHP took the Mini Recon from bottom of the heap in terms of value to near the top. The flashlight market's sweet spot is in this price range and the jockeying among the overseas makers for top slot is intense. But everything just got even more competitive as Surefire, the industry giant, just jumped into the EDC market with both feet, offering an inexpensive light with the Titan and an upscale model with the Titan Plus. The arms race that was the flashlight market just got kicked into overdrive.
Knife: Spyderco Dragonfly II in ZDP-189
Light: Olight S1 Baton
SHOP NOW