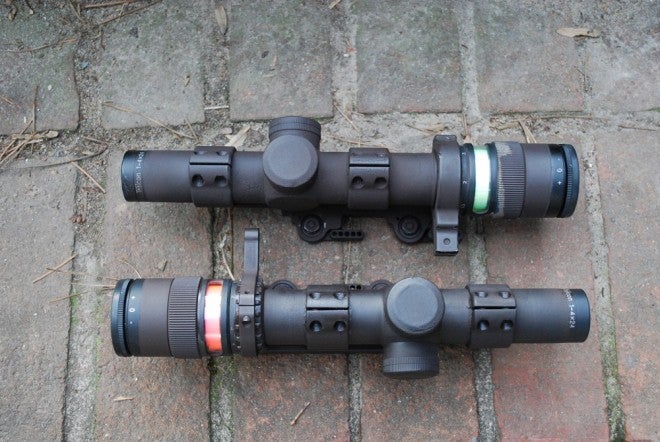 There are good alternatives to the battery powered electronic scopes. If you have never investigated the unique product line of Trijicon scopes, then now is the time to explore a new kind of optical technology.
I have had the opportunity to do an extended field test of the Trijicon model TR-24 riflescope. It is easily adaptable to any rifle for hunting, prepping work, security, or law enforcement. My experience with this scope has been for bug out property security monitoring combined with hunting with the scope mounted on a Rock River Arms LAR-308.
The TR-24 is based on a 30mm tube, which implies right off the bat that his scope is geared toward maximum light gathering capability. That is an engineering design fit, because these Trijicon scopes were created to gather natural light to illuminate the scope's reticle. This is purposed via a "window" in the rear housing of the scope that permits daylight to be channeled to the reticle dot, post, or crosshair configuration.
The TR-24 is a 1-4x24mm scope so the front objective lens is not "belled" out. The field of view at 1x is 97.5 feet at 100 yards. To the unknowing, this simply means that a target viewed at 100 yards appears to be only at 97.5 feet. At 4x the field of view is a mere 24.2 feet. The scope's eye relief is only 3.2 inches, making shooter adjustment quite flexible.
The entire scope is but 10.3 inches long and it weighs only 14.4 ounces. Even with the larger 30mm tube, the TR-24 is very compact and suitable to many rifle applications. The exterior finish on these scopes is a reflection killing matte black.
These scopes are also fully waterproof and fog proof. I can personally attest to that because I have hunted with this scope in both rain, mist, cold temperatures, and high humidity. I never had any fogging issues with the TR-24.
The TR-24 series can be acquired with several different reticle options, including the German Post, mil-dot crosshair, or a more traditional looking crosshair. The lighted dot sits inside the "+" crosshairs, or the lighted triangle post resides on top of the post or inside the three-sided crosshair model.
The Trijicon TR-24 maintains its lighted reticle even in low light. This makes it an ideal scope for a multitude of applications.