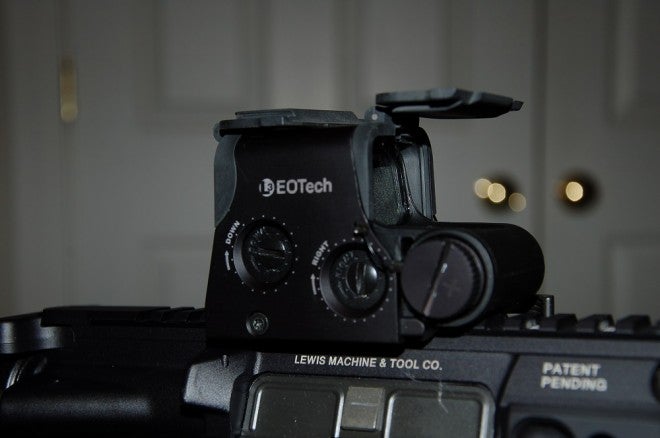 When the rep from Smith and Wesson handed me their new model AR complete with an EOTech XPS-2 holographic weapon site (HWS) mounted, I was a little hesitant. That was only because I had never shot a firearm with a HWS sight on it, much less hunted with one. It was going to be a new experience for me.
The range work was pretty basic. We shot out orange clay targets on a board at 100 yards with boring regularity. I felt no issues about using the rifle/optic set up I was given to go afield for Oklahoma white-tailed bucks, including using the .223 loads of frangible bullet ammo.
Despite the typical high winds blowing across the western Oklahoma cattle plains, the deer were moving, just way out of gun range. It took day three for a good 10-point buck to circle around my hidden tripod stand to poke out into the open for a clear shot. Putting the EOTech red illuminated crosshairs on the buck's vital was just a routine task. One shot collected the buck.
That hunt alone convinced me to obtain my own EOTech HWS sight, and I since have acquired a second one. Both are mounted on AR rifles or as we call them now, Modern Sporting Rifles. One is on a rig in .223/5.56 set up for varmints, nuisance animals, and targets of opportunity. The second is on a .300 AAC Blackout rigged for deer hunting.
The EOTech's I chose are the models 512 and the XPS-2 Zombie. The 512 is only 11.5 ounces and is powered by two AA batteries. The 512 comes with a protective housing over the main body of the unit. The sight adjustment screws are on the right hand side of the sight for screwdriver adjustment. Controls switches are on the rear.
The "heads up" display of the EOTech sight is built from a three layer, shatterproof laminate glass and is again protected by what they call a roll bar-style hood. The units have a wide range of operation in temperatures from -40 to 150 degrees. That covers my areas of use.
The XPS-2 is a smaller compact HWS. It is 8.8 ounces and uses a CR123 Lithium battery. It has the protective hood, like the 512. Controls are the same as well.
If you are ready to go to a holographic sight, then I highly recommend the EOTech line up.