PA School Officials Call Cops Over Ammo-Shaped Air Freshener
Russ Chastain 10.22.15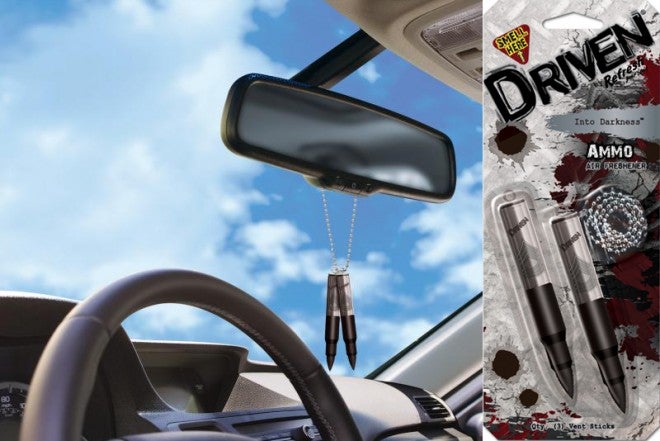 I'm not sure if people like this are shameless about their ignorance, proud of it, or just plain dumb.
Most likely, it's a mixture of the three, with a topping of media-driven hysteria.
The Derry Township School District in Pennsylvania, USA, posted the following on their Facebook page last Monday:
This morning, an object resembling a bullet was found in a Hershey High School parking lot. The Derry Township Police Department has taken possession of the object and confirmed it is NOT ammunition; in fact it has been determined to be an air freshener.
It was apparently an air freshener from a company called Driven by Refresh. They make air fresheners in non-typical forms. One product looks like G.I. dog tags, albeit with skulls rather than data.
Another of their products looks like a pair of bottleneck rifle cartridges (not "bullets"–those are just the projectiles).
Whoever writes the copy selling their products seems to think that ammunition represents The Dark Side or something. To wit:
The dark, mysterious, and intensely masculine scent of Into Darkness is the ultimate fragrance experience. Bergamot and musk intertwined with a fresh citrus note make this a ride to remember. Enjoy the darkness.
Hmmmm.
I suppose that's what school staffers were doing, enjoying the darkness of ignorance, when they reacted to the presence of a plastic pseudo-round by siccing the cops on it.
Heck, it's not even a believable copy of a cartridge, judging by the photo on their site. Could these people really be so ignorant they can't tell an air freshener from a round of ammo?
Heavy sigh.
At least, I hope, one Derry Township Police Department cruiser will smell a little fresher now.