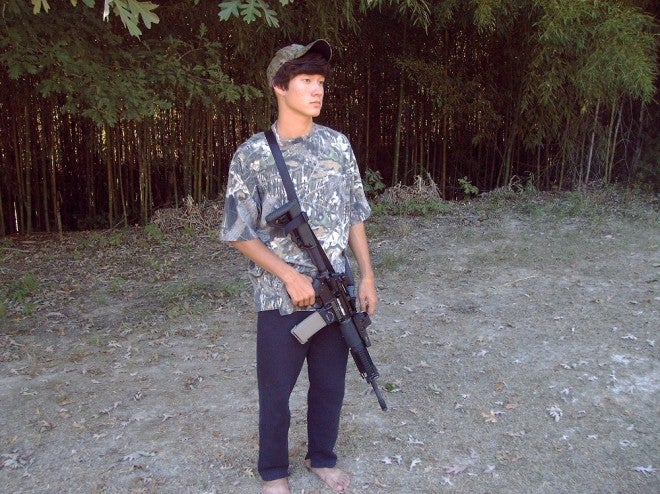 AR rifles or MSRs (Modern Sporting Rifles) are well known for the flexibility of their platforms. These rifles are the most adaptable to the widest range of factory and aftermarket accessories of any gun design ever. An AR owner can virtually customize their own rifle to add dozens of features to suit their own shooting needs and wants. The list is endless.
One of the features an AR buyer can pick right off is the style of buttstock they prefer to use. Factory rifles come with one of two types of buttstocks as a general rule. This will be either the fixed stock or one that is adjustable for several overall length positions. Usually these adjustable stocks are known as 6-position or collapsible stocks. Technically these are known as the A-2 fixed stock or the M4 adjustable stocks.
The original Stoner ARs and later the mass produced Colt ARs of the Vietnam War fame all arrived from the factory with A-2 stocks. Later a more or less combat/special forces version was developed to be called the M4 models. They both had their place on the battlefield.
Today, the fixed stock versions coming out of the many AR manufacturing factories are models best suited as hunting or target shooting rifles. The fixed stock is sturdy and provides a consistent overall balance to the rifle. There is no give or take and no characteristic rattle that is often found with the M4 type.
The A-2 stock also provides a consistent cheek weld when shouldering the rifle for hunting or reasons,g paper targets. Law enforcement professionals that have trained to use ARs as sniping rifles also tend to prefer the fixed stock for better rifle control on downrange targets.
The 6-position stocks though are extremely popular for a wide variety of reasons most being the flexibility of changing the length profile of the AR rifle for tighter shooting conditions such as close quarter's combat or defensive shooting. The M4 stock when collapsed down also permits storage and carry as a compact package as well as for concealment.
M4 stocks are adjustable by a variety of means, using levers and releases of different kinds depending on the manufacturer. These buttstocks can also be found with other features, including various sling attachment modes, battery storage, and such.
When picking your AR, try out both types at the dealer to see which buttstock style fits your needs best.