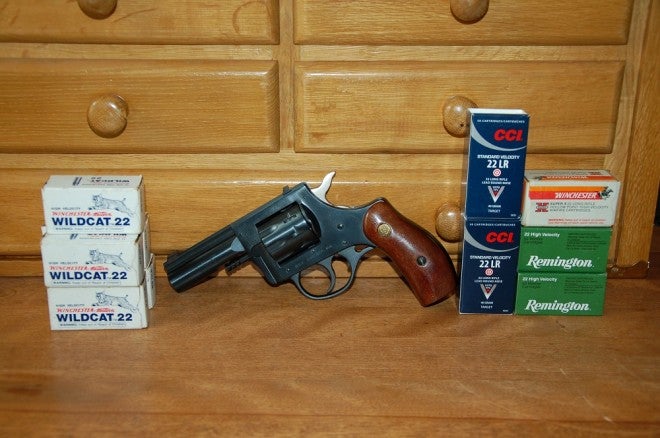 I tend to be an impulse gun buyer. I suppose besides collecting information and photos on guns by attending a lot of gun shows, I tend to always find something to buy. I often look for the underdog guns, not necessarily a collector firearm, but just neat guns or something I think I can use for prepping work or at hunting camp. My latest acquisition is a New England Firearms (NEF) Model R-92. Bet you never heard of it.
When I shop gun shows, I love searching those glass topped cases holding surprises and one of a kind type stuff. This is how I found the R-92. It was in a case with a dozen or more rather nondescript handguns, but for some reason this little revolver stuck out. I think it was the bull barrel that got my attention. A .22 rimfire revolver with a bull barrel?
New England Firearms was located in Gardner, Massachusetts to manufacture select firearms under the H&R license. The NEF Company started producing guns in 1987. In 1991 the "parent" company H&R 1871 was formed, which also took over the NEF firm. This partnership continued until Marlin Firearms bought the H&R company assets in 1999.
The R-92 revolver was made from 1988 until the Marlin acquisition of the company in 1999. The R-92 was simply a rimfire version of the double-action Model R73 that was chambered for the 32 H&R Magnum. I have no idea what exactly the R-92 designation was supposed to represent. This revolver was not only chambered for the .22 long rifle rimfire ammo, but also the cylinder was bored to handle 9 rounds of it. That attracted my interest as well.
The revolver weighs in at 28 ounces with the 4-inch round "bull" barrel so it is not a real lightweight. The handgun grips are a walnut-finished hardwood with a gold finished NEF emblem insert. The wood has a smooth lacquer coating. It is a smart looking little gun.
The 9-shot cylinder is held in place by a forward pin that, when pulled forward under the barrel, releases the cylinder to swing out to the left of the frame. Then the pin can be pushed to the rear to extract the spent rimfire brass. The open sights are fixed atop the barrel and both the front and rear sights can be punch drifted to adjust the target aim impact.
One other neat aspect of this cool little revolver is the grooved rib cut on top of the barrel to align the sights and dispel any reflection off the deep blued steel barrel. The substantial hammer has the sides polished to look like a satin nickel. The rest of the gun is finished in a high quality blue for basically an inexpensive gun. In 1999 the R92 sold for $119.
So, why all this hoopla over a "cheap" gun? Cheap is a relative term in the manufacture of firearms. In no way is this little gun cheap junk. In the process of thoroughly cleaning the gun when I got home, I became even more proud of my purchase. The gun is virtually new, but was fired.
Even for an inexpensive gun, the NEF R92 is a very well made tool. The machining work is precise. There are no tool marks, no missed or marred edges, and the bluing is superb. The manufacturing team that produced these guns were proud of their work, and it shows. So what?
My central point here (besides imparting a little history on a rather obscure revolver) is to let preppers, survivalists, and gun enthusiasts in general know that quality guns can still be bought in the used gun market. You simply have to do your homework and carefully inspect your purchase. Know your dealer and get their assurance for a return if there is an issue.
I feel quite confident that my new little NEF R92 will be ideal as a prepper backpack gun. With 9-shots available, I fully intend to use it for potting stealth sneak rabbits and maybe a squirrel if I can hold it steady enough. It will make a great snake gun, too.
I cannot say this NEF revolver has any self-defense application, but again with 9-shots of good, full power, long rifle ammo in the cylinder, I suspect a few rounds in critical places would deter any aggressor from their misguided plans. I am glad I made the find of this little gem.