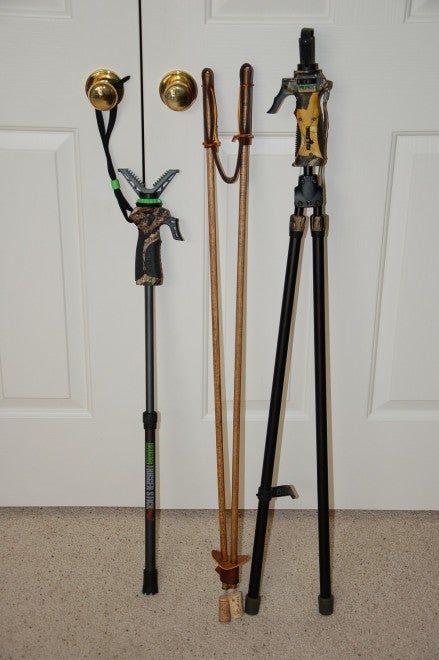 One of the keys to accurate rifle shooting is being steady. This can be done through shooting stances, sling holds, and props like shooting benches, stair rails, fences, trees or other supports. Another way to get a steady hold afield is to use homemade shooting sticks or commercially made sticks by Bog-Pod or the Primos' Trigger Sticks.
As learned and adopted by hunters eons ago and used well by PHs in Africa, shooting sticks can provide a steady base for shooting rifles at any range. The trick is to get them positioned with the legs separated enough so that the "Y" in the sticks is at the correct height to set the rifle for a solid hold and a good shot. This takes practice.
After watching some of the Dark Continent hunting shows on television, I decided as a fun project to make a set of shooting sticks. The process was fairly simple. At a friend's house I cut down about ten stalks of wild cane growing up in the edge of his property. These cane poles were twelve or more feet high with pole diameters of ¾ to one-inch in size. I cut several of each to fabricate shooting sticks.
I trimmed the two pole sets to about seven feet long, well over my head. Remember though as you spread the sticks out, the "Y" shooting rest comes down lower in height accordingly. I used strips of rubber inner tire tube to tie the sticks together but allowed for the flexibility of the rubber tube material to stretch as I widened the sticks.
I have to tell you this sure worked pretty darn well and I keep a set at my camp. I especially like to use them with my 1974 Sharps Buffalo rifle in 45-70 when deer hunting. This is not only fun, but effective.
Today the commercial shooting sticks work by the same principle but are more adjustable. These come in single pole, two-pole, and tripod types. The legs telescope to various lengths and lock in place. The shooting platforms have a rubberized covering to grip the rifle stock. These swivel as well. Once you get the height adjustment set you can lock it in or "trigger" to change height with the Primos models. For a really steady shot in the field, sticks are the way to go.