Midwest Industries Light Carbine
Oleg Volk 12.02.15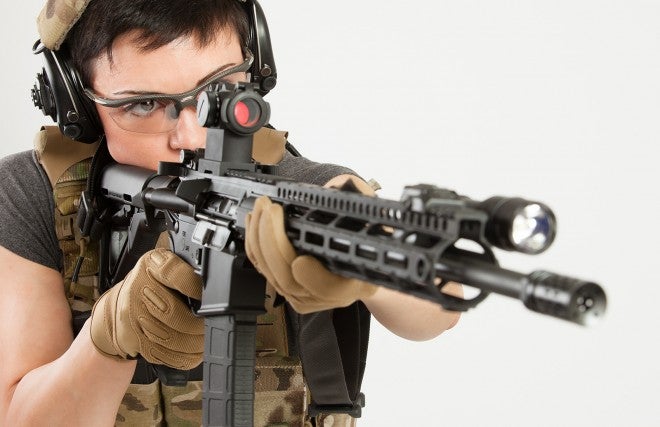 When I first saw this rifle in the hands of the renown firearms trainer Tatiana Whitlock, it caught my attention by the absence of exotic materials. No carbon fiber, no magnesium, no unobtanium, just purposeful and logical design towards a durable but lightweight carbine.

At the heart of this design is the slim, smooth, and lightweight M-lock forend. It provides a comfortable grip, plenty of real estate for rails or M-lock accessories where needed, and good ventilation for the fairly thin 16″ barrel.

The forend also has several QD sockets for sling attachment, complimenting the socket in the Magpul stock. Tatiana's rifle has been modified with Geissle trigger and a Battelcomp brake, but otherwise remains stock to the MI specifications.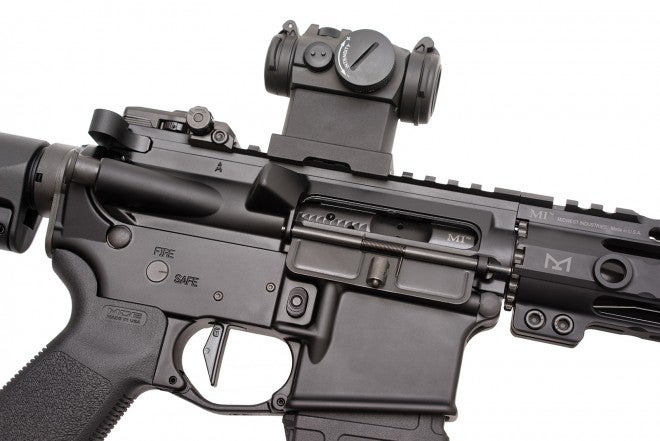 I expected the slight hump on the bottom of the forend to get in the way, but it didn't. The forend does place hands much closer to the barrel than usual, but rail covers provide the necessary insulation during sustained rapid fire.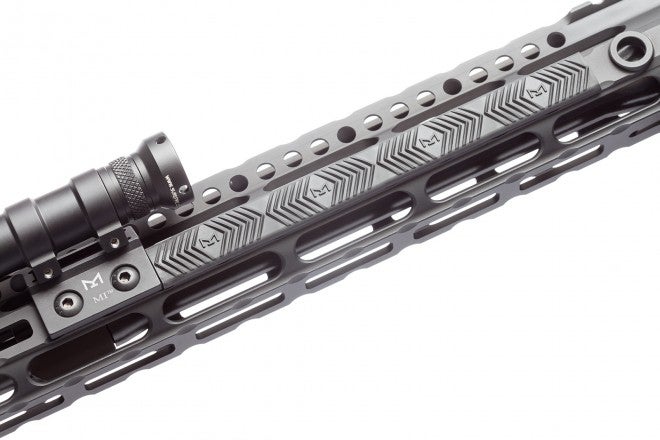 Directly mounted M-lock flashlight illustrated the advantages of this over the heavier and more abrasive railed forends. The forend does have an integral rail for sights on top.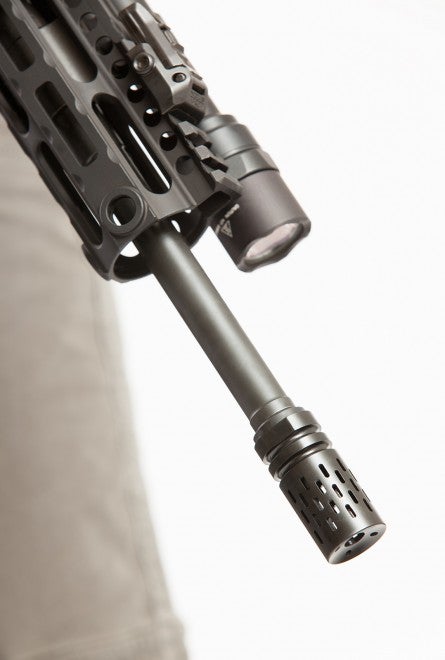 Tatiana is a fan of Battlecomp for control during rapid fire and has demonstrated its uses convincingly.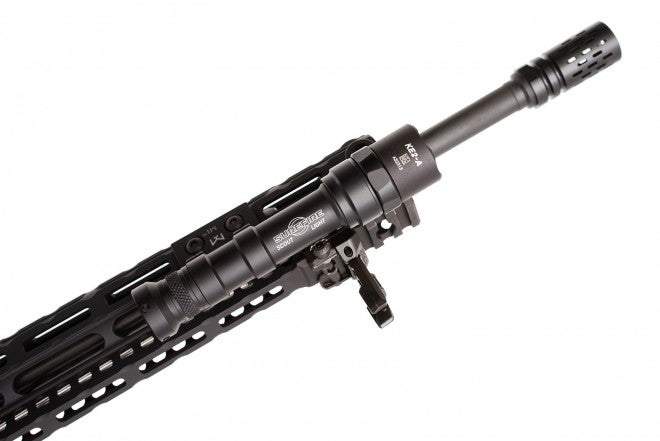 I prefer MI's standard flash hider for the reduced noise relative to the brake. The two-chamber "tank" brake on the carbine below is even more effective and louder yet. While the iron sights, the buttstock, the brake, and the optics vary, the basic carbine she uses remains the same.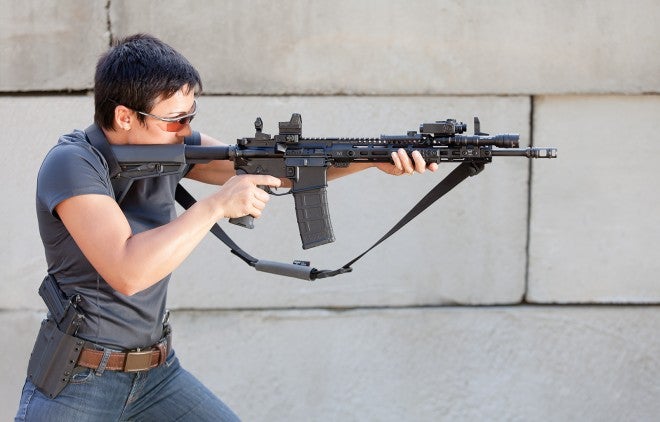 The light weight of the carbine–5lbs 11oz–is important because the ready to use weapon adds a loaded magazine, iron sights, light, optic, sling, and a laser, all adding to the mass. Even for a strong shooter, that increases the inertia and slows down handling.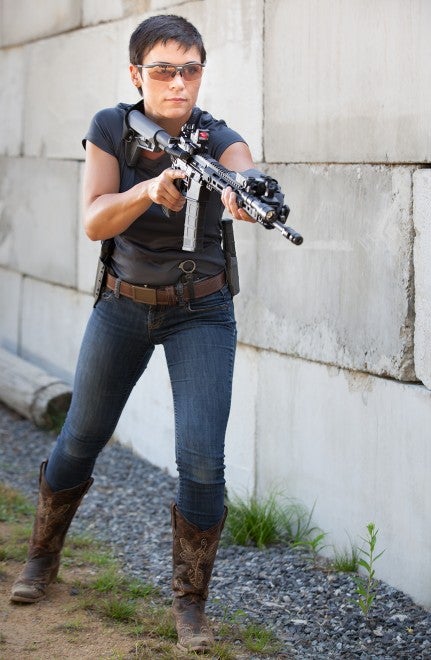 Seeing this firearm in use convinced me to get one of my own. It soon became a favorite with my friends and models thanks to the light weight and the absence of sharp edges.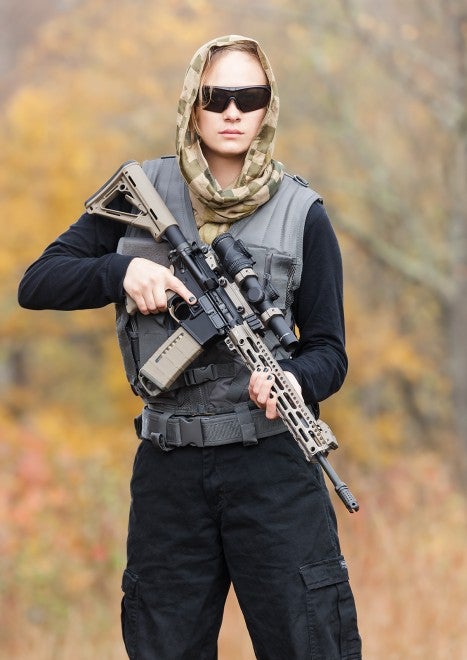 While I equip almost all firearms with backup irons out of habit, I don't expect this one to need them. The 1-6x Accupoint provides the unmagnified option for closer range. However, since the optic is in a non-QD mount, I will likely put a micro red dot on the 45 degree offset rail already in place just in case.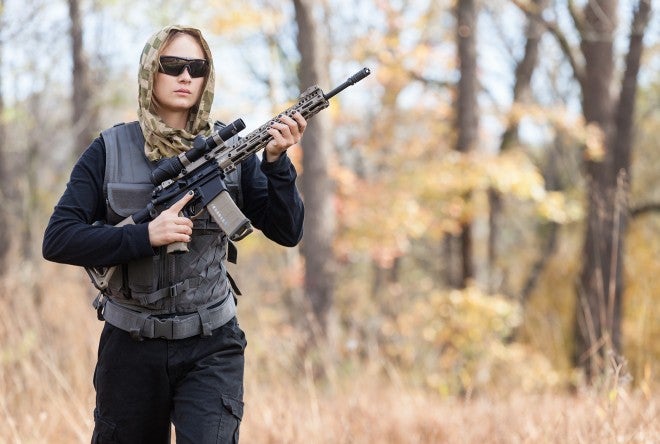 The rifle I have came with a combination muzzle brake and flash hider that worked quite well. In keeping with my preference for more recoil over more noise, I will likely replace it with the blast diverter later on, but I admit that being able to watch 100-yard impacts through the magnified optic is quite helpful. The muzzle brake does give that ability.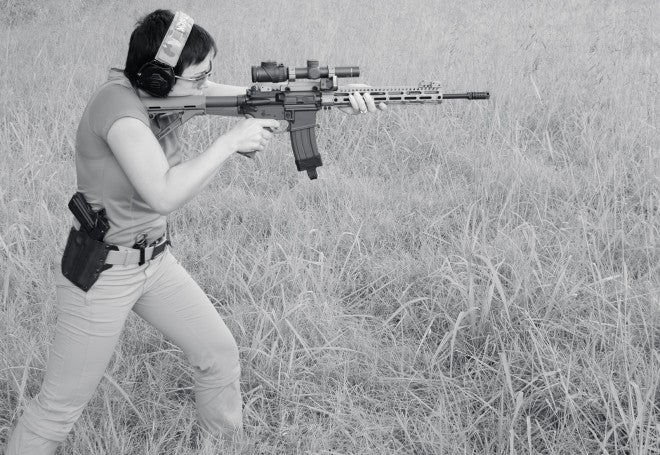 Of course, Tatiana ran my rifle as well as she did her own. Stock trigger is quite good on its own, and certain minor enhancements, like additional loops for a single-point sling, just show that this design keeps on evolving in small, logical steps.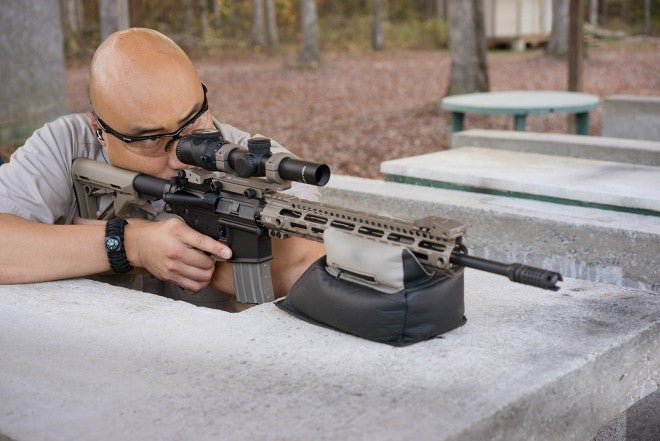 My friend Chau and I took this rifle to the range to test accuracy. Neither of us is a particularly amazing shooter, but we consistently got 2MOA with 55gr (American Eagle) and 62gr (X-TAc) ball ammunition, and around 1.5MOA with 69gr Federal and 75gr PPU match loads. For a lightweight carbine fired by amateurs from a sandbag with a 6-power CQB optic, that's pretty decent.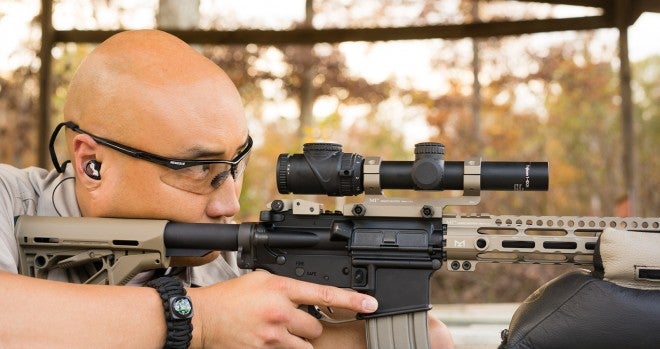 To nobody's surprise, the rifle ran all loads reliably. No break-in was necessary, and all 200+ rounds we shot cycled consistently. The gun also showed no preference for any particular magazine. It's nice to report on a weapon that works as advertised, has no issues, and basically makes the handling aspects transparent. This way, the shooter can concentrate on training in marksmanship and tactics.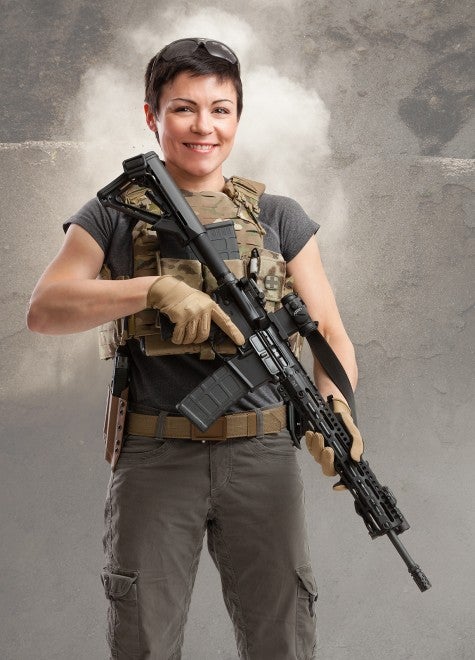 Speaking of which, I do recommend the same Tatiana Whitlock or Steve Fisher (Sentinel Concepts) as some of the most effective trainers I've encountered. It's nice to have a good rifle. It's better to be good with it.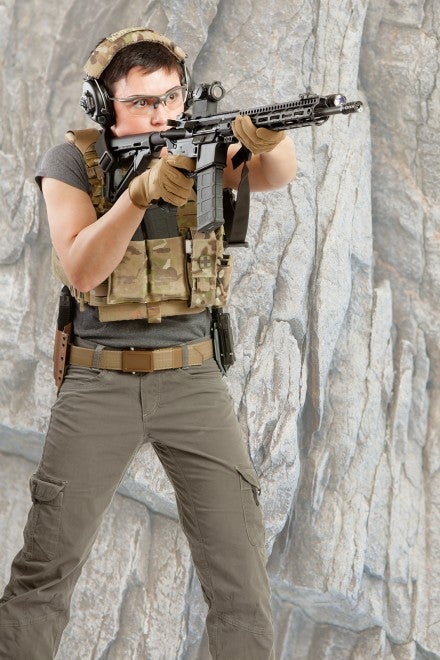 If you already have a favorite AR15 with a quad rail, look into upgrading it with the slim MI forend. It will make a very positive difference in the balance and overall handling.