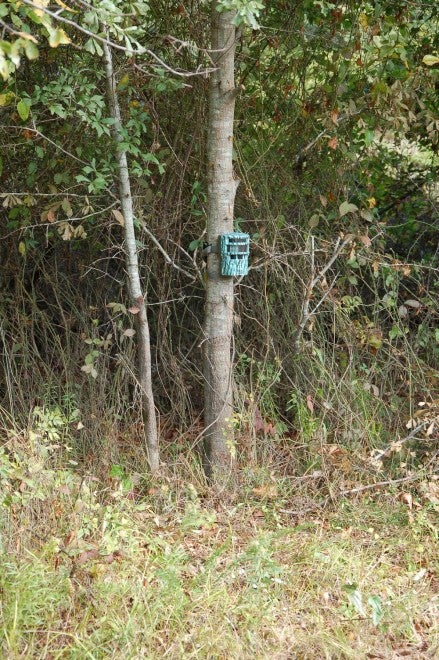 So, you bought a new trail camera or several. The question remains where to hang them for maximum collection of deer herd assessment data. Naturally, landowners, deer managers, and deer hunters alike want to "see" the deer on their properties, and there has been no better technology in the past 20 years than the evolution of trail cameras. But they have to be in the right places to capture the most revealing images of deer.
Not to be a smart aleck, but in order for a trail camera to capture photos of deer, it has to be placed where deer hang out or travel. Thus, trail cameras would ideally be placed in all the locations where one would expect to see deer congregate or walk by.
If you are farming wildlife food plots, then check for entry trails into these feeding areas. Such trails are usually easy to find in the corners or protective edges of the plots. Place a camera on a nearby tree or put up a wood post or steel fence post to hold the camera. Put the camera far enough back to catch a panoramic view of the trail opening into the plot.
As you travel your hunting property take note of other high travel routes. These are areas where multiple habitat types converge, including heavy timber aside a grassy field or a cut over where it butts up against a grown up thicket. Again, look for active trails showing plenty of deer tracks going both directions.
Native browse food sources such as honey suckle thickets or wild berries can be a good place to put a camera. Once acorns start falling, post a camera near those feeding areas, too.
Search for travel funnels as well. Classic funnels are well worn trails down the banks of a creek or deep water drainage. Deer often use water courses for sneaking around from area to area. The same can be said for small ponds when they are surrounded by security cover.
When hanging cameras be sure to point the camera lenses out of the way of direct sunlight. If there are high weeds or swaying branches of trees or bushes, trim them out of the way. As you sneak in to put up a camera, change out batteries or the SD card, be sure to use full scent control to avoid contaminating the area.