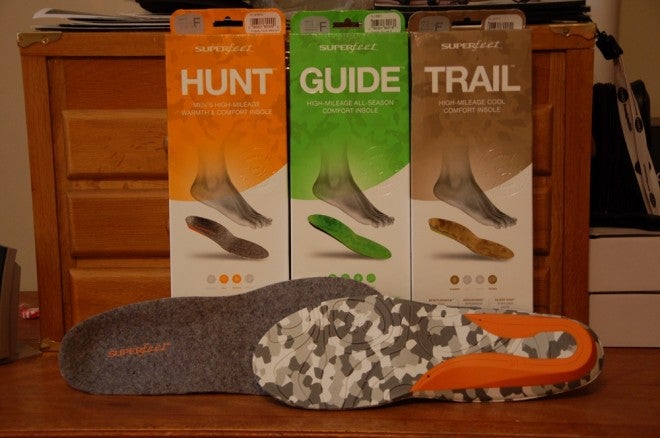 Old and new shoes and boots alike can be improved with the proper insoles. If you're being honest, you'll probably admit that hardly ever a thought goes through your head about the insole comfort of your bug out shoes or hunting boots. The older you get, though, the more you will pay attention to these kinds of issues. Trust me, I know.
If you are up on your feet a lot either at work, play, hunting, fishing, or playing out a long term survival scenario, then your elected shoe and boot comfort is going to be very important, if not critical. Most footwear–even brands touted as high quality and comfort fitting–often don't deliver long term wear ability when it comes to the insole comfort they provide. This can be fixed.
I was recently sent (unsolicited) three sets of footwear insoles by a company named Superfeet. Their advertising moniker is "step out of the ordinary." Now, to be honest, when I opened the box and found the insole products inside, my initial reaction was, "Okay, shoe insoles." But what has really impressed me besides the comfort of these shoe/boot inserts was the informational booklet that came with them. I never knew you could know so much about insoles.
The company founders and inventors are Dennis Brown (a military veteran who set about creating the best shoe insoles to help veteran amputees get back on their feet), and Chris Smith (who overcame a childhood of debilitating foot pain to become a pioneer in podiatric biomechanics). They work together at the Northwest Podiatric Laboratory. The company resides in Ferndale, Washington.
If you suffer from foot pain in any way, the first thing you should try is new Superfeet insoles. Their self-reported customer research indicates that insole replacements can assist with easing pain in the back, spine, knees, and the overall body as well. Obviously a good insole also helps the ankles and feet.
Every time you stand, step, run, walk, or hike, your feet take an unreal pounding from your combined weight upon the surface you step on. If you work on concrete or hike rocky mountain terrain, you need all the softening cushion you can use.
So, what makes Superfeet so good? Their insoles combine support for the heel cup, a firm layer for foot support, and a stabilizer cup for the rearfoot. You just need to research their products more in depth to understand them. Check them out online.
Editor's Note:These are really popular with hikers, and I actually have a pair of Superfeet Black insoles for my bug-out boots.