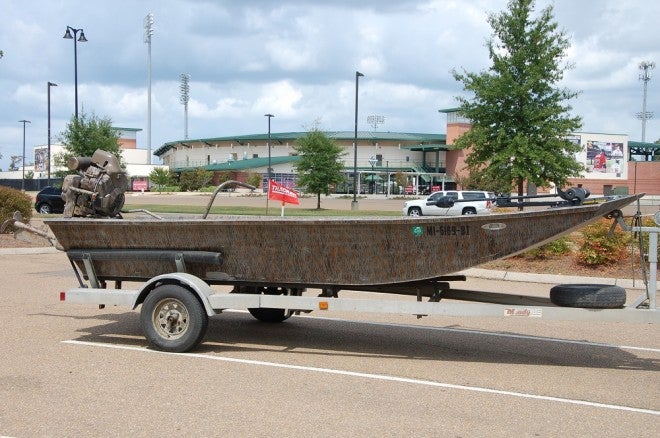 Duck boats have undergone a tremendous transformation over the years. Way back in the day after WWII when my dad came home, he took up duck hunting on Ten Mile Pond in Southeast Missouri. My, how things have changed.
His duck boat, if you could call it that, was a ten-foot johnboat with too many dents to count. His outdoor motor was a Western Auto Wizard with all of 3-horsepower and a rope crank. He had a couple dozen decoys he had to repaint every season. His pride was a brand new Remington Model 48, 12 gauge shotgun. In those days all the shotshells had paper hulls and you could smell the gunpowder through the crimped end.
Today, modern waterfowling watercrafts rival the best of the best big buzz bass boats. They come all equipped and decked out ready to go. Some of the upper crust models pricing out in the $35,000 range or more have all the factory duck hunting amenities installed. All the waterfowl hunter has to do is hook it up to the truck and go.
I recently inspected several new duck boats on display at a boat dealership and was amazed to see all the features and gear that is built into one of these crafts today. Basically the essential platform is similar to a big bass boat, only finished out in a durable camouflage paint configuration. Most of the units were side consoles with basic operating controls. The luxury seats were made of durable, comfortable material to shed water and mud. The seating arrangements varied but usually included 4-6 seats with options for pedestal seats also for fishing.
Power plants included outboards in horsepower ratings all the way up to 150-200 HP. The smallest engine I noted was a 50 horse model. These boats were 16 to 22 feet long and plenty wide enough to move around in. They included storage boxes for gear such as an anchor, fire extinguisher, first aid kit, shotshell boxes, extra clothes, and other supplies. Some models had mounted gun holding racks and holders for push poles, and space in the boat for bags of decoys.
A couple of the models offered factory installed duck blinds designed to be laid back on one side with the ability to pop up the cover quickly. The camo material is very durable. Other amenities include a platform off the back for the duck dog to sit. With one of these rigs positioned in a duck area, waterfowl hunters just have to hit their targets.