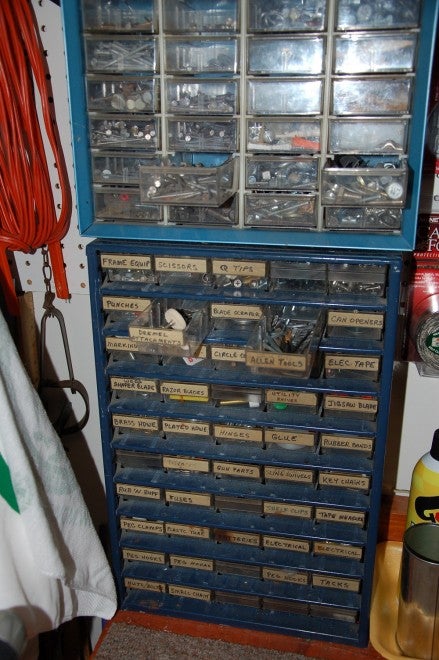 It is a good idea for a survivalist or prepper to be a pretty good handyman. Once a SHTF event goes down, you may well be on your own when it comes to fixing things, building things, putting stuff together, and repairing or altering all kinds of stuff. That first means having a comprehensive tool kit, but it also means having a supply of hardware items on hand.
As I look around my workshop bench and also in my other garage storage room with a smaller workbench, it becomes apparent of the quantity of miscellaneous hardware items I have. A good bit of it I use all the time in the repair and upgrade of various things around the house. These items will be needed for a bug out, as well.
First, get yourself a good hardware case with either individual compartments or other ways to separate the various kinds of hardware items. For some more bulk items like nails, you could just toss them into a heavy duty cardboard box and dig around for what you need.
So, begin with a good selection of nails. This should include basically every kind of a nail, including small frame nails, finish nails, general carpentry nails, construction nails of various sizes and lengths, and all the way up to some pretty substantial spikes for really heavy jobs. Add some roofing nails, flathead nails, and small head finishing type nails. All nails are good.
The same goes for a wide variety of screws. Just walk the aisle of a good hardware section picking out the little plastic containers of screws you can use. You'll need plenty of wood screws and metal screws for all kinds of projects. Just buy a good selection of all types and sizes.
Again, do the same search for a basic selection of bolts, nuts, and washers, including locking washers and flat ones. As said before, the easiest way to get a good idea of these items to buy is to shop the shelves of a well-stocked hardware department or specialty store. What else should we have? Maybe some hinges, screw in hooks for various uses, brackets, and other such general hardware stuff. Buy a couple of different types of general wire.
Add to your hardware items some expendables like different kinds of tapes and glues. Electrical, duct and masking tape is essential. Get some super glue and wood glue. Just keep shopping until you have assembled a mini-hardware store of your own. What items would you put in your hardware kit?