Second Look: Breakthrough Advanced Firearms Cleaning
Russ Chastain 12.14.15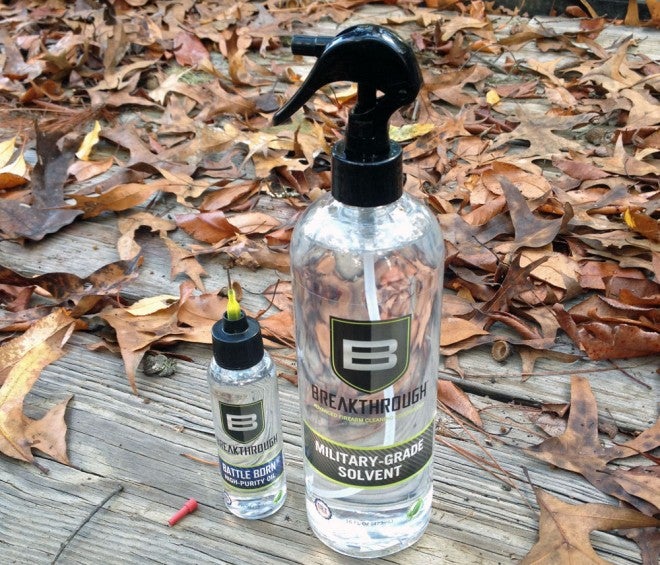 Back in January, I was pleased to let y'all know about Breakthrough Advanced Firearms Cleaning Technology. Breakthrough oil and solvent are crystal-clear, have little or no odor, and are labeled "Eco-Friendly."
The oil is non-flammable, non-toxic, and non-staining. The solvent is non-corrosive, non-flammable, has almost no odor (none at all that I can detect), is non-carcinogenic, and has low toxicity.
I was able to put my hands on some Breakthrough products and put them to work. I liked them–a lot. And when I reviewed them, the only Con I came up with was a lack of precision in the oil applicator. And I did notice that I was going through the solvent pretty quickly.
Well, I am happy to report that, after I published that review, Breakthrough sent me a bottle of their Battle Born oil with a precision applicator–along with a 16-ounce spray bottle of solvent.
The precision of the new oil bottle is a great improvement, and I love the solvent sprayer. The pump sprayer even has a lock to keep it from spraying when you don't want it to. Just today, I used it to clean my muzzleloader, and spraying each patch with this was fast and easy–and it didn't stink me up or poison me in the process.
Gotta love it.
I'm not sure if the precision applicator is in their online store just yet, but here's hoping it is or will be soon. The precision tip isn't as durable as the other tip, so you might not want it knocking around in a traveling gun cleaning kit, but it's great for keeping on your workbench.
If you haven't tried Breakthrough yet, it's well worth a look. I'm already addicted to cleaning guns without the stink and toxicity found in other solvents.