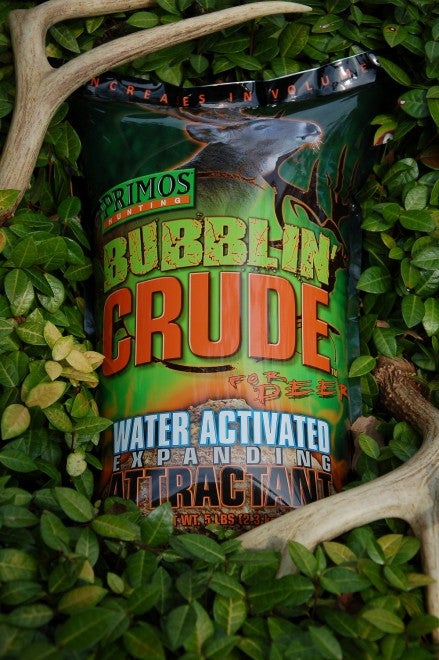 New on the market this deer season is something new. Deer attractants have been around for a long time. The products attempt to entice a deer's smell into the curiosity mode or just plain ole "come check me out." These often come in the form of liquids or powders poured out on the ground in deer rich habitats. Now comes a different approach.
Primos Hunting, expanding their product lines from the origins of game calls, now offer all kinds of hunting products from all types of game calls, to ground blinds, attractants, supplements, scent controls, shooting accessories, clothing, and much more. Their entire line of products and gear can be seen at their web site, www.primos.com.
Bubblin' Crude is a proprietary formula that reacts with water to expand and release the aroma of sweet smelling attractant that deer simply cannot resist. Naturally the concept is to pull big bucks out of the woods into the open, but of course, all deer should be attracted to this product.
The powder mix of grains and minerals and other ingredients is poured into a shallow hole dug in a strategic place in whitetail habitat. Water is poured over the dry mix then thoroughly mixed using a shovel or stick to fully combine the mixture with the moisture. The "bubbling" part then evolves as the materials interact with the water, forming an expanded mass increasing in volume into the hole and mounding up like a mini-sort of-volcano.
Once dry, the mix firms up and begins to emit the smell and attraction of the minerals and grains in the mix. Even after the deer consumes the obvious mound of stuff, the minerals have leached into the soil to create a long lasting attractant site. Deer should continue to visit the site, attracted by the mineral residues.
Bubblin' Crude does provide essential nutrients, vitamins, and minerals, so it is not just a smell to draw deer to the site for the sole purpose of harvesting deer. In areas where drought or poor native browses are not providing these food resources, this product can certainly help to be a vital supplement for deer.
Each five pound bag of Bubblin' Crude can create two attractant sites. So, deer managers can split the contents in half to make two sites or use the entire bag to make one big site. Try it out this season.