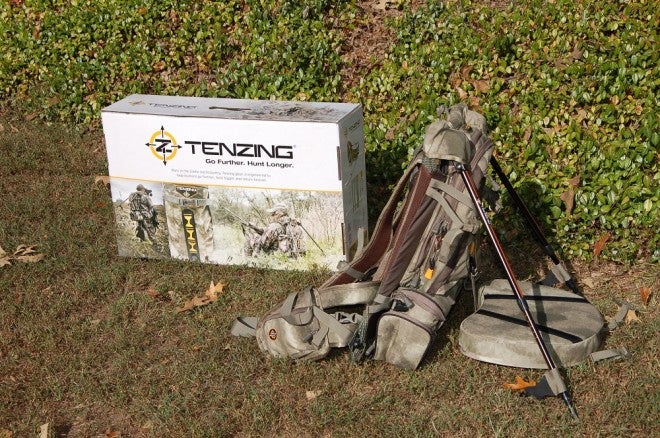 If there were an ultimate hunting pack, this would be it. Though it is designed for the predator hunter that wants sneak into a prime hunting spot and settle into the habitat virtually unnoticed, I can see this pack being used for hunting deer, elk, and turkey as well.
Despite the fact that the Tenzing Predator Pack is indeed a quintessential hunting pack with copious pockets and compartments, the two most unique features of the self-contained unit is the padded foldout seat plus a patent-pending design that has two spring loaded legs that allows the hunter to lean back into cover most comfortably, blending in with the surroundings on the ground. This feature makes this pack beyond unique.
Specifications wise, the Predator Pack has a total of 23 total pockets and compartments, including removable front hip pockets. The right side pocket can carry 8-17 centerfire rifle cartridges while the left pocket holds six shotgun shells. There are three pockets for game calling mouth calls or other stuff.
The pack unit itself is constructed of 500 D Nylon construction with an internal aluminum frame. The pack can hold a 2-liter water bladder with feed slot designed into the top of the pack for easy access. There is a dual waist belt strap for a contoured fit to aid in comfortable carry. The inside back of the pack has a channeled air-cooled design.
The heavy duty shoulder straps are fully padded and adjustable for secure carry. The whole pack unit weights just over seven pounds. The padded seat is 12-inches by 13.5 inches with thick padding. The pack will also carry your hunting rifle or bow strapped on the back.
With 2,200 cubic inches of storage, this pack can make a hunter self-sufficient in the field. You can carry all your essential hunting gear, electronics like a GPS and rangefinder, as well as binoculars or a spotting scope.
The spring loaded legs are held to the side of the pack via an attached loop arrangement at the end of each leg. The legs are popped out on each side of the pack at an angle that causes the legs to support the hunter sitting on the padded seat and leaning back against the pack.
The Tenzing Predator Pack retails for $319.99. If you know Tenzing products at all, then you know this is the best made outdoor gear there is. Innovative designs and quality construction.


SHOP NOW