Jake Markris Arrows Missouri Monster
Bob McNally 01.04.16

It was a cool afternoon in northern Missouri, and Fairhope, Alabama bowhunter Jake Markris already had seen several good bucks and plenty of does filtering through his hunting area near a CRP field. But when he spotted a giant-rack buck moving his way down a creek drain, his breathing rate increased and his heart thumped quickly.
This was the buck of a lifetime, he knew, and it was slowly working its way directly to Jake.
The pro staffer for Quaker Boy Game Calls stood, readied his bow, and turned toward the buck as it continued its path down the drain. Jake was ready, and when the buck stopped broadside at 20 yards, he drew, anchored, and loosed his arrow.
But incredibly the shaft sailed low, under the behemoth buck's chest. Fortunately it silently disappeared into water and muck, and the monster whitetail calmly looked around, swished its tail, and moved slowly along.
"Twenty yards, twenty yards!" Jake growled to himself. "I missed the biggest buck I've ever seen at TWENTY YARDS!"
For a bowhunter who has traveled widely and arrowed dozens of deer and many good bucks, Jake was so mad at himself he could hardly keep from screaming. He later became physically ill, sick from his miscue with the deer.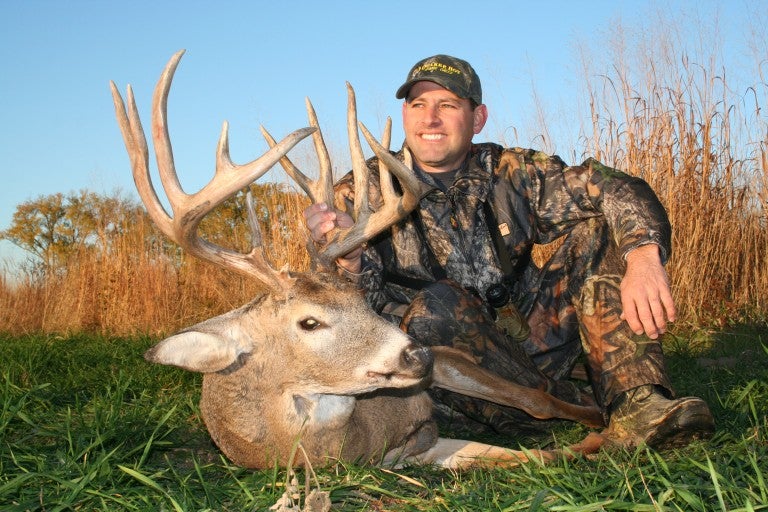 "I didn't know what to do I was so dejected, so devastated," Jake says. "I'd worked my whole life hunting for that perfect moment, and I blew it."
Although not hopeful for another golden opportunity at a huge whitetail, Jake sat in the same stand the next late afternoon. It was a hunt much like the previous day, with lots of deer on the move, including some good bucks. None of the racked animals worked within bow range; which was good because suddenly the giant buck showed again in the creek drain, coming directly to Jake at almost the same time as he had the previous afternoon.
Jake couldn't believe his incredible good fortune, as the massive whitetail worked close, finally stopping broadside at 12 yards, where Jake sent a Gold Tip carbon shaft with an NAP "Spitfire" broadhead through its chest.
The arrow was through the deer so quickly, and the buck bolted so fast, that for a moment Jake thought he'd missed again. But the whitetail stopped at 30 yards, looked around as if to learn what had just happened, then wobbled and collapsed in a CRP field.
"When that buck went down, I never felt so good about anything outdoors in my life," said Jake excitedly. "It was enormous, everything any bowhunter could ever hope to collect."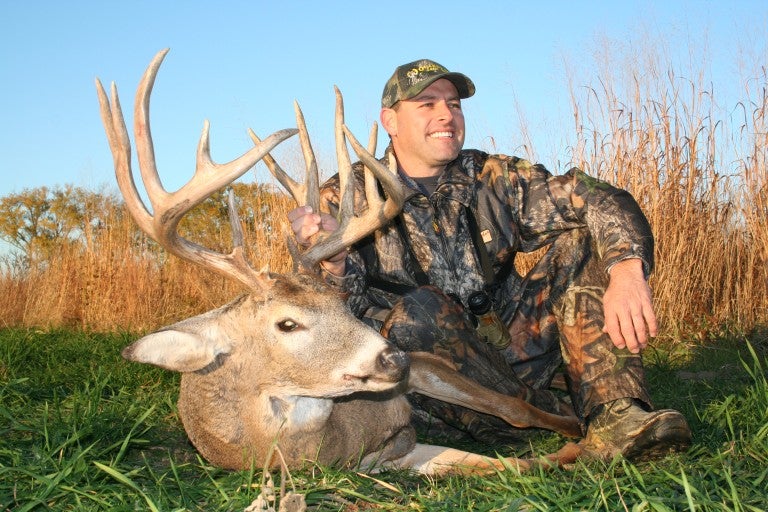 The 275-pound buck is a wide and tall main frame 12-pointer with 15 total points. Within a few days of the kill it officially green scored at 180 2/8s inches. The rack is not likely to shrink much during the required record-book drying period. So it almost surely will qualify for the Boone & Crockett Club, as well as the Pope & Young Club.
"I knew the Missouri farm I'd scouted had some buster bucks, sign I'd seen while hunting turkeys on the place last spring," Jake says. "But when I returned to the small farm in autumn to scout deer and hang tree stands, I was amazed at the amount of giant scrapes and leg-size trees that had been rubbed to their white-wood core."
Jake Markris has been hunting Northern Missouri for years and has always been successful for turkeys and bucks. He hunts small, private farms and habitually collects heavyweight toms and good bucks with his bow and rifle. But Jake is in shock after downing what surely is a buck of a lifetime, and likely will be one of the best whitetails taken by a bowhunter this year.