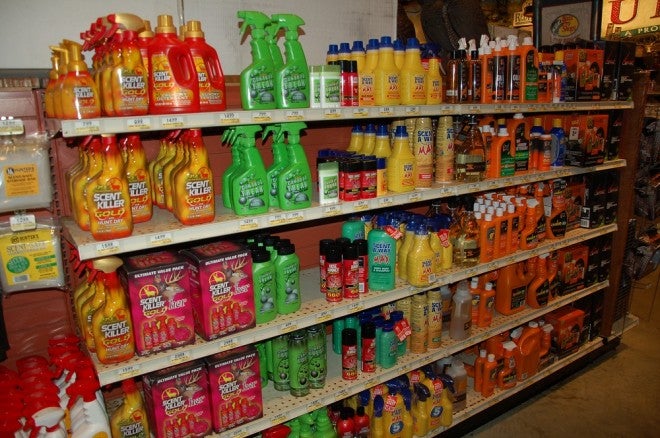 I've always said there is simply no reason for anybody to stink. And this includes deer hunters as well. Truth is, a deer's eyesight is pretty shar and they can hear a pin drop in the woods, but neither of these senses is nearly as acute as their smell. Studies suggest a white-tailed deer can smell an unnatural scent from as far away as a mile if the wind is right. Wow, how do we defeat that?
Sometimes we deer hunters are our own worst enemies. We just go out of our way at times to add smells to ourselves that do not exist naturally in the woods. Count among the most common stinks the smell of burned tobacco, grease from the frying pan from the breakfast bacon, that gasoline sloshed onto our boots when filling up the ATV before going hunting, and a hundred other "human" smells that deer pick up on. We can with intent avoid nearly all of these deer offensive smells.
On the opposite end of the spectrum are the hunters that live in a scent free plastic bubble until they climb into their deer stands. This approach sometimes goes too far, too. But I will have to say that these scent control tactics certainly don't hurt anything.
So, all hunters can launder their hunting clothes with scent free detergents that are not bombed with perfumes. We can put these clothes into scent free plastic bags, sealing them up until we go hunting. I am not saying you have to walk to your stand in your underwear, then put on your baggie clothes, but you can wait until you are clear of camp smells if you want.
All hunting clothes should be protected and sheltered from unwanted smells. I leave my hunting coat inside my truck until I am ready to go out. When I come in from a morning hunt, I change back into street clothes before cooking a brunch. Every little bit helps.
Of course, today there are some short cuts. Namely, these are scent killer chemical sprays that can be applied in advance, then dried into your clothes for a long lasting application. Other sprays can be liberally applied to everything before you walk out of camp. Cover your garb and also your boots, gloves, and hat, everything on your body that can carry scent. Control your stink and you just might fool a buck's nose with some luck.