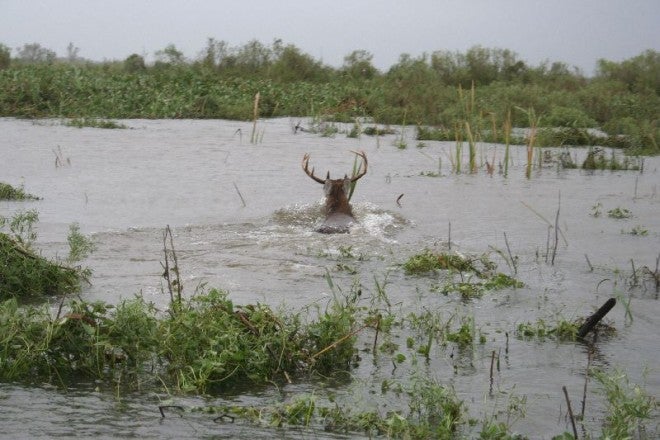 Once again Mother Nature has slammed deer hunters along the Mississippi River from Vicksburg to Greenville, Mississippi. With big rains up north and the waters coming south down the river, flood stages along the Big Muddy are expected to exceed flood levels before the end of the month. This has prompted the Mississippi Department of Wildlife, Fisheries, and Parks to suspend deer hunting on the western sides of the river levees. This move does not impact waterfowl hunting in the region.
What happens along the big river once it reaches flood stages on the western edges of the state is that the high water forces deer to move east up against or over the levees. This causes a huge congregation of deer to be concentrated in small areas. This produces a huge stress level on the wildlife and thus it becomes prudent to halt hunting temporarily until the deer can return to their regular habitats.
Several local hunters were interviewed at an outdoor sports store in the area and the majority of the deer hunters fully understood the ruling. They recognize the deer would be in peril and also that their deer are a valued long-term natural resource. Most true deer hunters are conservationists and want to protect their white-tailed deer herds for future hunting.
Other issues also develop during these high water flood stage periods of time. Many people (not necessarily hunters) want to sight see the deer congregated along the levees, and in the process they often do extreme damage to levee roads and down ramps. This can lead to additional erosion along these critical levees, which requires repair after the flood waters finally recede.
As one can also imagine under such circumstances, there are some people, not true hunters, that will unscrupulously slip into these areas in an attempt to shoot a big buck penned up by the flood waters. This happens every time there are high floods in deer hunting areas. Accordingly, the state has increased their patrols of the levee areas to keep riders off the roads and to watch for illegal harvests of deer at the same time.
So, as they say, you cannot beat Mother Nature at her own game. Over time though, the waters will go down and the deer and other wildlife will return to their original habitats.