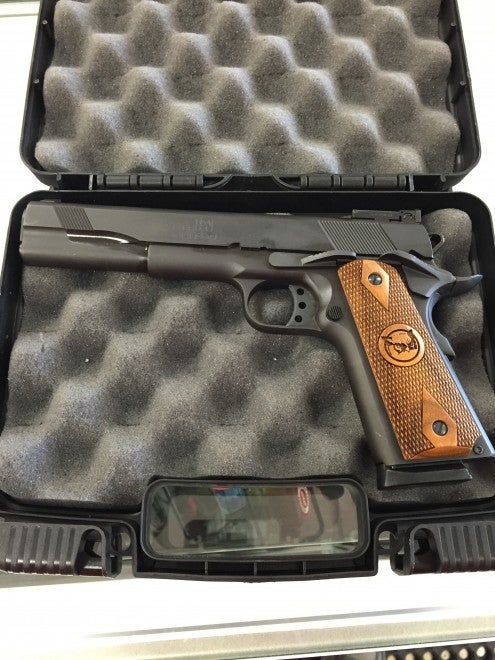 Probably one of the top categories of firearms that shooters, preppers, and survivalists are interested in is handguns. Each year at the SHOT Show held in Las Vegas, all the gun manufacturers around the world bring their product lines to show to prospective retail gun shop operators, the outdoor press, and other representatives of the shooting, hunting, and outdoor trade world. It is quite a show to see for four days running. This year's new handgun offerings are as exciting as usual. This is just a small sampling of course.
A not so well known pistol maker Coonan has made a 1911 type pistol for the .357 Magnum. Now they are bringing out a line of 1911s in 45ACP. These models will include a linkless barrel, a unique pivoting trigger, and an external type extractor. The pistols will feature a Novak rear sight, which is excellent for CQC work.
Dan Wesson handguns have come back via CZ-USA. In 2016 DW will bring out a long slide version of the 1911 in 10mm. The 6-inch slide will mean a better right radius and more power generation from the 10mm load, which is highly suitable for handgun hunting. This pistol will sport full adjustable tritium see-in-the-dark sights.
Ruger is probably making more lightweight compact handguns than any maker. Their new LCR model will be chambered in the .327 Federal Magnum. This is a mid-weight cartridge that is useful for smaller game hunting and for close quarter's self-defense. The revolver will handle six rounds in a double-action only configuration with a concealed hammer. The gun should be easy to handle with its Hogue Tamer grip with finger gripping grooves. This should be one heck of a revolver for concealed carry.
Smith & Wesson will be offering their M&P Shield model with ported barrels and slides in 9mm and .40 S&W. These three ports will reduce muzzle rise and help facilitate on target control. The new M&P will have fiber optic sights and a much improved trigger. S&W will have several other new handguns this year, so check the web site for more information.
G-Sauer is bringing back their leadership pistol the Model P225. Now designated the P225A, the main enhancement is a much improved trigger. This is a single stack magazine pistol in 9mm that can be fired single or double action. Awesome SIG quality will make this model a viable choice for self-defense, preppers, and survival work.