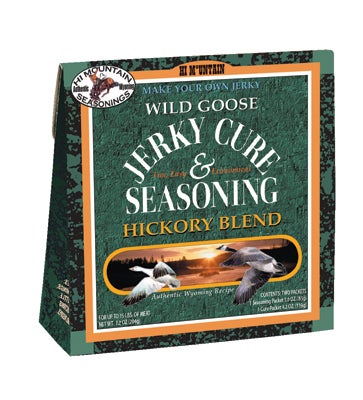 For years I tried many different home recipes for making goose jerky. While all were palatable, the best, simplest, and quickest way I've found is the "Hi Mountain" method. Hi Mountain Seasonings Jerky (phone 307-856-6626; website www.himtnjerky.com) is a Wyoming company that produces seasonings for this famous meat much the way pioneers did. The company offers a wide variety of jerky "flavors," and all are outstanding with geese, ducks if you prefer. Kits includes everything needed to make jerky except the meat. There's jerky cure, along with exacting recipe "mix" instructions for all-natural seasonings per pound of jerky meat. I used to use Hi Mountain's regular venison and beef jerky mixes for geese, but the company offers a specially-designed "Wild Goose Jerky Cure and Season," which is superb.
I use a fish fillet knife to cross-cut large goose breasts 1/4 to 1/3 inches thick. Thicker jerky, I've found, is more tender and flavorful. There is no reason jerky should be leather tough, like the commercial beef products found in corner stores. Goose breast is sliced, seasonings added, and then stored 24 hours in a plastic container overnight in the refrigerator. Cooking takes only a couple hours, with smoking preferred. You can do it on a barbecue, but a Water Smoker is the best I've found. Use any wood you like, but I prefer pungent hickory, and be certain not to overcook or oversmoke it.
Each Hi Mountain kit makes about 15 pounds of jerky for about $8. Make more than you think you'll want, 'cause everyone loves it. I do 6 to 8 pounds at a time.