A First Look at Kimber's K6S Revolver at 2016 SHOT Show Range Day
Rob Reed 01.18.16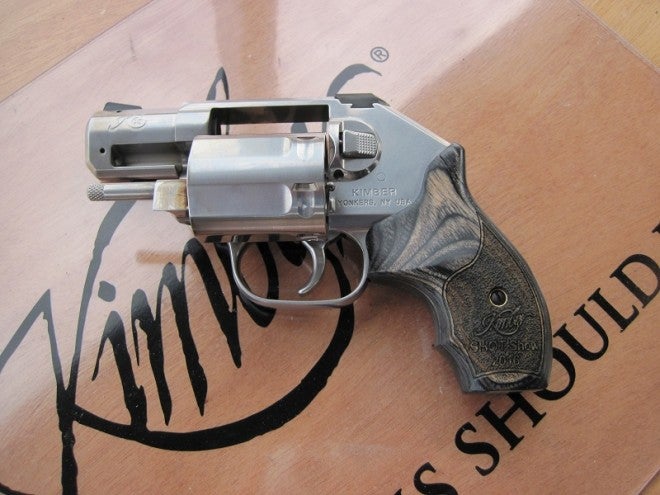 There's a new player in the revolver market. Kimber Manufacturing, Inc. unveiled their new K6S revolver at the 2016 SHOT Show Industry Range Day today.
The snub-nose wheelgun is designed for concealed carry with a 2″ barrel and what the company describes as "The smallest 6-round .357 Magnum cylinder ever offered."
While the company is best known for their 1911 pistols, Kimber Senior Product Manager Rod Dudzic said that introducing a concealable revolver was a logical step.
"We saw there was a void in the defensive revolver market that could be filled by developing a six-shot .357 Magnum that was essentially the same size as the five-shot guns by other companies."
Dudzic added that Kimber engineers spent two years developing this revolver and that it is not based on other designs, "It's all Kimber."
I was able to put about 24 rounds through two different examples at the range today and my first impressions were favorable. The double-action only trigger was smooth throughout its travel with a clean break. The grips seemed well designed to absorb the recoil of the .38 Special rounds we fired, the sights were good, the push-button cylinder release was easy to operate, and a firm push on the ejector rod kicked out empty cases even when the gun was very dirty.
In the video Dudzic explains the feature set of the Kimber K6S and the advantages it offers for concealed carry.
Specs
Kimber K6S
Material: Stainless Steel
Caliber: .357 Magnum/.38 Special
Capacity: 6 shot
Weight (empty): 23 ounces
Height: 4.46″
Length: 6.62″
Width: 1.39″
Barrel length: 2″
Trigger pull weight: 9.5 – 10 pounds