SHOT 2016 Range Day: Hands-on With the DP-12 Bullpup Shotgun
Jon Stokes 01.19.16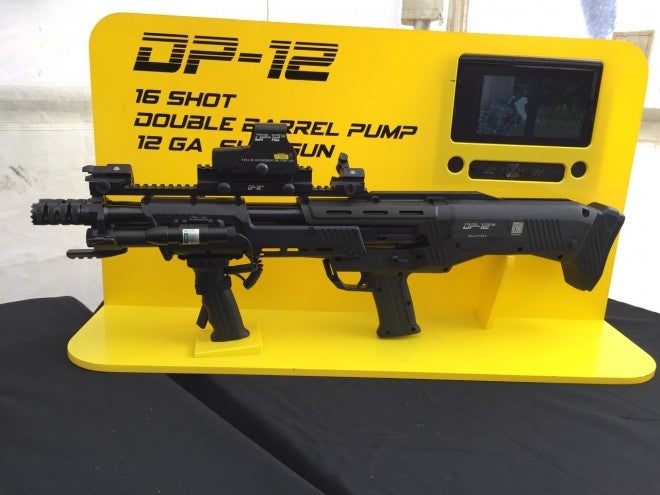 I'm fairly positive that I've talked about the DP-12 bullpup shotgun here, before, but I can't find the link. Anyway, I shot it on Range Day, and we're supposed to be getting a review sample, soon. So look for more on the gun later this year. In the meantime, here are the details.
The DP-12 is a bullpup, pump action, double-barrel shotgun that can hold up to 16 rounds of 12 gauge ammo. Each time you pump the gun, it loads both barrels and you have two trigger pulls (and two shots) before you need to pump again to reload.
The reason that there's some excitement around this particular bullpup shotgun is that the company behind it, Connecticut-based Standard Manufacturing is an offshoot of Connecticut Manufacturing Company, is known as a maker of fine shotguns for bird hunters. In other words, the DP-12 comes with an excellent lineage — it has none of the quality control baggage of the Keltec KSG, and it's also not made in Turkey like the UTAS.
The company's website is not good, so if you're looking for complete details and specs for this gun, I can point you to the Cheaper Than Dirt page, which has a ton of info. (If you're still mad at CTD over the whole magazine pricing thing from 2012 and refuse to click on the link, then please use just use Google to find an alternative and resist the urge to take to the comments thread and accuse me of treason.)
So how does it shoot? Very well indeed. The 29-inch-long gun is a little over 9 pounds unloaded, so the recoil is extremely manageable. When you're holding something this vicious looking, you unconsciously brace for a big kick, and then you pull the trigger and it barely bumps you.
This would be a killer home defense shotgun, and I'm looking forward to spending a little more time with it in the future.
The one downside to this bad-boy is the price. It retails for over $1,300, and I got a look at their dealer pricing sheets in the booth and it's not much less than that, so don't expect to find big discounts anywhere.