SHOT 2016: Zac Brown's "Jackal" Knife Impresses
Jon Stokes 01.20.16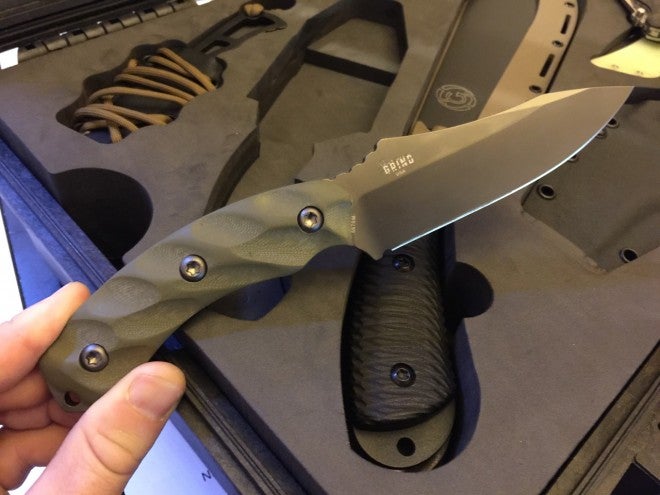 I ran across Zac Brown's knife company, Southern Grind, a while back but wasn't really interested because it seemed like a vanity project and I didn't really care for the look of any of their knives.
But the company has a small booth set up across from the Press Room here at SHOT, and I practically stumbled across it so I made myself take a look at the selection. I'm glad I did.
First the bad: I only really loved two of their knives. The rest are just not my thing, for one reason or another. For instance, the knife with the embedded flashlight, which the rep told me is a hot seller, seemed like a gimmick. And the big chopper felt okay in the hand, but I buy my big choppers from Busse Combat almost exclusively. Finally, I like satin finish blades. My knife collection is fairly extensive, but it does not include a single blade with any kind of coating. The Southern Grind stuff tends to be coated, so it doesn't appeal to me.
Now to the good parts: I really liked the Bad Monkey folder, and I'm going to try to get one sent to Tony Sculimbrene for review at some point, so more on that later. What I really want to talk about is the Jackal.
I loved the Jackal (pictured above). Like, I'm about to walk back out to the booth and offer the guy $230 (MSRP) for it so that I can take it home with me. The solid G10 handle feels just right in my hand, and that blade shape is one of my favorites.
I EDC a Leatherman Skeletool Cx, and one of the main reasons is because of the blade shape. The Jackal's blade shape is similar, but much larger. What I like about this design is the large scallop in the back; I can choke up on the knife and get my thumb comfortably on the back of it for carving.
The 4.75″ blade length is perfect for the outdoors. It's plenty big enough for camp chores, but not so big that you can't do fine carving with it. The grind is a conventional flat grind, but if I got one I'd convex it the minute I got it home.
So the blade is great, and I like the jimped thumb ramp on the back. The tip has a lot of steel behind it, so you should be able to poke holes in things with it and not worry about banging it up.
The full-tang handle has a glass breaker with a lanyard hole on the end, which is a nice touch. And all of the angles on the back of this blade are squared off sharply, which means that it should throw a mean spark with a good ferro rod.
Now let's talk about the blade steel. The Southern Grind fixed blades are made from reclaimed saw blades, which, again, seems kind of gimmicky to me. Like Zac Brown, I'm a Southerner, but I'm also first and foremost a man of science, and I want to feel like the knife steel I'm carrying was selected solely with science in mind, and not nostalgia or Southern pride.
Nonetheless, 8670M seems to be widely liked online, with the caveat that its extremely high carbon content means that it can rust quickly. This is no doubt why they PVD coat the blade. A PVD coated high-carbon blade supposedly gives you the performance of high-carbon steel with the rust resistance of stainless.
Color me skeptical, though. As I said above, I don't dig on PVC coatings, and all of my outdoors blades are either stainless VG10 or INFI, which isn't technically stainless but is extremely rust-resistant. I tend to think that after some abuse and sharpenings, the PVD coating will get beat up and then the rust will set in.
All of that stated, I grew up camping and Boy Scouting with high-carbon blades, and I just kept them clean, dry, and rubbed down with a silicone cloth, and I never had any problems that a little polish and cleaning couldn't eliminate. So I'm willing to give the Jackal a shot. What's gonna break my heart, though, is if I buy it and then they come out with a satin finish version that uses some fancy-pants stainless.
Okay, I've written way more than I thought I would about this knife. I'm gonna sign off and go see if this Southern Grind guy takes American Express.


SHOP NOW