DPx Gear and Their First American-Made Folder – SHOT Show 2016
Russ Chastain 01.21.16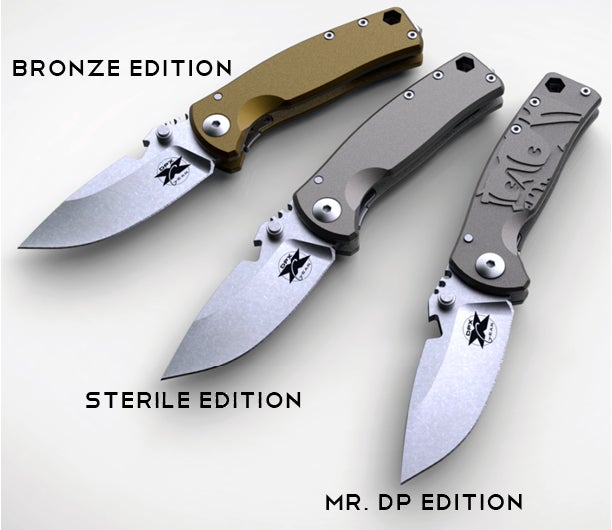 The SHOT Show is a place loaded with sore feet, aching backs, knee braces, and frenzy.
It's also a great time to catch up with old friends, and best of all, to meet new people.
I had the pleasure of spending a few minutes with some folks I hadn't met before: Lisa Pelton and her sister, whose father Robert Young Pelton founded DPx Gear. It seems that dear ol' dad has a penchant for getting into trouble–or at least, for finding himself in rough conditions where only the toughest and most basic tools will survive and thus help him survive.
That's what the company name is all about. DPx = Dangerous Places Extreme.
Now I'm no globetrotter and I do like to sleep comfortably indoors most nights, but I dearly love practical, well-made, well-designed tools. And that described much of what I saw at the DPx booth.
DPx has historically had its knives made in Italy, and that's been good to them, but they're looking at moving manufacturing to the USA whenever possible. At the 2016 SHOT Show, they debuted the DPx HEST/F Urban, their first all-American-made folding knife.
I like it. A lot.
Well-made. 6Al4v Titanium frame. S30V stainless blade. Bottle opener/pot holder/open assist notch built into the blade. Jimping is sized to match popular wire gauges to help you strip wire. Frame lock. Glass breaker. Lanyard loop that doubles as a 1/4″ hex socket/driver. Deep carry pocket clip.
What's not to like?
Their other knives look great too, and I'm glad I dropped by their booth. If you're a knife guy or gal and you've missed DPx or weren't too sure about them, you owe it to yourself to check them out.


SHOP NOW