SHOT 2016: Hands-on with LionSteel's Metamorphosis Handle, Fixed-Blade Line
Jon Stokes 01.21.16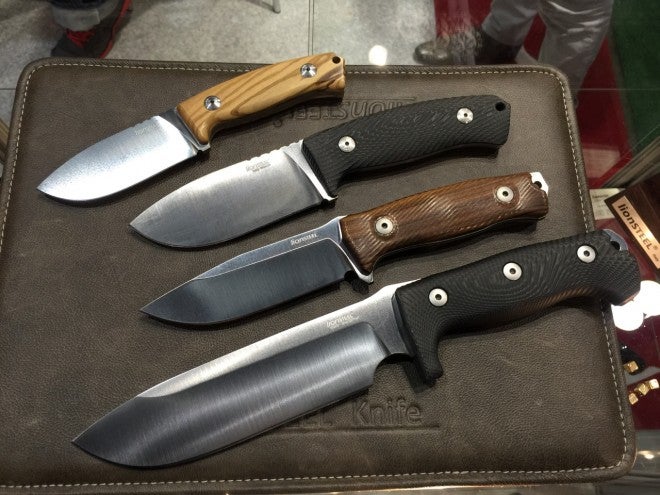 Regular readers know that LionSteel has a reputation as perhaps the biggest technical innovator in the knife world, and it seems that every year when I drop by their SHOT booth I see something crazy. This year was no different.
The LionSteel rep showed me version of the newly announced KUR with a special aluminum handle. When you grip the handle and it warms up, the color changes from a uniform black to a camouflage pattern. This technology isn't even remotely practical for anything, but boy is it cool.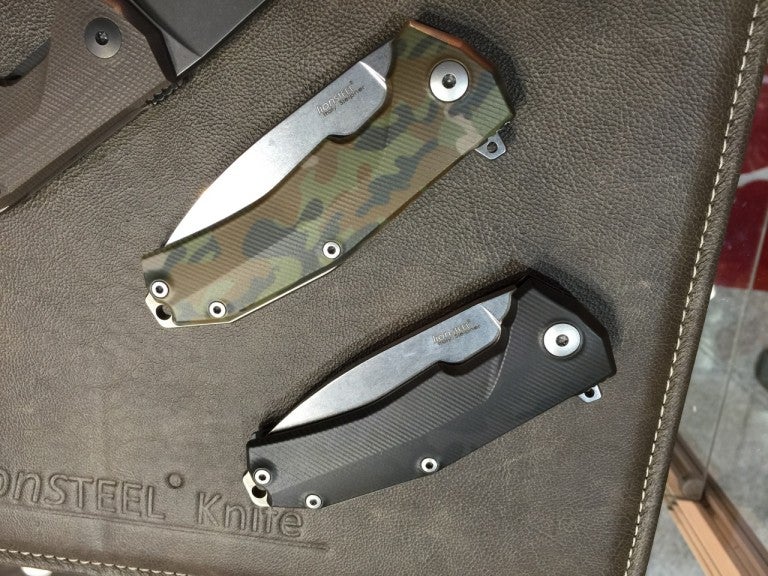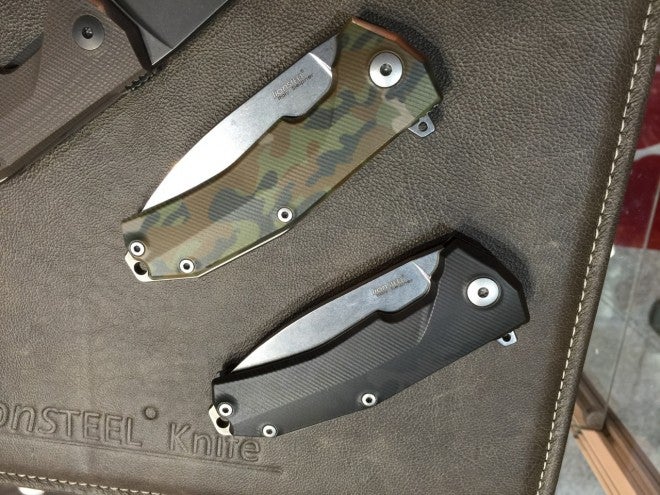 It also helps that the base model KUR is a great knife, with a solid Titanium frame and Sleipner steel; it feels really good in the hand, deploys smoothly, and locks up tightly.
The other highlight of the booth was that I got to get my hands on LionSteel's fixed blade line. I like the look of these knives for the most part, but I have some quibbles.
As a fan of big choppers, I want to love the M7, but it's not quite there. The grind is almost hollow, which is great for slicing, but a knife of this size should be closer to convex. The finger choil is enormous, and while it does make it easier to choke up on this blade, it also greatly reduces the ratio of the amount of usable edge to the overall length. If this knife had a smaller choil and a convex grind, it would be a winner.
The M5 is my favorite knife in this lineup, but it looks like a slightly longer Bark River Bravo 1 to me. I'd probably take it over the Bravo 1 because I like the Sleipner steel that it runs and also because I like LionSteel.
As for the M2 and M3, I want to like them, but I'm just not into the uber-stubby blade shape. These are very wide blades–like, if they were a little bigger I could paddle a canoe with them. I'm just not partial to that profile, so I'd have to pass on these.